1. Full control
Monitor all the relevant system information live on the HUD or app: FPS, RAM, CPU, temperature, disk space & network load.
2. Maximum performance
Give your game the highest priority. Optimize your computer's energy options and end unnecessary tasks and processes for pure gaming enjoyment.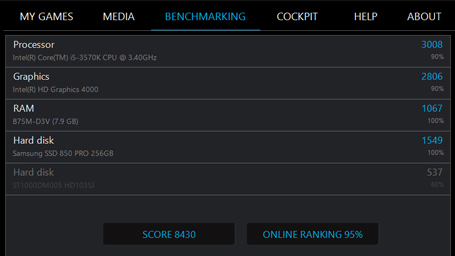 Benchmarking
The ultimate performance check for processor, graphics card, hard drive and memory. Compare your PC performance with other Game Control users.
Manage games and media
All your games, screenshots and gameplay videos are saved in galleries where you can organize them and share them with friends.
Automatic driver updates
Keep your system up to date to get the most performance out of your hardware components.
Specifications
All MAGIX programs are developed with user-friendliness in mind so that all the basic features run smoothly and can be fully controlled, even on low-performance computers. The technical data for your computer can be found in the control panel of your operating system.
Minimum system requirements:
Graphics card
Onboard, minimum resolution 1024 x 768
Hard drive space
100 MB for program installation
Internet connection: Required for registering and validating the program, as well as for some program features. Program requires one-time registration.
Game Control is sold as a 1-Year license version. Renewal for a special price.