1. Multicolored pads
Play drums with velocity-sensitive pads and control Live Pad mode in Music Maker Premium.
2. 25 keys
The 2-octave keyboard with a typical synthesizer style enables a realistic playing experience, even when playing fast.
Music Maker Performer highlights:
USB pad controller with USB power supply
30 Live Sets for EDM, Trap, Hip Hop, Techno and many more
12 virtual instruments for electronic music production
8,000 sounds, loops and vocals
Free MAGIX Audio Remote (iOS, Android):
Import projects from the Music Maker Jam app to your PC for editing
Drop the bass
Music Maker Performer includes 8,000 new sounds, loops and melodies from popular music genres.
Drag & drop to create arrangements using crackly drums for dark hip hop beats, poppy top-chart melodies or impressive techno style synthesizers.
Included Soundpools:
Electronic: Dubstep, Trap, Deep House, Techno, Hip Hop
Organic: Jazz, Rock Pop, Brasil 66
Exclusive in the Premium version: Score, Chillout, Dance and Ambient
Mixing & mastering
Using the virtual mixing board, you can adjust the volume of all tracks to each other and work with effects on track level. Sound effects, such as distortion, pitch and flange are easy to apply in track view using drag & drop.
Thanks to the Mastering Suite and intuitive tools, such as the parametric 6-band EQ, you can bring your sound to a whole new level.
Classical Instruments
No song should go without these classics: Play a refined concert piano, a sublime church organ from just outside of Venice and a whole lot of strings and horns with Vita 2.
Amazing sound quality.
Perfect workflows.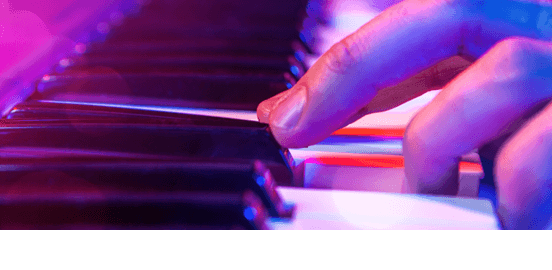 A USB keyboard in combination with MAGIX Music Maker Premium.
High-quality USB keyboard
Software MAGIX Music Maker Premium
Sticker set for Live Pad mode
49 large keys with touch sensitivity
Pitch bend and modulation wheel
Octave switch (+/-)
Connections: USB, MIDI Out, sustain pedal
MIDI data exchange and power supply through USB
Learn more
Buy now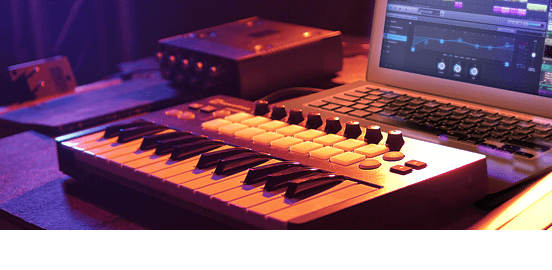 Connect the novation pad controller with Music Maker Premium software.
USB pad controller with cable
Software MAGIX Music Maker Premium
16 pads adapted precisely for the new Live Pad mode
25 keys with touch sensitivity
Octave switch (+/-)
8 knobs for effects
MIDI data exchange and power supply through USB
Learn more
Buy now