Your ticket to professional video editing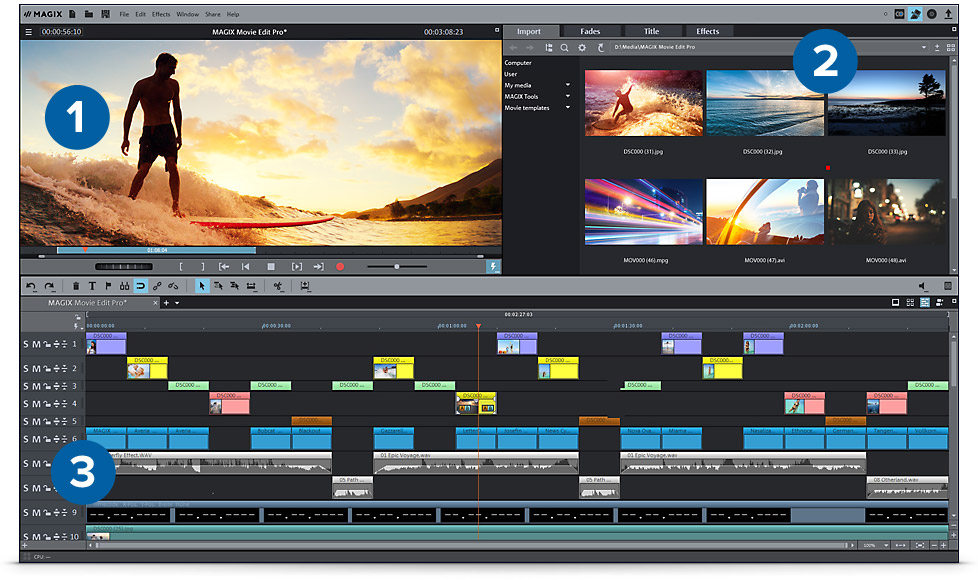 Infinite
Bring complex projects to life on 99 tracks for image, sound and music.
Impressive
Produce spectacular films with effects packages from leading plug-in developers.
Integrated
Produce crystal-clear audio with 5.1 Surround sound to match crisp, sharp images.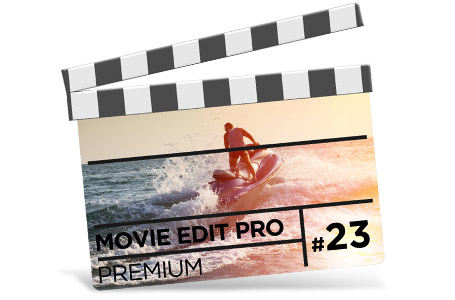 The most important features:
Highlights: Vasco da Gama 9 Essential & NewBlue Titler Pro Express
Intuitive interface: For editing precision
Top performance: 64-bit for faster processing
Ultimate freedom: 99 multimedia tracks
Lights, camera, action! Automatic video editing to match the beat of the music
Attention to detail: Special effects, dissolves, intros/outros, menus, etc.
Share projects: Upload videos directly online to Vimeo
New intros & outros
With 9 new intro and outro animations in Movie Edit Pro you can design your videos even more effect. Pick from the wide range of high-quality templates elements to give your photos and videos a professional look.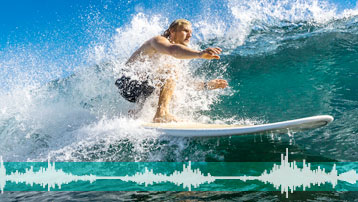 New editing templates
The 10 new thematic editing templates give you an even broader choice for automatic video editing to the beat of the music. Every editing template appears with fitting music accompaniment.
Optimized video engine
Thanks to improved color processing in 16-bit, you can now edit your videos in even higher quality. Hardware accelerated video processing brings performance improvements for rendering of H.264 & HEVC.
10-bit HEVC support
Now you can import 10-bit HEVC recordings from the latest camcorders. HEVC/H.265 video support enables space-saving data compression and more efficient workflows with high-resolution 4K recordings.
Vasco da Gama 9 Essential
With travel route animations from MotionStudios, you can reconstruct every detail of your trip. Select your holiday location from over 80,000 cities, towns and villages in the GPS database.
Display your travel route in this video making software in up to 4K resolution and make the most of a huge 3D object library with over 300 templates. Fly around the Eiffel tower, conquer Mount Everest or walk the length of the Great Wall of China.
Dynamic titles
Create high-resolution 2D and 3D titles in no time at all with NewBlue Titler Pro Express. Use one of over 60 templates included in the video making software program or create your own headers and banners using the professional title designer.
You can then animate these simply using drag & drop animations.
The effects area of Movie Edit Pro has been expanded with 5 new functions. Using the new mask generator, you can apply effects to parts of an image in your vides. With the combination of area masks using chroma keying and the post effect editing, you can quickly create exciting videos.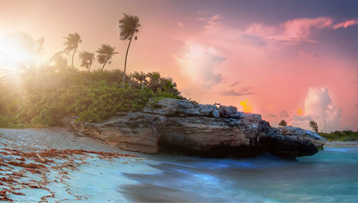 Add lens flare effects
Impressive: Define the incidence angle, size, appearance and even the positions of light reflections in your video recordings.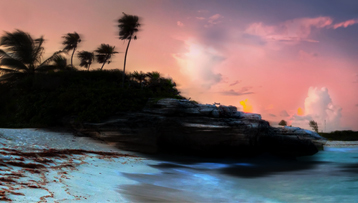 Gaussian blur & glow effects
Make your colors glow. As well as your viewers' eyes. Using the glow effects, you can distort and add intensity to the glow of certain colors. In combination with Gaussian blur, you have even more options for creative video editing.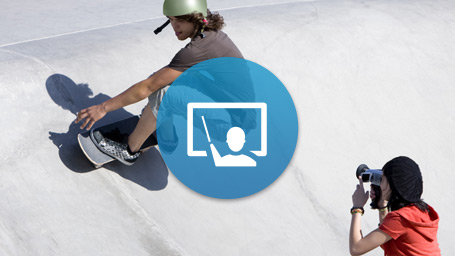 The free tutorial videos from MAGIX provide you with an initial look at various MAGIX programs.
You'll learn quickly and easily how to use the most important features in order to bring your own projects to life.
Intuitive controls and tons of great templates make Movie Edit Pro the ideal program for beginners creating their first video project.
Learn more
Buy now
Movie Edit Pro Plus includes more options than ever before! Discover the automatic shot match feature, new video effects, comprehensive 360° editing and much more.
Available until May 31, 2017
£20 / €30 / A$45 / R420 / Rs 1800 discount
Plus: NewBlue Video Essentials 4 (worth: £95 / €129 / A$179 / R1664 / Rs 7255)
Plus: HitFilm Superhero Pack (worth: £42 / €50 / A$73 / R775 / Rs 3722)
Learn more
Regularly Rs 16,976
Rs 4,199
Buy now
Professional video productions are easily created with the Premium version featuring unique premium extras and the latest video editing technology.
Learn more
Buy now