MAGIX is an international publisher of high-quality, intuitive, user-friendly software. As the European market leader, we have been developing award-winning PC software since 1993. But what makes us stand out is not the many awards we have won, but our continued passion for innovation and easy-to-use software. That's why we've made it our goal in the future to make the creation of amazing music, videos, websites and graphics possible for everyone – no matter the skill level.
1. Start with the rhythm.
Lay down a base for your song with drum loops from genres such as hip-hop or dubstep. You can also make bring together your own grooves with virtual drum machines.
2. Add new sounds
Drag & drop to add a driving bassline or guitar melody to the drums. Easily add new loops & instruments any time.
3. Quickly mix. And you're done.
A relaxed piano, playful electronic sounds and pre-produced vocals: Music Maker is full of ideas for creating music. Quickly mix down. That's it!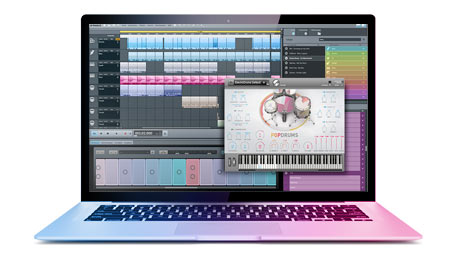 Highlights:
Explore unlimited creative possibilities. The Music Maker Store includes regularly updated new instruments and loops.
6 virtual instruments
Endless fun
2 new virtual instruments: Concert Grand & Pop Drums
Thousands of sounds & loops (6 Soundpools)
99 tracks for small and big projects
VST3 & VST2 interface
Basic audio effects
What the press has to say