Your first synthesizer:
Revolta 2
The beast of the professional synthesizers. The unique warm sound of the Revolta 2 can be manipulated in any direction.
The 16 presets for techno, hip hop and trap are the perfect base for creating new sounds.
For the right kick:
Drums and percussion
The foundation of your own beats: Music Maker comes with a free drum kit and various percussion elements. You can control these using the Vita 2 Sample Player and record in your tracks. Groovy!
Majestic worlds of sound:
Concert Grand LE
Enjoy the virtual concert piano in Music Maker included now for free: Noble sound and plenty of keys to experiment. Playfully develop your own melodies and chord progressions.
Pop Drums
You tap the buttons, the pop drums do the dance. Visual effects show you directly in the instrument, what is going on with the sound. Perfect for bright EDM hymns, danceable party tracks or swaggy trap tunes.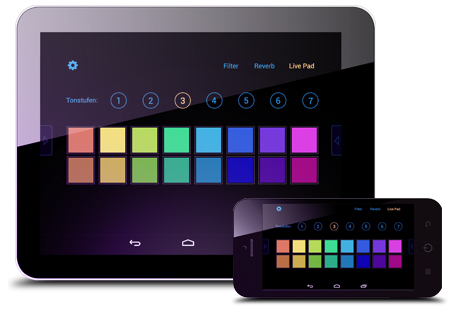 Sense of rhythm included:
Perform in Live Pad mode
The Live Pad mode is an intuitive music making tool. With it, you can play Music Maker just like an instrument. With one click you can start the drums, switch on the bass and let melodies and vocals flow. The beat will always be with you. You get 30 Live Sets for EDM, Trap, Hip Hop, Techno and many more.
Lead Synth
Caution, electrically charged: A powerful synthesizer for producing EDM, Deep House, Techno, Trap or Hip Hop music. The best for massive lead and bass sounds.
Orange Vocoder ME
The power house for vocal sounds: with the Orange Vocoder ME you can manipulate the sound of vocals or speech recordings. Perfect for effects such as robot and computer voices.
4 premium Soundpools
Included only in Music Maker Premium Edition Score (film music), Chillout, Dance and Ambient Soundpools. The exclusive Soundpool score "Dramatic Stories" accentuates dramatic strings arrangements and exciting horn sets. The chillout Soundpool "Mother Earth" brings together summery synthesizer sounds with mystical sound textures and exotic percussion elements. Additional sounds for Dance pump up the dance floor, while Ambient brings the relaxation you need afterwards.
Church Organ
The impressive Church Organ lets you create majestic soundscapes. Playfully create soulful ballads, epic soundtracks or hot dance tracks.
Cinematic Soundscapes
The instrument for exotic and big-screen sounds for soundtracks. The unusual sounds are perfect as melodic elements for organic hip hop, deep house and EDM.
Choir
Sings at the touch of a button: The virtual choir is the perfect tool for creating vocal tracks using the keyboard or MIDI editor. The choir has three different voices (male, female, mixed). Combining with the Orange Vocoder results in interesting sound mixes.