Create impressive logos with Xara
How can I as a user create a logo without having to become an expert at the same time?
This is a question that is becoming increasingly important, since there has never been so many people in the history of technology editing photos, designing images and creating logos. In addition, there have never been so many options to present them all to your friends, acquaintances and family. But to achieve professional results without also having to become a professional, you need help: the Page & Layout Designer 10 is your solution.
Software doesn't have to be complicated to create a logo. It should in fact be much more easy and quick to understand, since logos (e.g. information logos) are virtually everywhere. Whether they're used as a support for presentations in the form of charts, information logos, diagrams or a wide range of design applications for creating shapes, fillings, and color gradients, etc. The program combines photo editing and graphic design in a single interface and thus provides you with a broad range of different applications such as collage maker. The graphic software provides help with sophisticated design ideas and offers a number of design tools. Create shadows, transparencies, color gradients and transitions at the touch of a button. A 3D tool is also integrated that allows you to give every two-dimensional object a third dimension and to create a 3D logo.
The software is based on a vector graphic engine and therefore lets you design genuine vector graphics. They are based on mathematical formulas and not pixels. It thus also allows you to work in non-destructive manner. You can make as many changes as you like without losing any quality. In addition, you are not limited to an output size when drawing. You can change the size of the logos at all times without any losses.
Websites provide a good example of using logos. Since you need both design elements as well as purely functional elements, such as buttons and navigation menus.
When creating a logo, the numerous preset shapes in the software are a great help. If you skillfully combine them together, you can quickly create stylish logos. You can then use them for your presentation or your website.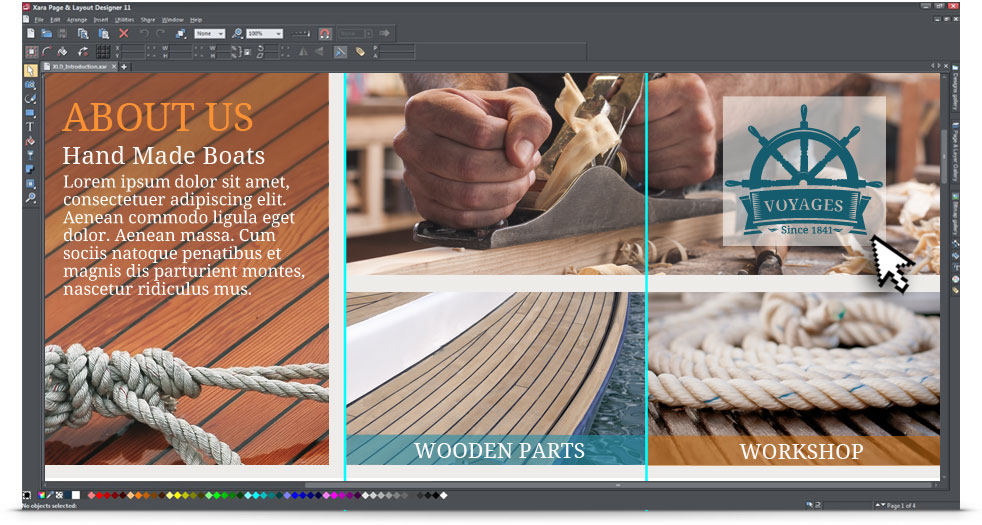 Perfect for creating a logo and much more
To create a logo doesn't have to be difficult. Xara Page & Layout Designer is the best example for showing just how easy and at the same time powerful a piece of software can be. The all-rounder covers all aspects logo editing and much more. All the functions are easy to use and available in a single interface – without requiring the user to become an expert for graphic software.