Let your action cam videos shine - with MAGIX Fastcut
Every second camcorder that is sold today is an action cam. Because of their ease of use and stability they've become a must have for many athletes and adrenaline junkies. Until now, a program that allows users to cut and edit the recorded footage didn't exist, since all current programs require a lot of expert knowledge or simply can't deliver the desired results.
MAGIX Fastcut can take care of it all: The easy-to-use software is specifically designed for editing action-cam videos (e.g. GoPro), even in HD, allowing users to quickly and easily create high-quality action clips.
Fast editing for action-packed videos
MAGIX Fastcut is made to match the lifestyle of action cam users: Recordings can be edited quickly, just in time to record the next clip.
Easily import files from your camera or SD card directly into the software interface, then edit, add great music and export the completed clip.
Fastcut offers everything you need from an editing program and includes additional features specifically created for GoPro and other action cams. For example:
Fisheye correction

Image stabilization

Automatic Video Editing Wizard

Slow motion and speed changes

Sound optimization and noise removal

Background music at lengths of 30s-120s

Directly upload from software to the Internet

In Full HD, of course!
Whether you want to adjust the wide-angle distortion, smooth out shaky footage from your GoPro action cam, enhance that last jump with slow motion, or improve the lighting from your best shot, the diverse functions of MAGIX Fastcut are designed so that you can bring out the very best from each clip. Everything you need for the perfect sound: Remove disturbing noise from wind or other sources or find just the right music for your clip. Break new ground with Fastcut. And once the video is finished, you can upload it directly to the Internet from the software or export in the appropriate video format and you're ready to start editing the next HD video from your GoPro or action cam.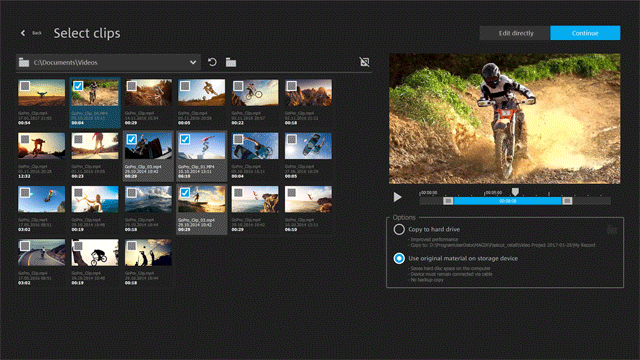 GoPro or other action cams: Editing HD videos is easier than you may think
Every video camera owner should have an editing program at hand to edit recordings. For users of a GoPro or similar action cams there was hardly any editing software on the market that could remove the fish eye effect, correct shaky footage and is also very easy to operate. MAGIX Fastcut offers this ease of use and not only allows experts to create amazing videos, but is easy and intuitive for anyone to use. All the tools you need to edit recordings are available, as well as for optimizing the picture and sound.
You want to show others what cool shots you captured with your action cam, but your shots are still in their raw form? Then Fastcut is just right for you: With lots of features for editing and optimizing the video and audio quality, anyone can create stunning action clips - even without any prior experience.