ACID Pro Freedrum Kit
Maximum creativity. Maximum freedom. 20 years ago, ACID set new standards for musicians and producers with its loop-based music composition. Now it's time for a creative revolution for drummers! Freedrum Kit is a ground-breaking and original device that allows you to drum anywhere and anytime. Got a great drum groove in your head? Then play it immediately on your PC or laptop. Just want to practice? Then use your smartphone as a virtual drum set, wherever and whenever you want!
Discover a new world of drumming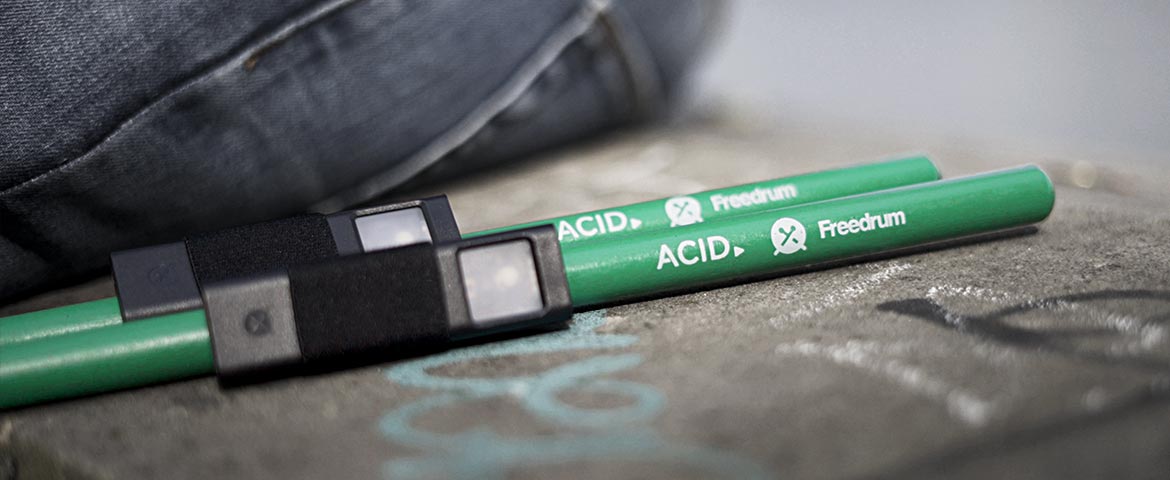 Drumming in ACID Pro
With Freedrum's drumsticks you can record spectacular drum grooves in ACID Pro. Connect the sticks to your PC/laptop using the USB Bluetooth dongles, and then simply activate the Freedrum sensors in ACID Pro as your MIDI input devices. Then you're ready to start drumming!
Jamming with your smartphone
You are on the road but you just want to drum? No problem at all! Install the Freedrum app for Android or iOS on your smartphone and connect the sticks to your phone. Set up your drum set for left- or right-hand playing and you're ready to go.
Like on real drums
Freedrum's six hit areas give you the authentic feeling of playing on a fully-equipped drum set. These can also be easily adjusted via the MIDI standard.
Precise tracking
Get realistic feedback from your bass, snare, toms and hi-hat, all thanks to close-to-zero latency and accurate velocity sensitivity via Bluetooth sensors.
From inspiration to production... fast
Music creation with ACIDized loops
20 years of legendary loop-based music composition – that's what ACID Pro stands for. Version 8 continues this tradition and refines the concept with versatile tools, instruments and effects that make it a powerful 64-bit DAW for the next generation of creative artists and musicians.
The ideal platform for your ideas
ACID Pro 8 features a new, modern interface coupled with a powerful 64-bit engine. As a creative DAW, it combines professional features with inspiring loop-based music production. Unleash your creativity and turn your ideas into reality even faster. Whether you're composing, mixing or remixing, get it done in ACID Pro.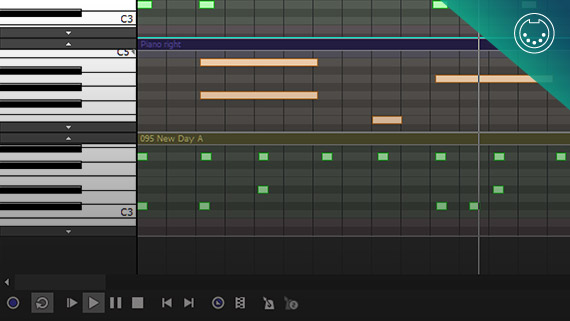 Comprehensive MIDI support
ACID Pro 8's MIDI sequencing lets you edit your MIDI files in real time and precisely control MIDI events. You can also automate and modify modulation effects, expression, and other instrument data with sophisticated track envelopes.
EXCLUSIVE! 2 drumsticks with sensors incl. Bluetooth 4.0 USB dongle
Intuitive handling thanks to an inspiring, modern interface
Faster remixing thanks to powerful 64-bit technology
9 GB of ACID loops and samples
Join the community
Interact with other ACID users and discuss the latest trends or challenges in music production - or just share your music on Facebook!

Community
Join the conversation with other audio professionals and enthusiasts. Share your production tips and tricks with the ACID community.

Facebook
Discover the world of ACID on Facebook! Join an awesome community to share your music, get inspired and learn about the latest product updates.

Newsletter
Sign up today and never miss out on the latest news, information or ACID offers.