All features in
Audio & Music Lab Premium
Record audio media
A few clicks is all it takes to record individual songs or entire albums from cassettes and records or speech for podcasts in studio quality (up to 96 kHz/24-bit resolution).
Import CDs
Transfer your albums, singles and EPs to your computer in no time at all. Title information and CD covers are automatically retrieved online for original CDs.
Import for video sound
Import video files even faster than before and start editing the audio track right away. The new algorithm makes the whole process more efficient.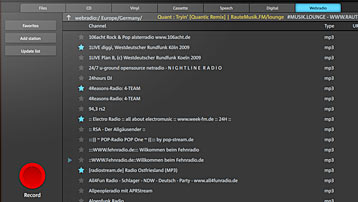 Internet radio
Exclusive to the Premium version: Discover thousands of radio stations online. All stations are clearly arranged according to genre and country.
Always up to date – station to station
The Internet radio feature recognizes automatically when a station is no longer active online. This means that only current stations are listed in Audio & Music Lab.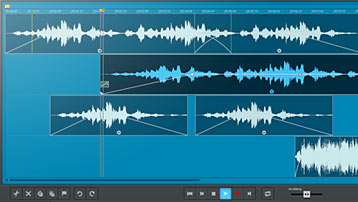 4 tracks for audio montages
Create transitions and add audio commentary or sound effects to recordings. The 4 tracks provide plenty of space for comprehensive audio editing.
See what you hear
Various visualization options for your audio tracks make it easier to identify and edit problems with the volume or frequency.
In addition to the Spectroscope, Peak Meter and Spectrogram, MAGIX Audio & Music Lab Premium also offers a Bit Meter, a Correlation Meter and a Direction Meter.
Time stretching & pitch shifting
Audio & Music Lab Premium includes one of the best algorithms in the world from zplane™ for adjusting pitch and speed in audio recording. This technology works with precision and gives you artifact-free results.
Range editing
Switch to range mode to select individual sections within a track and copy or edit them with a single click. This makes editing audio montages even easier.
Object effects
With the "object effects" you can edit individual sections of a recording with different effects and settings.
This enables you to adjust the volume of individual sections in a song or a speech recording, to efficiently remove audio errors and apply effects such as reverb and echo only to those sections that really need them.
Edit audio files
Whether in terms of volume adjustment, individual editing techniques or working with automatic wizards, Audio & Music Lab Premium is an impressive audio editor across the board.
Divide up recordings
When a recording is finished, the program automatically detects where one song ends and the next one begins.
The recording can then be burned to an audio CD and each song will show up as a separate track when it's put in a CD player.
Sublime transitions
Fade lines within the audio track enable you to quickly and easily adjust the volume. It's a great way to fade into a song intro or shorten longer tracks by slowly fading them out.
Batch processing
Thanks to batch processing, you can optimize multiple audio files in one easy step.
Freshen up your digital music archive now and enjoy your songs in brilliant sound quality!
CD covers & track info
Automatically retrieve album information such as song titles and CD covers over the Internet.
All of this information is displayed when you play music on smartphones, MP3 players or music management programs like MAGIX MP3 deluxe.
Audio converter
Vinyl or CD; MP3 or OGG; WAV or AIFF: Every format has its advantages and disadvantages.
With Audio & Music Lab Premium, you can record in a range of formats and burn CDs and convert audio files as well.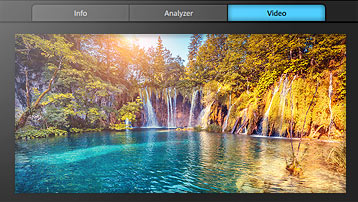 Optimize video sound
Enhance speech recordings and reduce background noise, wind noise or sibilants:
Audio & Music Lab Premium includes a wide range of presets for quickly removing all kinds of noise.
Preview Monitor
The preview monitor can be detached and resized freely, enabling you to work on two monitors simultaneously. It's the ideal tool for synchronizing picture and sound.
The latest generation now also supports monitors with 4K resolution.
Video Sound Optimizer
Click on your track and the Video Sound Optimizer will suggest the right effect settings for enhancing music or speech in your footage.
Video converter
Bring your videos to the big screen: Convert your video files with optimized sound into all standard formats.
Movie formats such as MPEG-4 can easily be converted to WMV.
Media exchange
Transfer your audio or video projects with just a few clicks from MAGIX Audio & Music Lab Premium to any other video editing software.
Videos can be easily transferred to MAGIX Movie Edit Pro, Video Pro X or MAGIX Photostory Deluxe.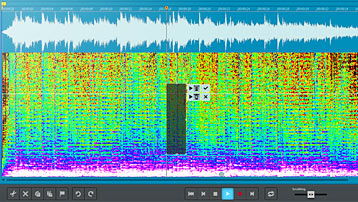 Spectral display
The spectral display provides an overview of the various frequencies of the audio track. This makes it easy to immediately detect and remove audio errors such as claps, coughs, etc.
Stereo editing combined with an extensive color palette for visualizing the frequencies ensure a smooth and effective workflow.
Preview function
When you select ranges in the spectral display, you can check to see what the same passage sounds like after cleaning and compare it to the original.
Simply highlight any audio noise using the mouse and one click later you're done.
Automatic cleaning
The Auto Cleaning feature makes precise suggestions for improving your audio based on an automatic analysis of your audio signal. You can adjust the suggested improvements, compare them directly with the original and even preview them.
Work with presets
Distortions, crackling vinyl, hissing, cracks, humming, and any other noise can be filtered out quickly and easily thanks to a vast selection of over 360 presets.
Advanced effects editing
Direct access to all effect parameters for sound optimization in audio editing and mastering. After optimizing the track, the end result not only sounds better, but also sounds just the way you imagined it.
Remove crackling from LP tracks
Most LPs bring back memories of special moments. Moments that are matched by the warm, smooth sound coming from the record player.
Crackling can be removed from vinyl easily with presets for different strength levels.
Clipping reduction
Remove overmodulation or prevent it in the recording with the help of the limiter and DeClipper.
This way, you can correct varying levels in volume and hear your recordings in top quality.
Enhance smartphone recordings
Smartphone cameras are becoming more and more advanced, but unfortunately this usually isn't the case for their microphones.
Audio & Music Lab Premium makes it easy to optimize your smartphone recordings using various presets.
Stop wind noise with the click of a button
The best footage is often shot outdoors, but can contain a high level of background noise. This problem often occurs in action cam footage.
You can remove the wind noise from your videos in a flash using professional effects plug-ins and various presets.
Remove camera noise
Get rid of noises from older camcorder models by using simple presets or make custom adjustments to the audio in the effects area.
Optimize speech recordings
In no time at all, you can optimize speech and bring the quality of your audio to a whole new level.
Easily remove and reduce popping and hissing "s" sounds in your speech recordings.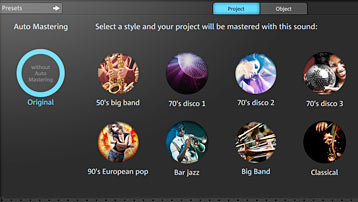 Music digitally remastered
Simply select the genre for your song and the Auto Mastering function selects the optimal audio settings for optimizing sound.
Compare and preview results with other music styles such as jazz, 70s funk & soul or classic 80s pop.
Mastering package
Optimize and fine-tune the sound image of your audio material with just a few clicks – perfect sound at the press of a button!
The new parametric 6-band equalizer is the perfect tool for adding that final polish to your audio material. The StereoFX module expands the width of the stereo field and the MultiMax multiband compressor/limiter produces an authentic, warm sound image.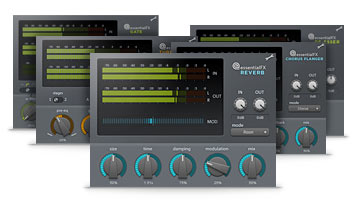 VST2 interface
For using other MAGIX effect plug-ins or third-party plug-ins, Audio & Music Lab Premium has four slots in the VST2 interface.
essentialFX
essentialFX is a collection of 6 first-class effect plug-ins taken directly from the field of professional audio. Along with cutting edge algorithms, these effects offer a sleek interface with quick and easy access to every parameter.
eFX Reverb
This new plug-in contains everything you need for modulating reverb effects professionally – whether short reflections or longer reverb.
eFX gate
This "gate" only opens when the set audio signal occurs. This can be used to suppress hissing noise between tracks or the background noises on a speech recording.
eFX Vocal Strip
Compressor, DeEsser & High-pass filter: The eFX Vocal Strip is a plug-in with an fantastic combination of effects for optimizing the quality of your vocal recordings.
eFX Tube Stage
This plug-in simulates the sound of an analog tube amplifier and is ideal for creative distortion in speech recordings in audio books or videos.
eFX Chorus Flanger
A creative plug-in with various settings for that characteristic flanger effect. The ideal plug-in for playing around and experimenting with sound.
eFX DeEsser
The eFX DeEsser provides a warmer sound by reducing the typical sibilants (heavy "s" sounds) and popping that can occur in speech and vocal recordings.