Digitize records & cassettes the easy way
with Rescue Your Vinyl & Tapes!
Transfer your analog sound carriers to your PC in just a few steps using the Premium USB preamp. Optimize sound afterwards using SOUND FORGE Audio Cleaning Lab. This can be done in a flash thanks to intelligent automatic functions and the clear program interface.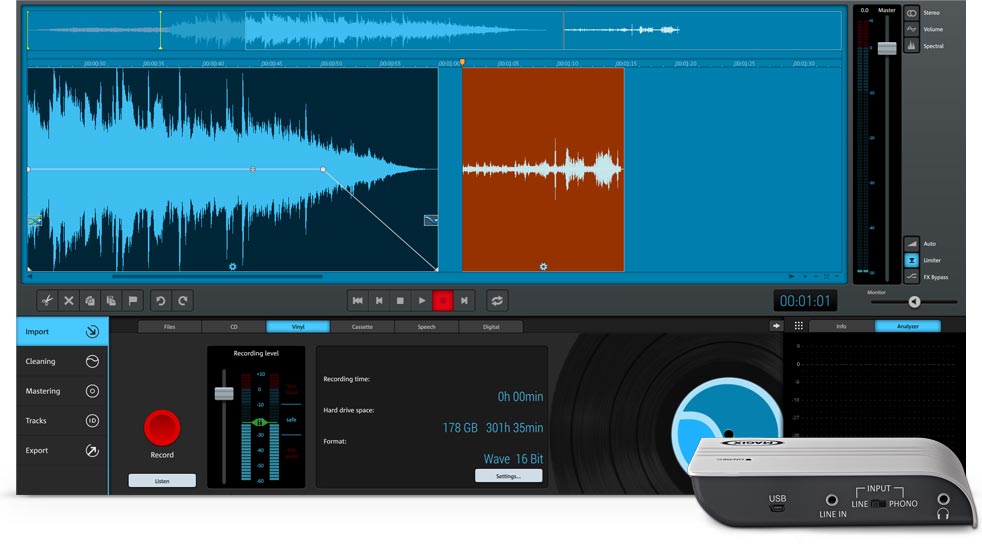 Transferring made easy
Digitize your favorite music easily using the accessories included to connect your record player, cassette deck, and tape recorder to your computer.
Crystal clear sound
Experience your music digitally remastered to an outstanding quality level. Easily remove noise thanks to tons of presets and Auto Cleaning.
Individual tracks with full information
With SOUND FORGE Audio Cleaning Lab you can automatically split up your recordings (e.g. from CD) into tracks and add album information such as title and cover.
Long-playing guarantee
Superior quality in compact storage: Store your records on your hard drive in all standard formats such as WAV or MP3.
The rescue package contains:
SOUND FORGE Audio Cleaning Lab software
Premium USB preamp with ground connection & MM/MC switch
USB cable for PC connection
High-quality stereo RCA cable
Y-audio adapter RCA to 6.35 mm mini audio jack
Premium USB preamp in detail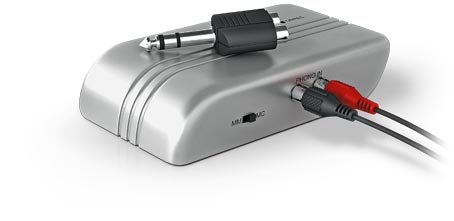 The software automatically recognizes which device you are using – without installing drivers.
The USB preamp is compatible with all playback devices and contains RIAA equalization for Moving Magnet (MM)- or Moving Coil (MC) cartridges specifically for transferring records.
Monitor while recording
Listen to playback in real time with headphones.
No humming on records
The grounded connection for record players prevents interference signals.
The right voltage for all devices
Switch simply between record players (phono) and tape recorders (line).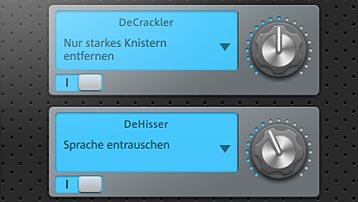 A clean start
Remove humming, crackling, and popping in a matter of seconds. The automatic analysis tool offers suggestions for optimization. Further presets and effects are available for removing persistent noise.
Music optimization with style
Jazz, rock, or 70s funk & soul: Simply choose the music genre and the Auto Mastering function selects the optimal audio settings.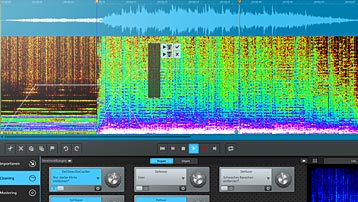 Spectral display with preview feature
View frequencies in different colors. Identify noise and outliers on a visual level, select and remove them and hear the improvement right away.
Import CDs easily
Import your CDs and automatically add all title information.
Intelligent search feature
Enter what you're looking for into the search field (e.g. "EQ") and the program displays the help text, templates and effects you need. You can open this with just a click.
4K monitor support
The design enables simple operation for high-resolution 4K monitors.
Powerful ProAudio technology
The software is based on high-quality technology used in the professional audio programs Samplitude and Sequoia.
The free tutorial videos from SOUND FORGE provide you with an initial look at the program.
Learn quickly and easily how to use the most important program features to bring your projects to life.
* With the update service you will receive a full year of free new features and updates, which can be used indefinitely. If you reinstall the program after one year, you will have access to the basic version. After the one-year update service has expired, you can extend it for a discounted price.
All MAGIX programs are developed with user-friendliness in mind so that all the basic features run smoothly and can be fully controlled, even on low-performance computers. The technical data for your computer can be found in the control panel of your operating system.
Minimum system requirements:
Graphics card
Onboard, minimum resolution 1280 x 768
Hard drive space
1 GB for program installation
Optical drive
CD/DVD drive (only required for installation of the box version)
Internet connection: Required for activating and validating the program. Software can also be used offline.
Optional: Burn CDs/DVDs with a CD/DVD±R(W) burner
Audio
| | | |
| --- | --- | --- |
| | Import | Export |
| WAV | | |
| MP3¹ | | |
| OGG | | |
| AAC² | | |
| WMA | | |
| FLAC | | |
| OGG Vorbis | | |
| AIFF | | |
| M3U | | |
| CUE | | |
Other
| | | |
| --- | --- | --- |
| | Import | Export |
| Audio CD | | |
| Audio DVD | | |
| Data CD/DVD | | |
¹ Requires Microsoft Media Player
² Fee-based activation
MX stands for Media-X-change – the fast exchange of media with other MAGIX programs, online services and mobile devices.
Share your audio data effortlessly with the following programs and services from MAGIX:
Ideal for your music collection
Add your enhanced audio files to your digital music collection in MAGIX MP3 deluxe with a single click. MAGIX MP3 deluxe.
These programs also allow you to:
Create playlists
Add search filters
Design CD covers
Ideal for your films
With a single click, you can use your optimized music tracks as background music for your videos in MAGIX Movie Edit Pro, Video Pro X, MAGIX Photostory or Fastcut..
Set videos to music
Create soundtracks
Record voice-overs
Share with the world
Share your audio files online with just a few clicks.
Share slideshows with music privately
Get music on your Smart TV
Speech recordings for your website