How you can create amazing photo effects
You've taken a great photo, but you still think it could look a bit better? Then why not try out some photo effects!
Using various photo effects, you can give your photo a special look or highlight specific image elements. With the right effects, even the most boring photos can be transformed into amazing works of art. The Photo & Graphic Designer from Xara makes it very easy to apply these photo effects to your pictures.
With Xara Photo & Graphic Designer, all you have to do is select the effect you want and adjust the intensity using the slider.
How about an elegant black & white photo?
One of the most popular photos effects is the transformation of a color photo to black & white. Some might argue that this isn't really an effect. After all, in the beginning photos didn't have any colors. But because this is no longer the case, transforming your photos to black & white can actually be quite eye-catching. You can achieve this effect very easily with Xara software by reducing the color saturation.
What this photo effect does: Removes all of the color from objects and reduces them to structures and lines. Ideal photo type: Pictures of architecture are especially good for this kind of transformation. Try it out yourself with a picture of a train station. But don't be afraid to try for other kinds of photos too, e.g. black & white portraits.
Tip! If your original photo doesn't have proper white balance, this can easily corrected with the removal of colors.
Want to create a retro look?
If black & white is too gloomy for your tastes, you can try a trendy retro look instead. This is created by reducing only part of the saturation and changing the hue. This often leads to a sepia effect. But a light yellow or soft green can also generate interesting photo effects.
What this photo effect does: Your photo appears like something from a different era.
Ideal photo type: On the one hand, pictures of people are great for this effects. For the full "time travel" effect, the people can even dress up in old fashioned clothing. But you can also use the effect on pictures of people in totally modern styles. This can create interesting contrasts that catch the viewer's attention.
Ever tried Color Key?
In addition to reducing the colors in the entire photos, you can also retain the colors in specific parts of the image. A common use of this effect is to keep the red intact. This is a great way to highlight mouths or a red rose.
What the photo effect does: Specific image elements are specially highlighted. The picture is "calmed" by the reduction of colors.
Ideal photo types: This effect is particularly good for portraits. But street scenes can also work well with this kind of photo effect.
Perfect or totally weird bodies and faces using morphing
Every noticed how perfect the models look on the cover of fashion magazines? As you probably already know, what you are actually seeing are the results of good picture editing. Exactly these types of photo effects are possible with this program from Xara when you select the "Liquify" photo filter. With a relatively large brush and low pressure, you can give your portraits this perfect look. With just a few clicks, you can remove a few pounds or skin blemishes. If you want to get a bit more creative, you can go a step further and create funny caricatures by using the effect with extreme settings.
What the photo effect does: Makes perfect portraits or funny caricatures depending what you're looking for.
Ideal photo types: Portrait photos work best with this effect.
Lots of other filters and editing options
In addition to the photo effects already mentioned, the program also offers many more photo filters. For example, you can make your photos look like oil paintings or create the impression of a miniature landscape. The best thing to do is try all the effects out for yourself to find what works best with your photos. No matter what kind of effect you want to add to your photo, this program from Xara has the right tool for the job. But effects aren't everything, and for that reason the software includes a wide range of powerful tools for image optimization. And as if that wasn't enough, the program is also great for designing your own graphics.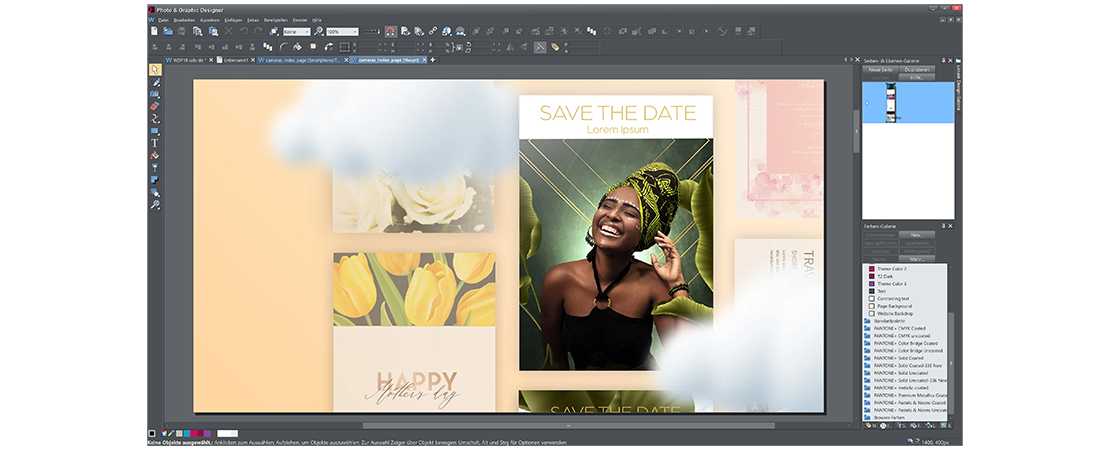 Special photo effects with Xara Photo & Graphic Designer
If reading this has made you curious about how these effects work, you can try them out for yourself. A trial version of Xara Photo & Graphic Designer can be downloaded for free from the MAGIX website and used for an unlimited time. See for yourself just how amazing your photos can look with photo effects!
* With the update service you will receive a full year of free new features and updates, which can be used indefinitely. If you reinstall the program after one year, you will have access to the basic version. After the one-year update service has expired, you can extend it for a discounted price.