A Picture Editor from Xara
A Picture Editor is generally used to get more out of individual photos.
Quick photo optimization, red-eye removal or contrast and color enhancement – with the multitude of functions in Xara Photo & Graphic Designer all of these improvements can be made in the blink of an eye. It's also possible to make good photos even better. A simple bit of cropping and a few slight adjustments to the gradient curve can work wonders. Other tools make it possible to create one large panorama image out of individual vacations photos from exotic places.
It's a great way to display the spatial impression of a landscape or city skyline in a more effective way than you could with a single photo. You don't even need to use a tripod or other special equipment when taking the pictures. The software creates the panorama automatically. All you need to do is take lots of overlapping photos.
Anyone who wants to can take a complete selection of photos and create a multimedia slideshow. These can be burned to DVD or Blu-ray so you can watch them at home on your TV. The user can also share slideshows with the whole world by uploading them to YouTube.
Users who first want to try some complex photo editing should start with a Picture Editor with an easy learning curve that guarantees fast and successful results. With Xara Photo & Graphic Designer the user doesn't need to struggle with the program for hours to figure out what level they are working on in the program. A simple click on the element to be moved is all it takes to move it to the background or foreground. The program from Xara then takes an unconventional approach by enabling the user to work with vectors when editing the images.
This method can be learned intuitively. The special advantage is the non-destructive workflow. In other pixel-based programs the pictures can become blurry, e.g. when they are enlarged or reduced in size. In this Picture Editor the vector basis prevents this from happening.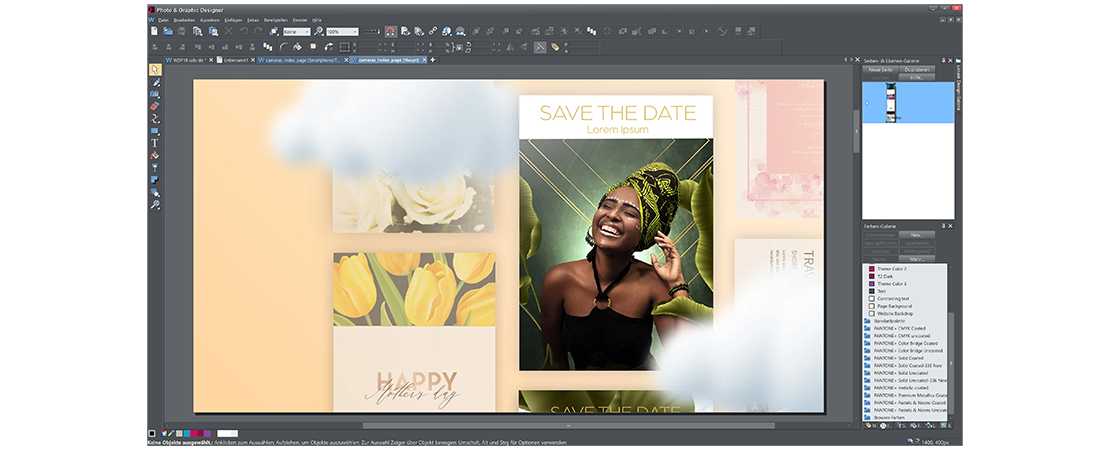 A Picture Editor for all kinds of image enhancement: Xara Photo & Graphic Designer
The software also offers creative options for artistically distorting photos or combining single images into one large panorama. You can enhance your photos with graphics that you create yourself in the program or with clipart selected from the gallery. Transform your photos into works of art. It's also possible to add funny caricature effects and speech bubbles to your images to put a smile on the face of your friends and family. This is a great way to make viewing your latest vacation photos more fun and entertaining.
This Picture Editor from the German specialists in multimedia software helps users to do more with their photos than they ever imagined possible, like creating interesting slideshows, for example. The software Photostory has already become a classic for this purpose. Anyone who has problems with keeping track of their photo collection can use the powerful tools in Photo Manager Deluxe such as the Face ID which helps to make finding specific photos a breeze.
The possibilities offered by a program like Xara Photo & Graphic Designer are numerous ranging from simple corrections on through to the creation of complete multimedia shows. To find out which program is the right one for your needs you can download free test versions from the MAGIX website. This makes it easy for all users to find the Picture Editor that is right for them.
* With the update service you will receive a full year of free new features and updates, which can be used indefinitely. If you reinstall the program after one year, you will have access to the basic version. After the one-year update service has expired, you can extend it for a discounted price.