Create websites with a website builder
Are you thinking about designing a homepage
with a typical website builder?
This may seem like a good idea considering the number of low-priced systems that are available. If you do decide to go this route, you'll be offered a range of templates for your design. This template is then filled with content directly in the browser. These building blocks can also be edited and administered easily in the browser regardless of the device being used. You don't need to install any software and get started right away. This is a great way to go for anyone who wants to quickly and easily get their content online.
But those with higher expectations will quickly become aware of the limitations of these kinds of systems. When creating the layout you have to settle for the included building blocks and can't add your own design elements. It's also often the case that the number of pages is limited too. With this type of website builder your homepage design is extremely limited.
If you're interested in taking things to the next level you can go directly to Xara Web Designer which offers even more options. This program has to be installed on your PC, but offers much more than typical browser-based website builders. It automatically creates backup copies of your files and can upload your finished website with just a few clicks. You don't need to learn any programming skills and can move the elements around on your web pages with simple drag & drop. This type of functionality is referred to as WYSIWYG (What You See Is What You Get).
Thanks to the vector graphic engine you can create infinitely scalable graphics with this program. It also includes all the basic photo editing functions. You can even make use of the MX functionality and edit your images in Xara Photo & Graphic Designer. The photos edited there can be imported directly to your website. If you want to create flyers and posters to match your website you can use Xara Page & Layout Designer.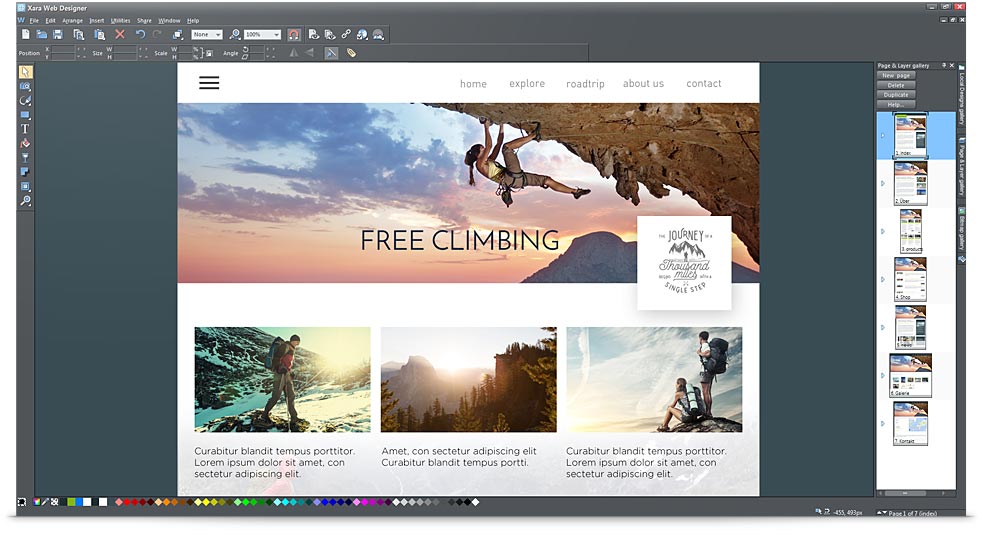 Xara Web Designer – more than just a simple website builder
For anyone who doesn't have their own design ideas there is also a great selection of website templates to get things started. Unlike the templates in most website builder systems these can be customized down to the finest detail.
Don't waste your time with average website builder programs – go for Xara Web Designer instead! It's just as easy to use but offers a whole lot more. Don't settle for limited design options – set your creativity free! The MAGIX website offers free test versions so you can try out all the functions in the software.
* With the update service you will receive a full year of free new features and updates, which can be used indefinitely. If you reinstall the program after one year, you will have access to the basic version. After the one-year update service has expired, you can extend it for a discounted price.