Website templates for your own homepage
You don't have any ideas for your website design and are looking for website templates to get you started?
Then you're thinking in the right direction! Why waste your time and energy struggling with web design when there are so many other options available? Take advantage of the professional design experience and use a website template from Xara Web Designer.
In Xara Web Designer you'll find a wide range of website templates for various topics and the Premium version even offers templates for different kinds of businesses. These templates are developed by professional graphic designers and meet the highest standards.
All of the website templates are completely customizable. Change the colors or move the elements around any way you want. You can also change the navigation by exchanging the menu, adjusting details or making your own design from scratch. Graphics, text and backgrounds can also be resized and moved around. You decide how buttons and other elements react to a mouseover (moving the mouse pointer over the element).
Depending on how much time you have and how creative you feel, you can create your own unique design for your website. If you have completely different ideas for your web design, you can easily use the program to transform them into reality. Simply start with a blank page and design your website from scratch. There's no need to use the website templates if you don't want to.
If you have questions about website design, you can take advantage of the tutorials offered by Xara. The tutorial DVD helps you to get the most out of the software and you can learn some general web design techniques.
Here are some helpful tips for great designs:
Less is more: Keep the number of colors and fonts to a minimum
Proper alignment: Use the Magic Snap functions to make sure all of the elements are aligned with each other.
Multimedia integration: Add photos, videos and even music to your website and keep your visitors coming back for more
Don't go overboard with animations and music: Try not to overload and overwhelm your visitors with too much content
Modern web design: Have a look at some big name websites to get inspiration for your design or use a website template
But always keep one thing in mind: The most important thing is web design is to have fun and sometimes rules are made to be broken!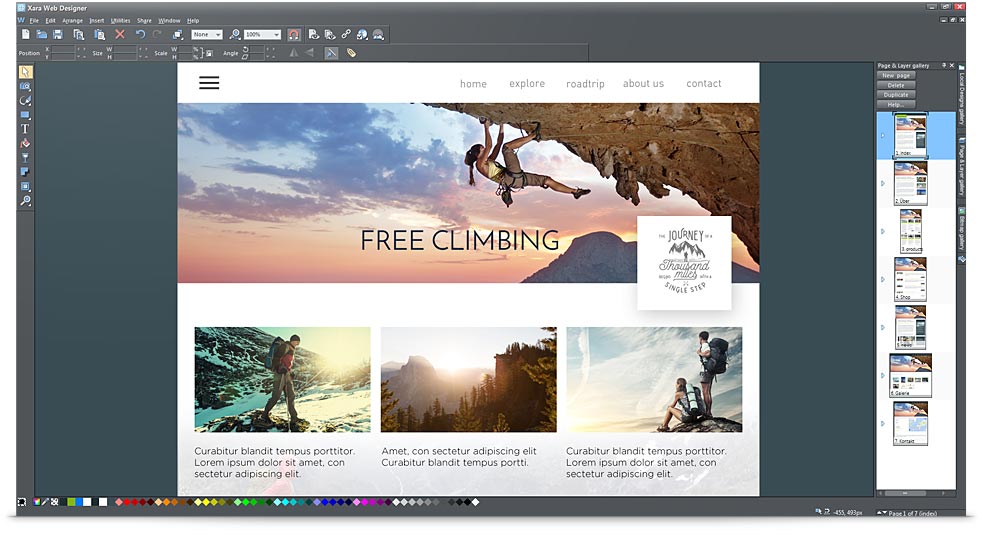 Website templates from Xara
In other words, get started on your homepage project now and use one of the many website templates in Xara Web Designers for an optimal start. It's a great way to get impressive results quickly and easily.
* With the update service you will receive a full year of free new features and updates, which can be used indefinitely. If you reinstall the program after one year, you will have access to the basic version. After the one-year update service has expired, you can extend it for a discounted price.