Audio Editor - Cut, edit and play audio files
MAGIX Audio Cleaning Lab was specially developed to edit, cut, record and optimize pieces of music.
This audio editor allows you to record audio signals from various sources like a microphone, record player, PC or cassette player and even import diverse formats like MP3 or WAV. The focus of this superb software is entirely on the audio track. The user interface is very clear and offers various marking and zoom features for editing. You can switch between the full or stereo display with just one click and quickly and easily adjust the volume, remove noise with various presets, or apply different effects such as reverb, DeEsser etc. to the entire project or just to parts of the audio files. The best part is, you can also easily use this audio editor as an MP3 converter, an audiograbber or as an audio recorder - it's a great multifunctional tool for all your audio files.
This audio editor is not just an audio editor, Audio Cleaning Lab for Windows was developed as a universal tool for music, speech and other forms of audio recordings and offers a whole range of features, import and export formats and presets. You can even conveniently cut or shorten downloads from music portals with this software or convert to MP3s. The speed with which the files are processed and optimized in the software is a real advantage. Select an object or project area, click on a use case and then select one of the many effect presets – that's it! In the cleaning section you will find, for example, presets to remove crackling or clicks from records, distortion or even video camera sounds. This audio editor is a great tool to correct noises in speech recordings and easily reduce sibilants. If you want to create a fade in or out your music, you can make adjustments directly in the editor with the fade lines. By using the presets many steps for audio editing can be skipped and will get you faster to your desired results. The variety of formats available for converting audio files is also quite impressive. To download the free version of this audio editor click here - all downloads on the page can be tested for free for 30 days.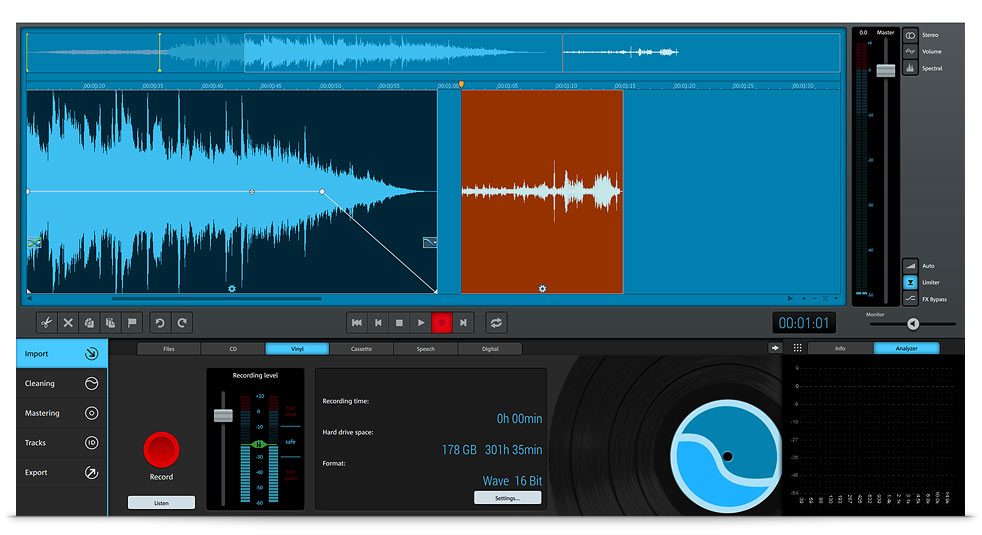 High-quality music editing - with the audio editor from MAGIX
Anyone who wants to quickly obtain professional results when editing audio files and places value on easy operation should definitely give Audio Cleaning Lab a try. The greatest advantage of this audio editor lies in its simplicity. Very complex processing steps are consolidated into templates that are easy to understand for anyone of any skill level – even beginners. Download this editor for audio files for free and test it for 30 days from the Free Download Page from MAGIX.