Start recording with the audio recording software from MAGIX
Audio Cleaning Lab is the audio recording software for anyone who wants to record, cut and edit music.
No matter whether it's audio commentary, old or new recording devices or your first vocal recording, thanks to the simple recording function, you can quickly start recording your audio straight to your computer. After recording, the program offers various tools to correct and cut songs, add effects or optimize music. In fact, the auto mastering tools allow you to easily optimize the sound of your music by selecting its genre - which is very convenient for digital music players. The ease of use and authentic sound also allows beginners to get started right away with recording audio signals of any kind and the effects and tools allow advanced users to record with professional quality they are looking for.
Record, cut, trim and even optimize music with this audio recording software. MAGIX Audio Cleaning Lab combines features of an audio recorder, an audiograbber, an editor and a converter. To begin recording with the software, just select the tab "Import", select the appropriate import source and then click on the record button. If you want to record vocals, be sure to use a small room while making the recording. You can also hang blankets over doors and on the walls to minimize the echo and room sound. For speech and vocal recordings you should, therefore, try recording at various distances from the microphone. Finding the ideal position of the microphone should be tested and determined before you start recording. We recommend that you use a pop filter to filter out pops and sibilants from the recording.
After you import your recording into MAGIX Audio Cleaning Lab you can adjust the loudness and the sound itself. Noise, such as crackling and humming, can easily be removed thanks to numerous the effects and presets. This way, you don't have to repeat the whole recording, but rather just correct the problematic areas. The integrated effects in the software allow you to manipulate, optimize or change the sound of your recordings. Audio Cleaning Lab is available in the box version as well as for download.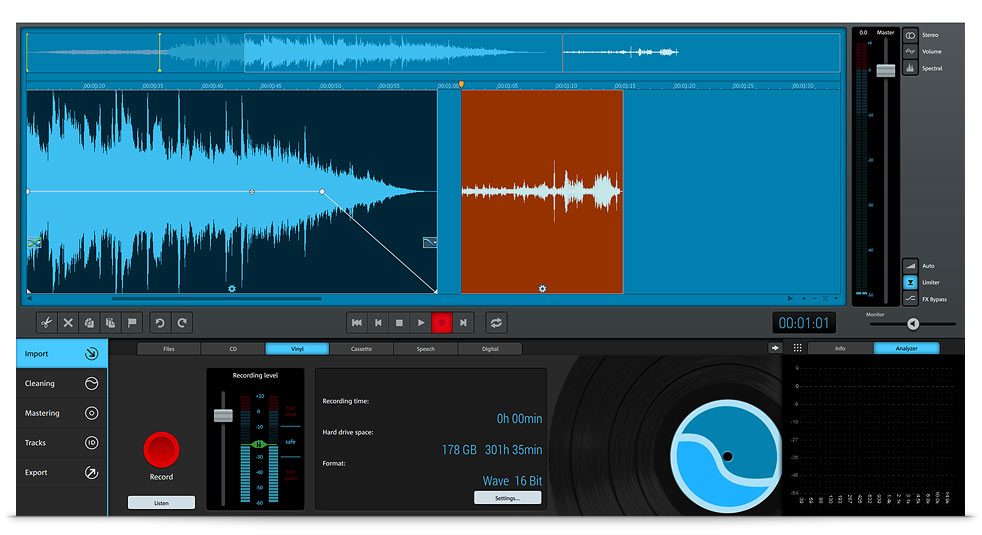 The audio recording software for all sound perfectionists and music lovers
This audio recorder enables quality recording and editing of audio files on your PC. The combination of ease of use and excellent sound quality with intelligent presets allows even beginners to obtain professional quality results with this audio recording software. You can upload your recordings directly from the audio recorder to share on social media, burn to a CD or convert to various formats. If you would like to first test the program, you can find a free version on the Free Download Page from MAGIX.