Make brochures the easy way with software from Xara
Need a brochure about your company, new products or your association? Then simply make it yourself with the Page & Layout Designer from Xara. A number of high-quality templates makes it possible for anyone to make a brochure in no time at all.
Save yourself the costs and effort of hiring an agency and have complete control on how your brochure looks. With a separate desktop publishing program (DTP), such as the Page & Layout Designer, you have all the freedom to create your own design.
The design templates provided in the Page & Layout Designer are sorted by different occasions and sectors and offer the perfect basis for virtually every need. Every single detail of the template in the layout program from Xara can be completely customized. If you have a specific idea about your design, you can also start with a completely empty page.
The wide range of tools allows you to add photos, text and graphics or make them yourself. Thanks to assistants in the program, you can even make your brochure in no time at all. Magic Snap is one of these assistants. You can use this to align all the objects in your layouts next to each other. The automatic guidelines that appear can be used for aligning objects. Layouts arranged like this immediately have a considerably more professional and high-quality look.
Thanks to the integrated image optimization function, you can also automatically perfect your photos, edit them just right and adjust the color to your design. With the intelligent scaling function, you can even drag narrow pictures apart to make them wider so that you can use them as a background, for example. Pretty much every program offers this feature. But Xara software features clever algorithms that make sure important image elements, such as people, are not distorted. That can be very helpful when you're making a brochure for your business.
Furthermore, you can also have text automatically move over several text fields and also align them across shapes and lines. This is how you design wavy texts. You can also repel text from other objects. This makes it possible to have text move around shapes. There is also an integrated spellchecker to find typos. After all, your brochures should be the perfect advertisment.
The vector graphic engine also allows you to draw true vector graphics in this program. Use the shape tool for lines, circles and polygons for this. You can make your objects more vivid using gradients, shadows, transparencies and – if you want – 3D effects.
This way, not only can you make great brochures, but you can also design posters, flyers, business cards, stationery and much more. After you create your flyer, you can easily print it at home or hand it over to a professional print shop. Thanks to the PDF/X support, you are always on the safe side when it comes to printing results.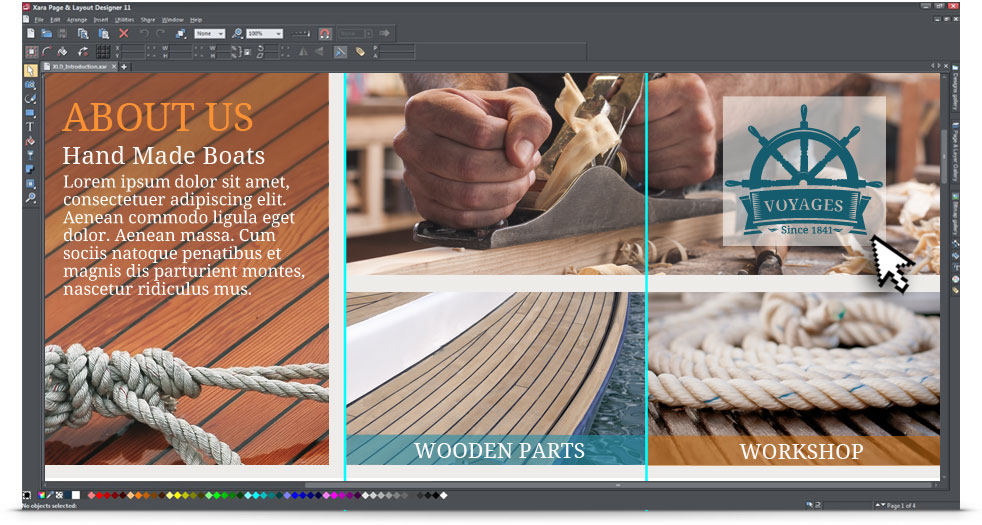 Make flyers, business cards, brochures and much more with Xara Page & Layout Designer.
Begin making your own brochures right away. Start right now with the free Xara Page & Layout Designer trial version. Not only will you be amazed, but your customers, association members and friends will be too.