Convert VHS to digital with MAGIX Rescue your Videotapes!
Do you have tons of VHS tapes lying around that you haven't seen in a long time? Bring your old treasures into the 21st century and watch them on modern devices!
The program Rescue your Videotapes! from MAGIX helps you digitize your old movies by transferring your VHS recordings onto your PC, optimizing them, and then allowing you to burn them to DVD or Blu-ray Disc. Thanks to numerous features and wizards in the program, you can bring your favorite recordings back to life with great picture and sound quality in just a few simple clicks. For users who are not familiar with digitizing VHS cassettes, don't worry, there's no previous experience required and lots of tutorials along the way to help you learn all the necessary steps and functions.
For movies, converting VHS to DVD isn't always worth it because they can be purchased in better quality in a digital format. However, there are still many movies that you may have recorded from your TV that are no longer available in the original dubbed version or are shortened when rereleased. Such cinematic treasures are worth keeping and with the right software, converting VHS to digital can be done in a snap. The rescue package from MAGIX provides you not only with the right software but also with the right hardware in order to connect your video recorder via SCART cable and USB extension to your PC. After converting your VHS, you can optimize the films in many ways in the program. For example, to correct damages caused by improper storage, frequent use or the natural decay of the tape's magnetic band just use the optimization effects that come with the program.
Converting VHS to digital is especially important when you have family recordings and memories lying around on old VHS tapes. Once they have been digitized, you can upload them to a password-protected online album and share them with family and friends or burn them onto a DVD or Blu-ray disc for a great Christmas present. A child's first steps, the first words or your uncle's memorable performance at a karaoke bar - save these treasures before it's too late. Converting VHS to digital also works if your videos are not saved to VHS but rather to cine film, Video 8, S-VHS, Hi8 or any other tape format. The digitized VHS and cine films can then be saved and archived on a larger hard drive, allowing you to save physical space and easily access your videos whenever you like and share them with anyone.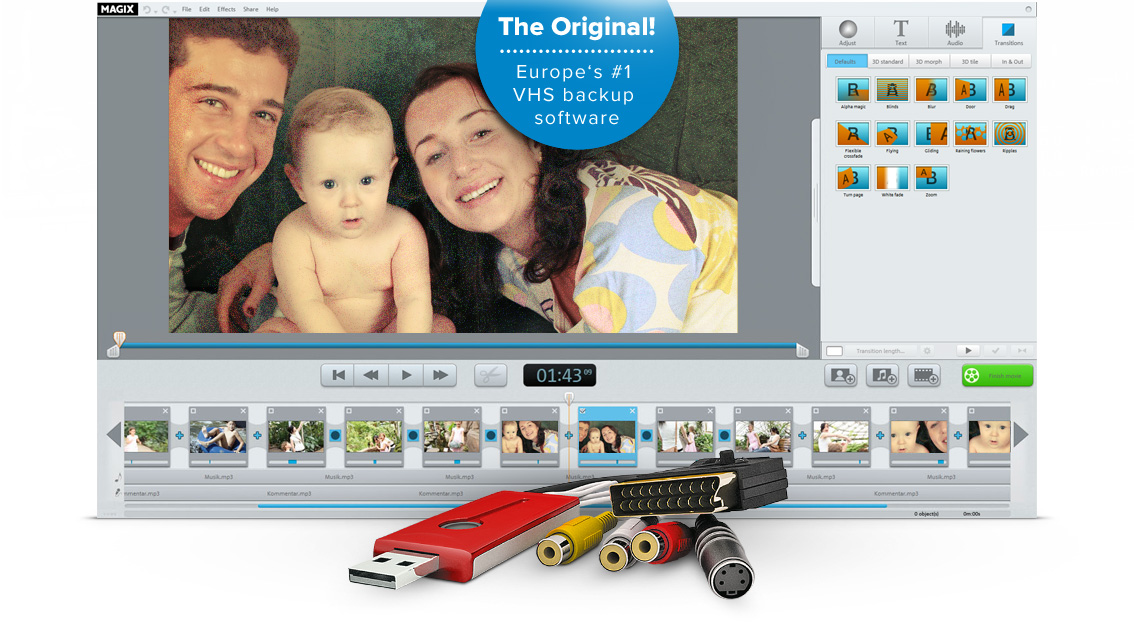 Everything in one program for converting VHS to digital
Rescue your Videotapes! is perfect software to convert VHS to digital. The program provides you with an ideal combination of software and hardware in order to transfer movies on VHS to your PC, to optimize the quality of the video and audio recordings and export them in the desired format.