Xara: Make a flyer with ease
Make a flyer without a hitch? Without in-depth previous photo editing knowledge?
What sounds like an impossible wish for many users is both the goal and mission of German software specialist MAGIX: to provide every user with powerful editing options without a long pre-roll time! MAGIX developed the Page & Layout Designer program for creating customized flyer designs, for example, to use as advertising and marketing tools. This software is impressive with its easy handling, fast processing as well as its ability to easily design work processes and produce spectacular results.
When making flyers, you don't have to invest in hard to understand and costly software solutions. And you also don't have to give this kind of task to an agency right away. Quite the contrary: if you just take a little time to explore the software, you will quickly discover the advantages and learn how to independently design graphic material. There is a wide range of license-free templates to make the introduction even easier. All functions and design options can be accessed through an interface and have been intuitively designed so that users can quickly understand them and use them for all their needs. The Page & Layout Designer even performs some functions of a 3D program. This makes it easy, for example, for you to design buttons and headers.
Once you have completed the header, you can simply type in the remaining text or copy it from Word or another text editor. Then add pictures and draw your own graphics. If you don't want to draw graphics, you can also search for suitable, pre-assembled design elements in the design gallery. You can adjust them to your design wishes as necessary.
When arranging all elements, Magic Snap provides you with the automatic guidelines to which you can lock objects into place. The program can automatically move flowing text around images and graphics. In this way, you can design amazing flyers in next to no time at all. You can also create other products in the program too, such as business cards, posters, brochures, etc. in the same style as the flyer.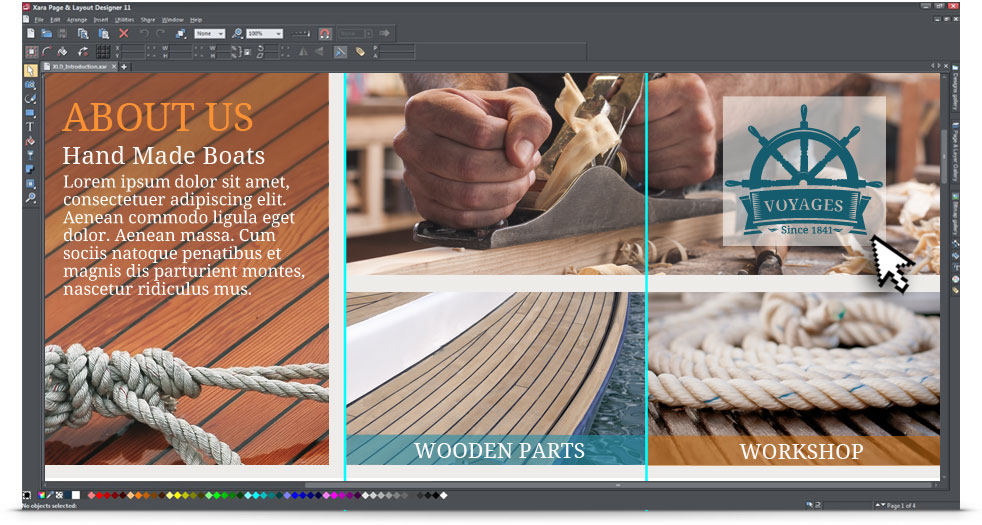 Make flyers – without any previous experience!
You can easily hand them over to print shops thanks to the support of professional color matching systems and PDF-X. Or you can also print your flyers out directly on your inkjet printer at home.
Start making your own flyers today. Thanks to Xara Page & Layout Designer, the design is much easier than you think. It's therefore ideal for your private as well as professional use. Impress your association colleagues as well as potential customers with your next flyer.