Good video editing software
We capture the most important moments in our lives in video and images and save them on a CD, DVD or hard drive. But what next?
Videos that we record tell us even more than just a picture as it attracts more of our senses. It's therefore only a matter of time before each hobby movie maker has to edit his own video footage. Whether it's for a family event, such as a wedding, a child's birthday or the greatest vacation memories compiled into a movie, all raw material can be edited into an individual film. And to do this, you don't need much more than your Windows computer and MAGIX Movie Edit Pro – good video editing software that turns your desk at home into a video editing studio.
Your creative possibilities are endless with this impeccable software. It comes with more than 1,500 effects and templates, one-click optimization solutions, 99 user-programmable multimedia tracks, an individual menu design and many more advantages plus support in the form or tutorials and an online community. It doesn't matter whether you're an amateur or already a specialist in this area – the program guides beginners through video editing step by step and also allows experienced users to customize their work according to their personal preferences.
The goal behind the video editor from MAGIX is to always offer users easy to understand software as well as the latest technology. This is why the video editing software Movie Edit Pro offers beginners the ideal introduction to video editing. The fast and easy operation enables movie-worthy results after only a few steps. At the same time, video enthusiasts also treasure this video editing software, because behind the easy to use interface lies a comprehensive functional depth that offers experienced users a variety of option for professional movie making.
In the past, MAGIX has always been successful in offering high-quality technology that beginners can also use as well as at setting key standards in product development. The developers of MAGIX continuously rise to the challenge of meeting the demands of both user groups. This challenge is recognized through countless awards and high user satisfaction. Each version offers new technologies that help beginners produce amazing results on their home Windows PCs. Take advantage of good video editing software that offers all the comforts for editing your own video footage at home.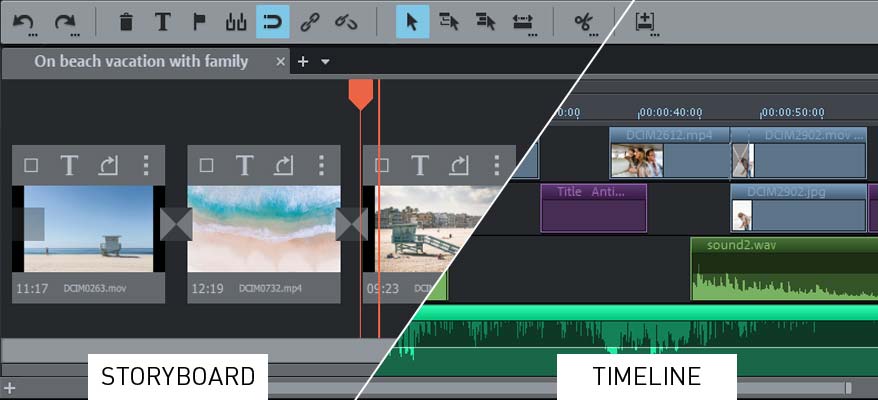 Easy-to-use video editing software with a wide range of features
The video editing home studio that comes with more than 1,500 effects & film templates, 4K and HD editing, advanced dubbing in 5.1 surround sound and many more advantages. A program that is designed for beginners as well as advanced users and impresses users as soon as they start the software.
* With the update service you will receive a full year of free new features and updates, which can be used indefinitely. If you reinstall the program after one year, you will have access to the basic version. After the one-year update service has expired, you can extend it for a discounted price.