Xara: an image editor like no other.
Today, selecting which image editor to use for editing photos is almost as important as which camera you use to take your photos.
This is why you have to consider many things in advance to determine which functions you need in an image editor. Otherwise, you run the risk of working with a software that is either not powerful enough or – as frequently happens – is too complex for you. With Xara software, you are guaranteed ease of use and a large number of functions at the same time.
The solution is a versatile image editor: Xara Photo & Graphic Designer. Thanks to the comprehensive operating concept, you can enhance individual pictures, remove unwanted image areas and also create graphics.
Xara also offers a line of photo software which offers in depth photo and graphic manipulation using vector graphics and flash animations. These professional editors provide great power and speed when manipulating graphics. Photo & Graphic Designer lis much faster than many competitor's products and produces files that can be 10x or more smaller. One of the best photo software packages on the market.
Entirely object oriented means that editing is completely non-destructive, and uses a fraction of the RAM required by other products. It can handle multiple very high resolution images with ease, even on a modest PC. Xara Photo & Graphic Designer makes the perfect photo composition tool.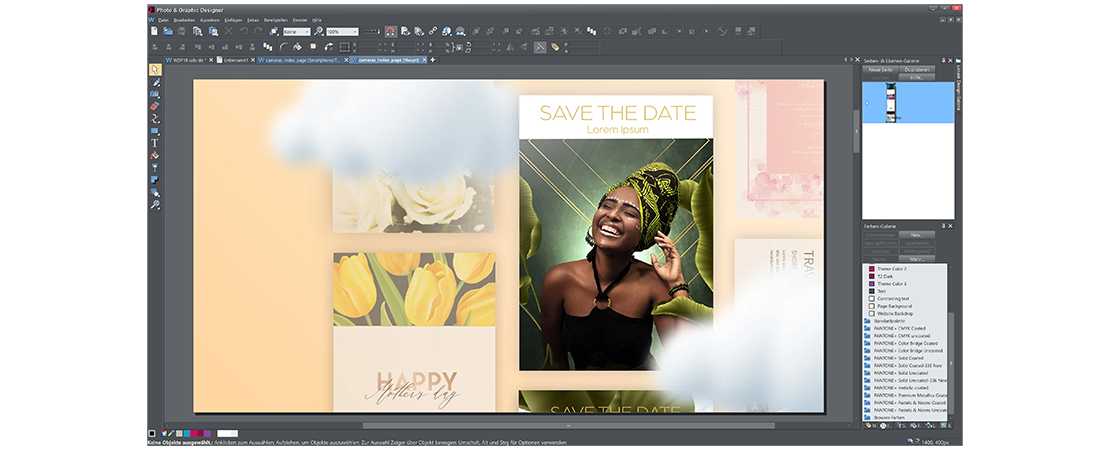 An image editor with unrivalled versatility.
Using the retouching tools, you can correct disruptive image elements and small blemishes. You can also remove or replace entire images. Then adjust the brightness, contrast and color scheme of the individual image elements using the photo editing functions. Along with added shadow effects, your photo montages will then almost look like they are not montages at all. With a smart combination and a great idea, you can create brilliant photo collages.
You can easily use the image editor with all common file formats and even import raw files directly from a number of cameras. You don't have to work with other conversion programs and immediately benefit from the increased quality and the extra details in the RAW files. In this way, you can get the most out of your photos.
Thanks to the MX feature, you can send your photos directly to MAGIX PhotoStory deluxe and create a slideshow from your best photos.
Try out the free trial version now and create your own photo masterpieces. The software is avaiable for download on the MAGIX website. With this picture editor, you have all the functions readily available for making better pictures.