A Fast and Effective Logo Creator
Customers expect companies to have a clearly communicated corporate identity.
A corporate identity builds the relationship between customers and a company. No matter how big or small your company may be, this is an essential piece to building your brand and how you want to portray the image of your company to your customers.
One crucial part of a company's identity is the logo as it is the visual centerpiece of any brand. Creating the perfect logo for your company is essential but can often be a daunting task. Finding the right graphic designer to create your logo can be expensive and they may not be able to properly capture the essence of your company's image or complete the project in a timely manner. Creating your logo on your own may be a better approach.
It is often cheaper and gives you total control over your company's brand which can be especially helpful for small businesses and entrepreneurs. However, with such an important piece of you company on the line, you don't want to compromise on quality. Using the right tools to create your logo is important and that's where Xara Page & Layout Designer can help. It keeps costs low without compromising quality allowing you to create the logo that truly captures the essence of your company.
Xara Page & Layout Designer is a powerful logo creator, allowing you to create and customize corporate logos as well as other promotional materials. The software is easy to use and intuitive allowing complex designs to be learned and quickly executed. With a wide range of functions not only can you design your own logo with this software but you can continue to build your brand with its featured templates for business cards, flyers, newsletters and brochures. This easily mastered program is guaranteed to save you time and money without compromising on quality and allowing you full control to create your corporate identity the way you want it.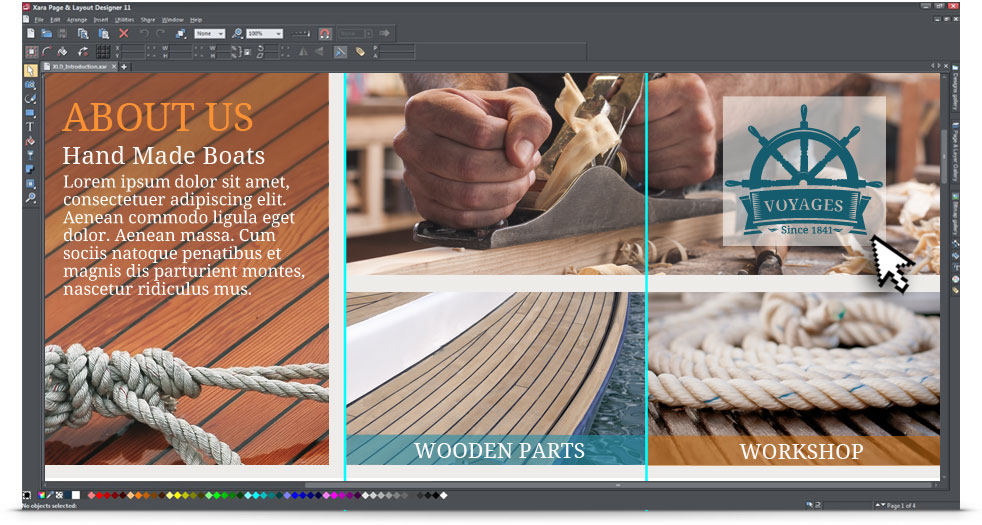 Make your own Logo with our Powerful Logo Creator
Professional logos, brochures, posters, newsletters and other marketing material no longer need to burn a hole in your pocket. Xara Page & Layout designer will save you and your company both time and money without compromising on results. This powerful logo creator and designer allows you to create a professional cooperate identity from your own computer.