What is an MP4 Converter
When it comes to video files, there's a downright flood of file formats and many users don't have an idea of which format their own device supports. MP4, a multimedia file format for different digital content based on Apple QuickTime is one common file format. The MP4 file format offers obvious advantages for saving digital content and video streams. It is also useful for saving sound and video tracks as well as subtitles, 2D and 3D graphics. But what is the connection between MP4 and MAGIX? The answer is Movie Edit Pro, the video editing software with an integrated MP4 converter and audio grabber. This converter – as the name suggests – lets you convert various video files, e.g. AVI into MP4.
Movie Edit Pro from MAGIX is movie editing software that allows you to edit videos, convert them, add effects, burn them to DVD, and much more. But what very few know is that this program also features an integrated MP4 converter. This is necessary for converting your recordings into MP4, one of the most common formats in addition to AVI. Not every recording medium saves raw material directly as MP4. But by using Movie Edit Pro, you can quickly convert any number of files to edit them later.
If you want to watch your DIVX or MOV films while you're on the go, you can use MAGIX Movie Edit Pro as a converter. The obvious advantage of MP4 files is that they can be detected by all common playback media, including mobile devices, such as iPhone, Android smartphones or tablets. This is why you should use MP4 if you want to burn your videos (e.g. to DVD) or send them to relatives via email. This way, files can be played with no problem at all.
In addition to converting MP4 files, you can also use the audio grabber to easily add your favorite songs as background music to your MP4 file.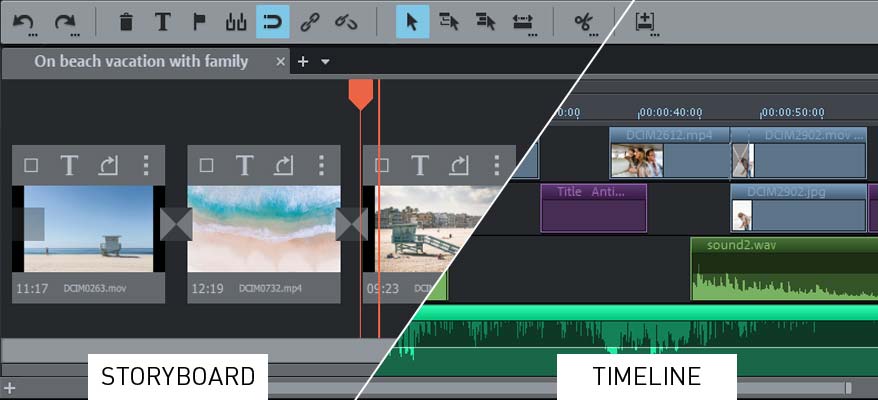 Converting videos to MP4 with MAGIX Movie Edit Pro
Movie Edit Pro from the multimedia software specialist, MAGIX, is far more than video editing software – it's also a MP4 converter and audio grabber. Movie Edit Pro allows you to import files, e.g. AVI files, convert them into MP4 files as well as edit and export them. All the features you need are combined in one program.
* With the update service you will receive a full year of free new features and updates, which can be used indefinitely. If you reinstall the program after one year, you will have access to the basic version. After the one-year update service has expired, you can extend it for a discounted price.