Transfer an LP on CD using the ultimate tool for dedicated romantics
Imagine, your romantic evening has been planned to a tee. The food has been prepared and the table is set with the candles burning. All that's missing is the right music to set the mood. But what do you do if you want to listen to your favorite LPs but with all the wear-and-tear, all you hear are the scratches.
How can you make the most of your vinyl records even when they're in such a bad shape? By transferring your LPs to you CD, Smartphone or MP3 player and optimizing them, of course! With MAGIX Rescue Your Vinyl & Tapes you can listen to your favorite tracks and still get to the last course of your candlelit dinner without any interruptions. It's the instrument of choice for those committed to love – whether it be to a person or to the music itself.
With MAGIX Rescue Your Vinyl & Tapes, you get the hardware you need to import your analog recordings from LPs and cassettes to your computer and the software you need to edit and optimize them. You can easily clean scratches from your records to get back the sound quality that your records once had. MAGIX Rescue Your Vinyl & Tapes does more than just digitize your LP collection. It helps you optimize your entire album collection. Up to six uncompressed CDs may be burned to a DVD in top quality and played directly from any DVD player. This ensures hours of undisturbed musical enjoyment. Your old Barry White albums or other analog romance ammunition may be cleaned of noise and artifacts with just one click using the Audio Cleaning Lab software delivered alongside the hardware. The program can even be used for audio dubbing.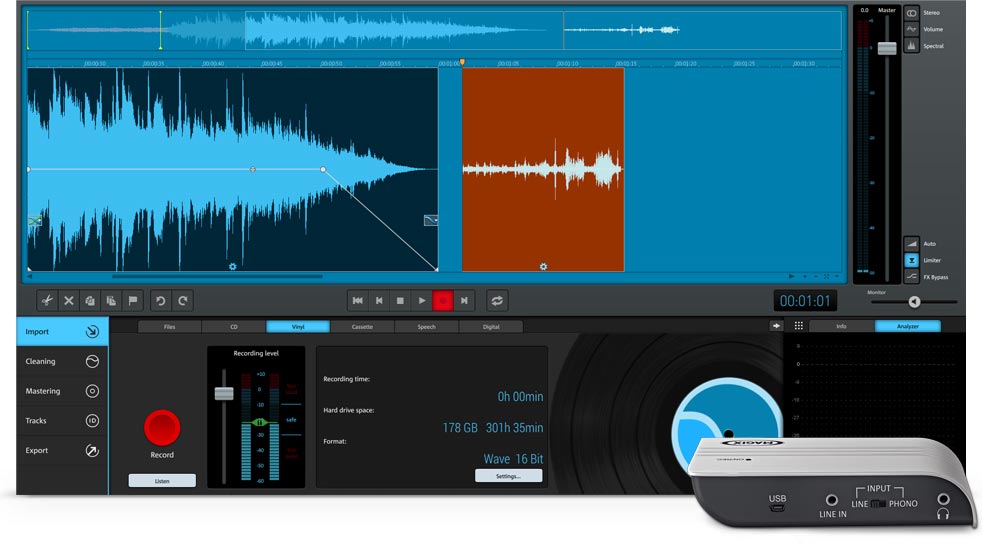 Digitizing made simple with MAGIX: Transferring a cassette or LP to CD, DVD or Smartphone
MAGIX Rescue Your Vinyl & Tapes is the lifesaver for analog media. By first transferring old analog recordings into MP3s and other formats, the program allows you to edit and optimize your tracks to help make your evening end perfectly.