Whether hobby or pro musician: MAGIX has the right music production software for any type of user.
With the right music production software, anyone can bring their musical ideas to life. A classic in the field of audio production software is MAGIX Music Maker.
It was the first program that enabled user, even those without any musical experience, with the ability to create their own song. With this idea still intact and the core reason behind the program, MAGIX has continuously been updating Music Maker with new tools and features allowing it to continue to serve users for over 20 years.
Even with all competitors coming into the market, the biggest advantage of MAGIX Music Maker is the quality of the songs produced from the German multimedia software specialist and its roots in the professional audio field. The Digital Audio Workstation (DAW) from MAGIX, Samplitude, isn't just known amongst professional musicians but has produced Grammy award winning titles and is the same tool that has been seamlessly integrated into Music maker.
Music Maker has a sterling reputation among music enthusiasts and stands out because of its ease of use and above average sound quality. The connection between the pro product Samplitude and consumer product Music Maker is also ideal for inclined users. New features whose quality is judged by professional musicians are frequently added to Samplitude and Music Maker alike. If the general reaction towards these kinds of new features is positive the developers at MAGIX decide how best to integrate them into the products for the mass market, without demanding too much of the user. Music Maker is often the program the first software solution users use to get started in music production. There is a range of sounds and sound building blocks for creating unique songs in all the most popular musical styles. The program is so easy to use that all you have to do is drag and drop the building blocks into the timeline. Afterwards all kinds of instruments can be recorded, from electric guitars to drums, bass guitars, pianos and even your own vocals. The initial idea is quickly given a structure and then becomes a song.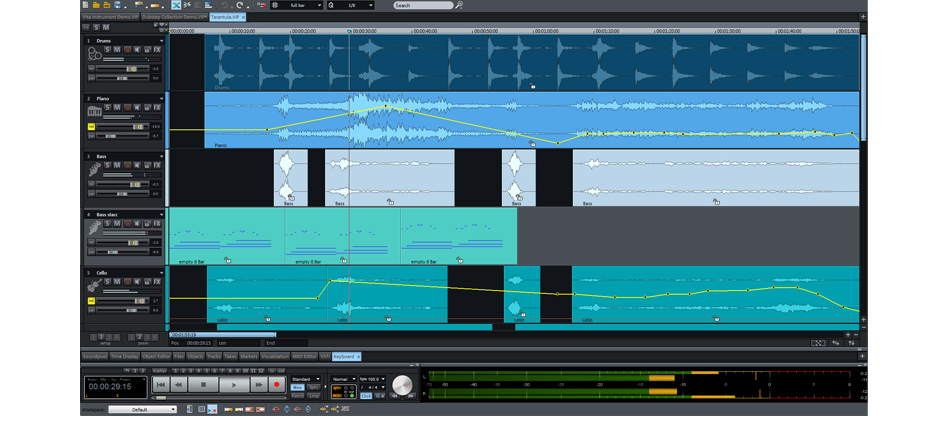 Music Maker: clearly laid out, simple music production software
MAGIX offers so much more with all its software solutions in audio field. Users of any skill level and any need can find the solution perfect for them. For instance, you can easily digitize your old record and cassette collection with Rescue Your Vinyl & Tapes! Are you having problems adding songs to an MP3 player? The MP3 software, MP3 deluxe is there to help to transfer, convert and even organize your music collection. For audio production, the Digital Audio Workstation Samplitude to Music Maker, enables users to make their musical dreams a reality. MAGIX offers a solution for everything in the field of audio production, music editing and master and audio format conversion.