Professional Music Production
For anyone who wants to become a music producer: Samplitude Music Studio is an award-winning solution specially tailored to the needs of the ambitious musician.
This audio software includes a virtual studio that can be adjusted with just a few clicks to fit the way that you produce so you don't have to sacrifice your creative flow to work with the program. This means the sequencer offers its own optimized workspace for each phase of music production. Record, edit, mix and master audio tracks: Samplitude Music Studio is the all-in-one program for music producers. The recording software from MAGIX allows you make multitrack recordings in 24 bit/96 kHz studio quality, offers a variety of virtual instruments for your melodic recordings and effects plug-ins, and supports common MIDI keyboards and hardware controllers for producing music.
Whether you're in a rehearsal room, at home or in a project studio: This DAW (Digital Audio Workstation) is made for big ideas that require small details. With 64 bit & multicore support the software remains stable and smooth even when producing more complex and ambitious music. Anyone who wants to record music, like a music producer, will be prepared for anything - even at recording sessions with large bands thanks to the integrated multitrack recorder MR-128 with 128 tracks. This feature allows you to record multiple tracks simultaneously which doesn't hinder the creative process and enables the music to flow freely.
You can even produce your own music right on your computer with Samplitude Music Studio by adding various virtual instruments like drums, guitar, piano sounds or even your own vocals and instruments all on multiple tracks. The program also comes with a large variety of professional studio effects that will have you producing music that will top the radio charts even without a ban. For that final musical touch tools like Vocal Tune for pitch correction, or Mastering Suite 4 with a parametric equalizer, multiband compressor/limiter and the StereoFX module deliver impressive results. This program is suited for every type of music producer at any skill lever. The novice music producer can even produce music as The Easy Mixer helps mix individual tracks with multifaceted presets and the comprehensive tutorial video easily explains all of the steps to produce music.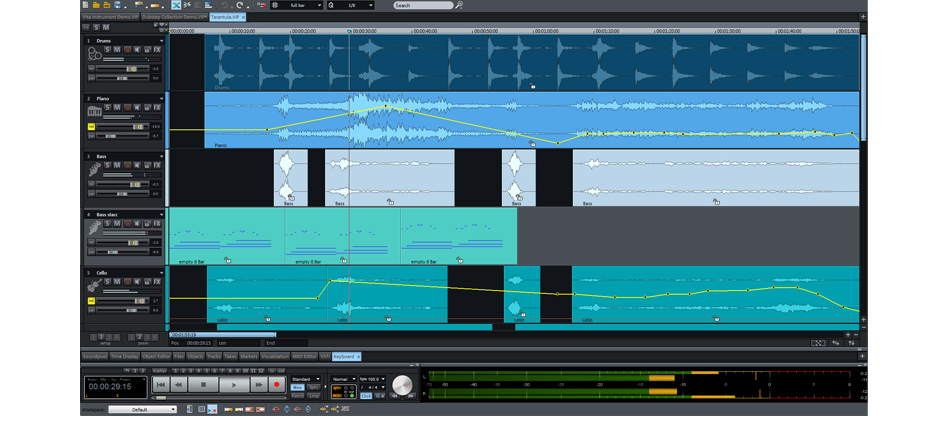 Record music like a music producer - In a rehearsal room or your own studio.
Samplitude Music Studio is incredible DAW software offers outstanding performance. Beginners as well as experienced bands and producers can easily produce music at a high level with this software– all that's required is a computer with Windows and a sound card. Expand the software with additional plug-ins, synthesizers or instruments through the integration of plug-ins via VST, ReWire and DirectX. There are even automated and customized solutions are available for mastering.
Be your own music producer and mix it up - once your songs or albums are completed, publish the audio files on online platforms such as SoundCloud, Facebook or YouTube with just a few clicks. No matter whether you're an entire band, solo artist or just want to record your own songs, creating music like a music producer with this program is not only easy but also highly professional.