A complete studio in a single DAW
Samplitude works using full bit transparency. The consistent use of floating point calculations ensures that the sound retains the desired nuances, even after extensive digital processing. The result: Transparency in the sound, neutrality and retention of transients and spatiality.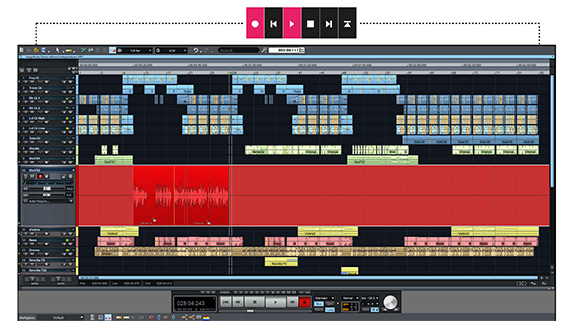 Sophisticated recording
Samplitude Pro X stands for the highest level of audio quality, even in complex recording sessions.
With a total of 999 tracks and up to 256 physical inputs and outputs, working on large projects is no problem at all. Use common audio formats from 16-bit to 32-bit floating point as well as sample rates up to 384 kHz.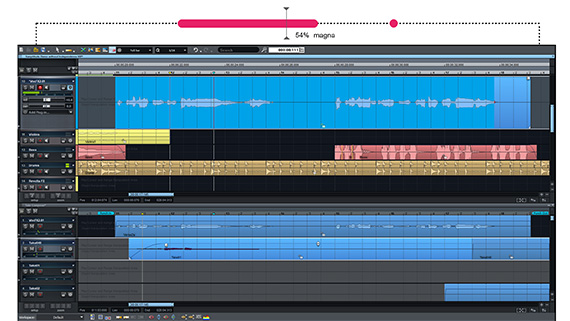 Take Composer
The Take Composer clearly displays all the recordings of a passage.
This feature offers a specially optimized cutting tool to combine the takes in the context of the entire arrangement to get a perfect end result.
Editing is one of the essential core competencies in Samplitude. With practical workflows, flexible docking options and ultra-precise tools, users can create a production environment that's perfectly customized to their needs so they can concentrate fully on projects.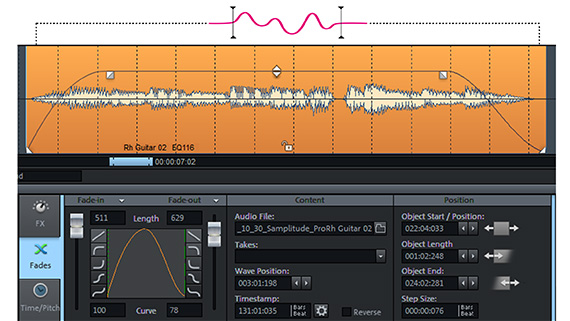 Object editing
In addition to standard options for track-related editing, Samplitude also features object-based editing options.
Apply effects at object level or route objects to AUX or Surround buses. From fades to using effects and editing pitch, all edits you make are non-destructive and are calculated during playback, so there's plenty of room for experimentation.
Object Editor
The Object Editor enables you to access all features for object-based editing in a single clear interface, with a graphic design that's modeled on a channel strip.
A realtime channel strip is assigned to each object and each split object. You can split material into any number of small audio objects and then edit them individually or in groups.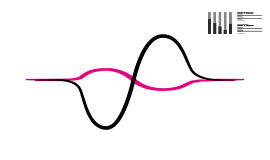 Melodyne Essential
The Melodyne essential plug-in from Celemony contains the legendary tool for correcting recordings with absolute precision.
The renowned algorithms offer complex editing solutions for audio recordings.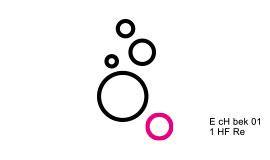 zplane algorithm
Use the latest zplane algorithm, élastique Pro v3.2.3, for time stretching and pitch shifting.
This algorithm uses the latest findings from signal processing theory and combines these with psycho-acoustic models.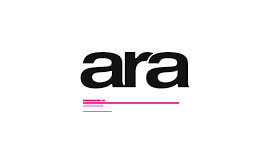 Audio Random Access
Edit projects on a whole new level of musicality.
The ARA extension allows for Samplitude Pro to be linked with Melodyne, enabling a direct exchange of tempo and pitch information, volume values and intonations. Combined with Melodyne essential, you have access to a powerful tool for pitch manipulation.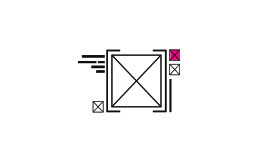 Copy & paste content across projects
Easily copy tracks, even across projects.
Simply use the checklist to choose which settings you want to transfer, for instance VST plug-ins, AUX busses, submix busses and VSTi return tracks. This makes your editing and production workflow much more streamlined.
Extensive options for producing scores and MIDI editing as well as numerous virtual instruments: There's inspiration in every detail.
Samplitude Pro X includes a huge range of modern and classic software instruments that can be used to create professional arrangements and offer whole new creative possibilities. Produce music with groove boxes, synthesizers and authentic sampler instruments from a variety of countries and eras.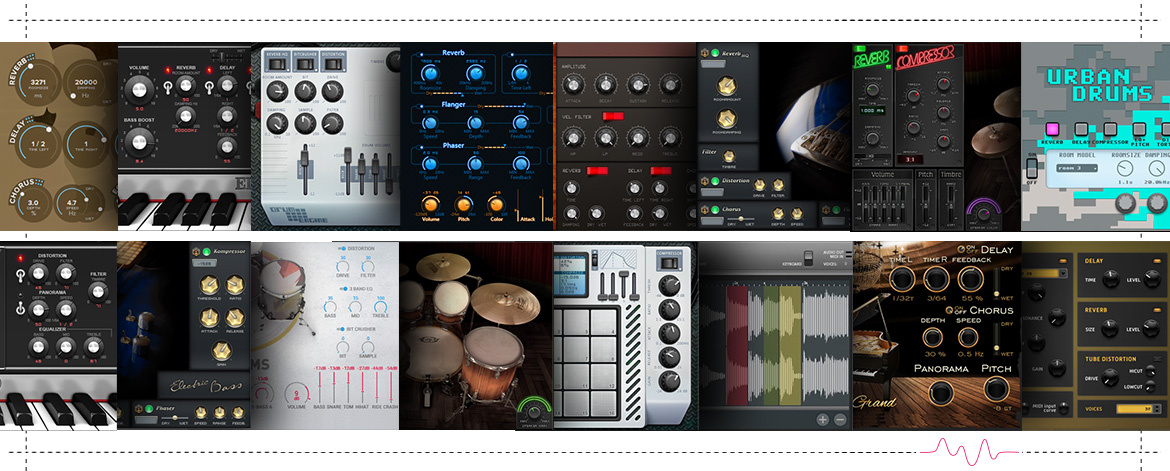 Choir
The virtual choir includes three different vocal settings (female, male and mixed voice) and form the ideal foundation for atmospheric background vocals or stirring melodies.
Soundtrack Percussion
Create dynamic rhythm sections for songs or movie scores with a collection of cymbals, drums and other percussion.
Vintage Organ
The classic sounds of the Vintage Organ bring you back to the heart of the 60s and 70s. It stands out with funk & jazz-inspired sounds that are characterized by their precise and realistic sound.
Lead Synth
An impressive synthesizer based on the sound of analog classics. The unmistakable sound makes it perfect for winning lead melodies.
Jazz Drums
Jazz Drums in Samplitude help you recreate the groovy swing of a smoky jazz club. Authentic samples and delicate parameter settings create an incredibly realistic feel when this instrument is played.
String Ensemble
The String Ensemble guarantees an authentic sound – but it can also be used to create dance songs, soundtracks and pop arrangements, thanks to various features such as the noise controller, editable play styles and electronic distortion.
Vita 2
A production wizard for music with real instrument sound: VITA 2 is a long-established high quality sample player with a huge sound library.
Vita Sampler
Mash up your sound! Vita sampler hacks up sounds, samples and even entire tracks into individual parts and adds them to 8 brightly colored pads.

Independence Sampler
An amazing sampler workstation with a vast sound library, live performance mode and a virtual effects shelf.
Included in Samplitude Pro X4: Independence (12 GB Premium Sound Library)
Included in Samplitude Pro X4 Suite: Independence (70 GB Premium Sound Library)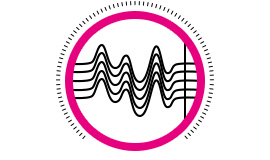 MIDI Velocity Dynamics
"Velocity Dynamics" is a real-time effect for MIDI data which allows you to edit the attack dynamics of the MIDI notes.
Adjust the MIDI velocity to the connected synthesizer by compressing or expanding the velocity strength of the selected event.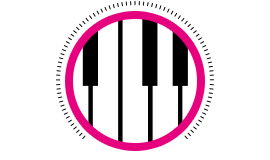 MIDI editor
The MIDI editor integrates different editors, views, ranges, and tools.
The MIDI parameter editing tool is another new feature: Selected events (e.g. velocity or pitch bend) can be moved, stretched or compressed and scaled in relation to each other in various ways. MIDI quantization is also possible without any additional steps.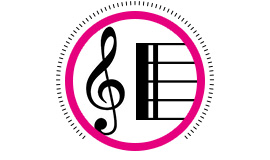 Music notation
From idea to finished score: Music notation in Samplitude Pro X4 displays MIDI data as notes in real time.
Your edits are transferred directly to the MIDI editor. Individual notations can be edited in the parameters pitch, velocity and length. When you're finished, you can publish the data as sheet music. Support for lyrics is a new feature. If you import a MIDI file with lyric markers, the text is displayed in the score.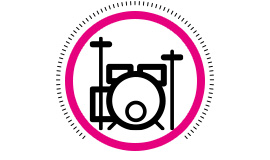 Drum editor
The Drum Editor is an alternative version of the piano roll, specifically for programming drum parts.
Transfer note settings to other channel strips and quantize individual elements or assign them a new (MIDI) output channel. The editor can be displayed in Matrix mode with conventional parameters or in cell mode. Cell mode allows you to adjust the width of notes and define a view quantize grid per instrument.
Intuitive mixing, flexible routing and new automation functions for complex recording tasks – on up to 999 tracks. Ideal for larger arrangements.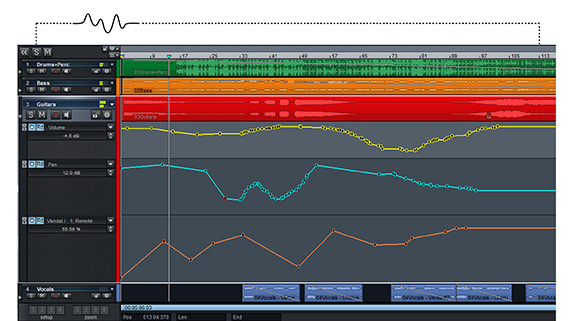 NEW! Automation lanes
Track automation in Samplitude Pro X4 can now be displayed across several sub-tracks, known as "lanes".
You can display and edit any number of track parameters such as volume, panorama or VST effects simultaneously. The control elements in the track header offer lots of of options for operating and switching the parameters. Automation lanes can be faded in an out of any track. In addition, editing of object and track automation has been fully optimized.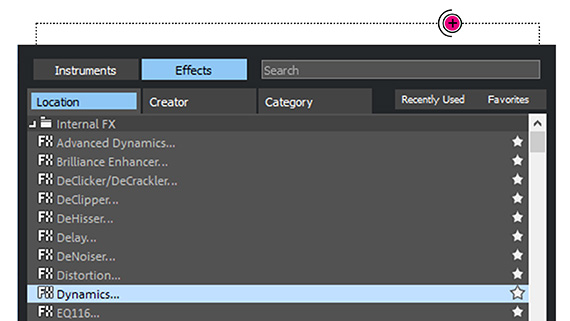 NEW! Plug-in browser
Discover fast and easy access to all your effect and instrument plug-ins.
Category-based sorting in the plug-in browser dialog and the filter function enables streamlined organization and lets you find the effect you need quickly, even if your plug-in collection is large. Use the Favorites function to mark effects and instruments you use regularly so that you can access them easily and quickly.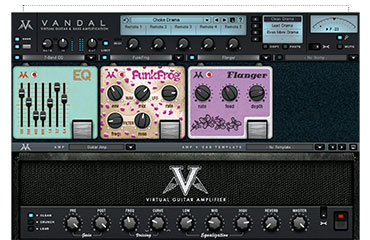 Vandal
A virtual guitar & bass amplifier includes 24 stomp boxes, 70 different presets and three different microphone arrangements.
Every component of the amplifier, from the tube to the speaker coils, is virtualized right down to the last detail. Physical modeling technology guarantees great sound without compromise.
Analogue Modelling Suite Plus
Includes four models of high-quality analog tools.
This includes an analog compressor with optional tape saturation simulation (am|track). Samplitude Pro X4 Suite extras: A tube pre-amp/channel strip (am|phibia), a transient designer (am|pulse) for influencing the signal envelope of percussive audio material, plus a mastering dynamics tool (am|munition) with compressor, limiter, clipper and M/S editing.
essentialFX Suite
The essentialFX Suite is a high-quality collection of 11 professional effects plug-ins for modulation and dynamic effects.
This collection contains both standard effects, such as flanger, tremolo and chorus, as well as special plug-ins for optimizing speech and vocal recordings, and an excellent compressor.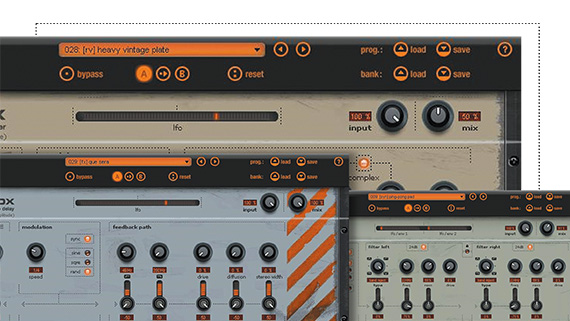 Vintage Effects Suite
The Vintage Effects Suite contains the Corvex, Ecox & Filtox plug-ins. Each of these plug-ins is based on the same control principle – but they couldn't be more different from each other in terms of sound design. Filtox is an Oberheim filter and controls the frequency response of a modulation source. This allows you to create effects like the wah-wah effect. Ecox realistically emulates echoes from analog tape devices, which are caused by tracking fluctuations. The Corvex plug-in modulates realistic-sounding chorus and flanger effects.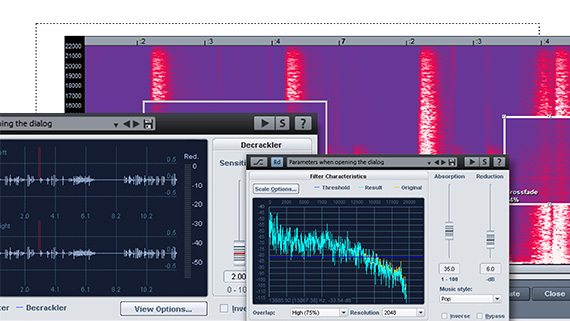 Cleaning effects
Exclusive in Samplitude Pro X4 Suite: Samplitude Pro X4 Suite includes a track-level frequency-based cleaning tool in the form of spectral editing. Remove unwanted sounds, like coughing or clapping, without affecting the original signal audibly. Using a spectrogram, noises are quickly identified according to their color representation and removed. Additional cleaning effects include DeHisser, DeClipper and DeNoiser.
The effects featured in Samplitude Pro X4 are high-quality, reliable and impressive tools that are ideal for the mastering process. These effects have been specially designed and optimized for mastering tasks. All the effects can be used in objects, in tracks and in the master channel.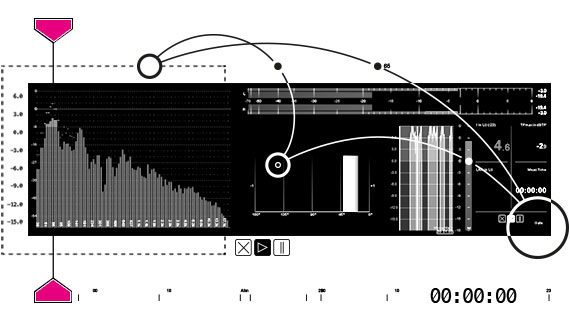 Visualizations
Samplitude Pro X4 includes a variety of precision meters and analyzers for optimal support during production and the mastering process.
Select visualizations such as bit meter, tuner spectrogram or mono compatibility tool and set up your own private "cockpit" to more deeply examine frequencies or the stereo and Surround distribution. You can choose between different visualizations layouts and save them for later use.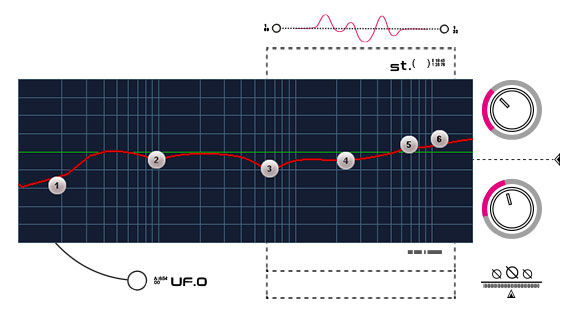 EQ and multiband stereo enhancer
The 6-band EQ works with oversampling or phase linear modes and can be used seamlessly in mixing as well as in mastering. Produce sound that's crystal-clear and acoustically stable in the mix, without any phase problems – all thanks to phase linearity.
The multiband stereo enhancer allows users to precisely modify the stereo image during mastering for an individual frequency range or for the entire mix. Accurate stereo localization is also possible using this tool.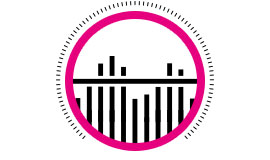 sMax11 brickwall limiter
Take your mix to the limit.
Select how aggressive limiting should be with a variety of modes. Use gain in, out and release faders to adjust parameters for your track's genre in order to achieve optimal results.
Exclusive in Samplitude Pro X4 Suite: Inter-sample peaks are now taken into account during the limiting of the signal.
Mastering & authoring
With Samplitude Pro X4, create masters according to the Red Book standard and burn them directly from the arrangement into all formats – uncompressed (linear PCM) or in compressed formats and on all forms of blank disc.
Exclusive in Samplitude Pro X4 Suite: In addition to physical mastering, you can create a bit-precise digital DDP master for transferring your master to the pressing plant.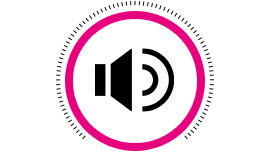 MP3/AAC audition plug-in
Exclusive in Samplitude Pro X4 Suite: The preview plug-in enables you to hear the results before export.
You can use this to check for compression artifacts or loss of highs and adjust parameters to fix them. The encoder plug-in enable you to fulfil all requirements for export, for instance "Mastered for iTunes" requirements.
Samplitude Pro X4 Suite
Samplitude Pro X Suite provides the highest level of quality for recording, mixing and mastering tasks, as well as for music production. The Suite is impressive with its additional features such as DDP control and the full version of audio editor SOUND FORGE Pro 11.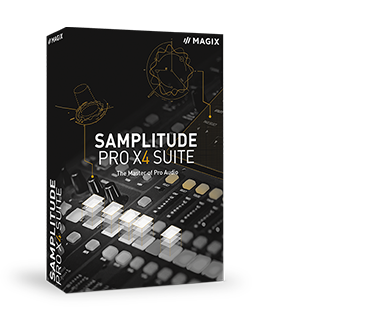 Suite highlights:
SOUND FORGE Pro 11 full version
70 GB Independence Library
5 exclusive instruments
Cleaning & Restoration Suite
MAGIX Vandal full version
Analogue Modelling Suite Plus full version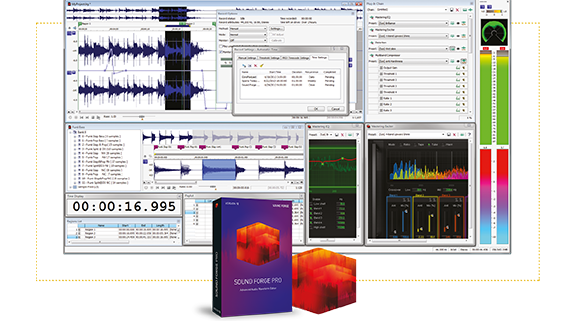 Audio editing with
SOUND FORGE Pro 11
Comprehensive functions in the areas of editing and mastering make SOUND FORGE Pro 11 the perfect companion plug-in for Samplitude Pro X4 Suite. This legendary audio editor works on a precise, sample-based level and offers a premium selection of tools for mixing and finalizing your productions.
The full bandwidth
Plug-ins and effects
In Samplitude Pro X4 Suite you have access to the full Vandal audio plug-in and three additional plug-ins in the Analogue Modelling Suite Plus. Also available exclusively in the Suite: Cleaning & Restoration Suite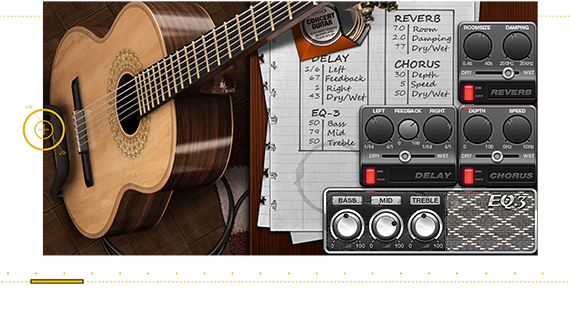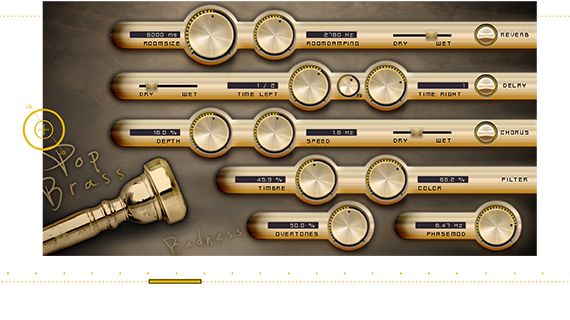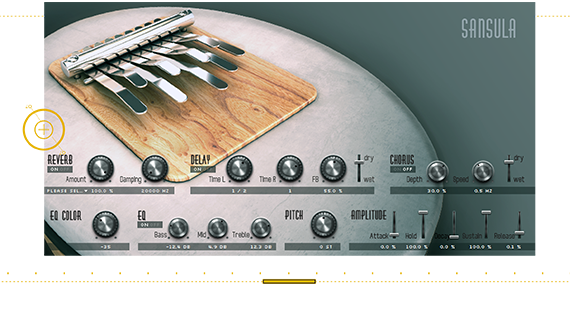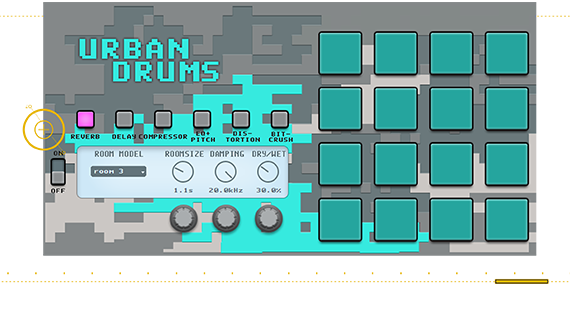 5 additional instruments
Samplitude Pro X4 Suite gives you access to 5 additional VST instruments: Pianos "Concert Grand" and "Electric Piano", "Pop Brass", "Upright Bass" and "Urban Drums".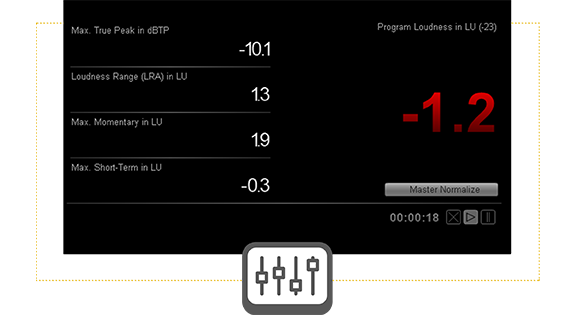 Professional mastering effects
Access professional functions for mastering, such as loudness metering according to EBU standard, True Peak Limiter for sMax11, seamless DDP control and the encoder preview plug-in.
Samplitude Pro X 365
Samplitude Pro X 365 provides the highest level of quality for recording, mixing and mastering tasks, as well as for music production. Discover all the functions in Samplitude Pro X4 Suite including SpectraLayers Pro 5 and SOUND FORGE Pro 11 – available now at an unbeatable price.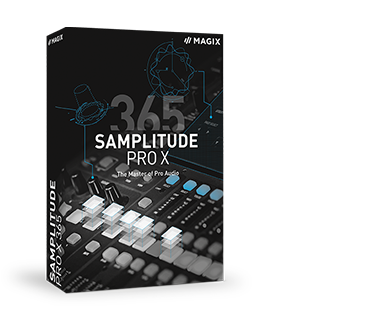 365 version highlights:
All features and plug-ins from Samplitude Pro X4 Suite
SpectraLayers Pro 5 and SOUND FORGE Pro 11 full version
In the 12-month version: 70 GB Independence Library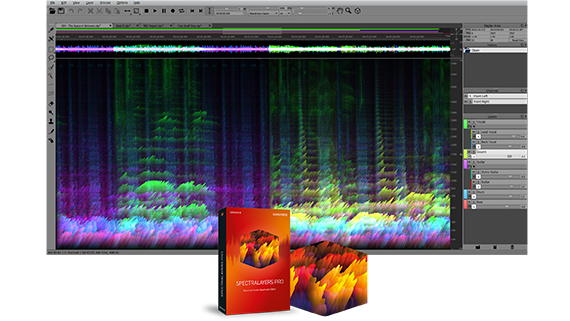 Visual sound design
SpectraLayers Pro 5
With SpectraLayers Pro 5 you work with individual sounds in an audio file fully visually – like a graphic designer. The latest version, SpectraLayers Pro 5 sets itself apart with its one-of-a-kind layer concept for the frequency spectrum, which lays the groundwork for sophisticated sound editing and professional-level mastering. Transpose, extract and optimize audio in ways never imagined.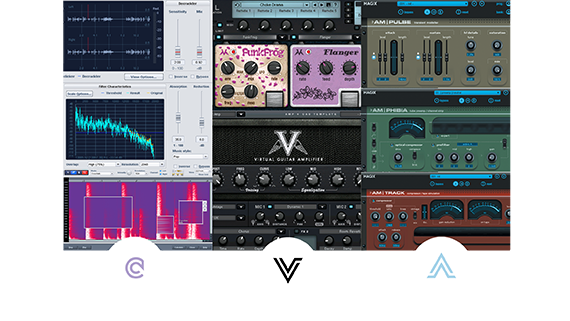 All features and plug-ins
from Samplitude Pro X4 Suite
The 365 version lets you take advantage of all the additional features in Samplitude Pro X4 Suite, such as DDP control, the MP3/AAC preview plug-on and 5 additional software instruments. The 12-month version also includes SpectraLayers Pro 5 and SOUND FORGE Pro 11.
Samplitude Pro X 365
Valid until September 25, 2019
Save 30%
Available now on special offer: get your first 12 months for only C$182,28 instead of C$227,88.
Starting the 13th month, pay only C$227,88/12 months.