INFUSION Engine 2
Intel, NVIDIA & AMD support
The biggest leap in Movie Edit Pro performance in years is noticeable right away!* Version 2 of the INFUSION Engine now offers support for Intel, NVIDA and AMD graphics cards. The result is a seamless project preview without the need for time-consuming rendering or creating proxy files. Less waiting around during editing. More time for creating amazing videos.
* INFUSION Engine 2 supports video acceleration for AVC and HEVC on Intel, NVIDIA or AMD GPUs with Intel Graphics HD 630, NVIDIA Geforce GTX 1050 and AMD Radeon RX470 or higher.
A look that's truly unique
NewBlue Filters 5 Ultimate | 250 templates in 27 filters
Give your videos the perfect look: The comprehensive effects pack Filters 5 Ultimate provides all the right tools for professional color correction, impressive color grading and making motifs stand out in your footage. These can be applied automatically via pre-made templates, or more precisely by using effects supplied by 27 video filters. Create impressive films by applying atmospheric colors, light effects and a custom film look.
Included effect packs: NewBlue Filters 5 Refocus | Recreate | Recolor | ColorFast 2
* Premium version plug-ins are included upon purchase of new software or extension of the Update Service, or when you upgrade. Program language for plug-in is English.
Always razor sharp
8K | Ultra HD | HiDPI GUI
Movie Edit Pro 2021 delivers video editing and films that are at the highest level of video quality. High-resolution. Rich in detail. Razor sharp. The same can be said of the new HiDPI program interface too.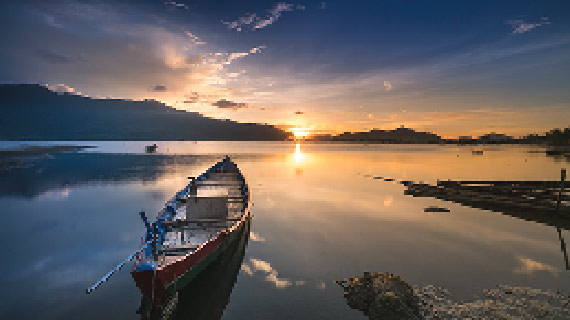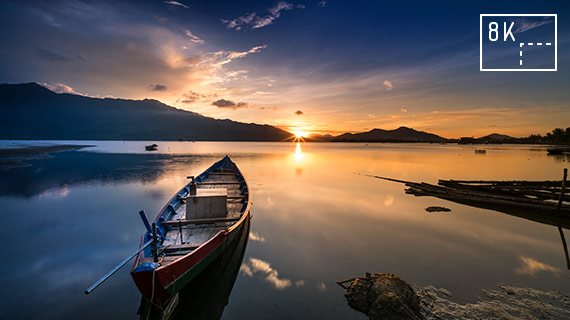 Edit and present films in 8K Ultra HD. The new, one-of-a-kind INFUSION Engine 2 allows you to play your new high-resolution video material in realtime.** This means you can view your footage during the editing process – no waiting around.
** Dependent on the graphics card used. For more information, contact the card manufacturer.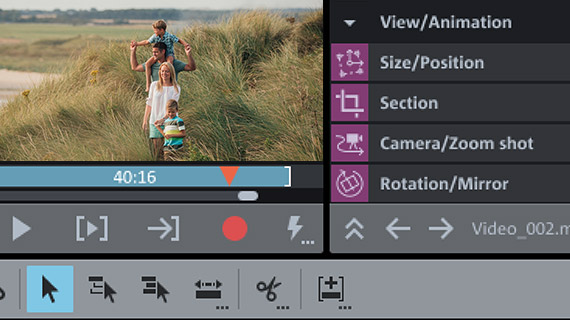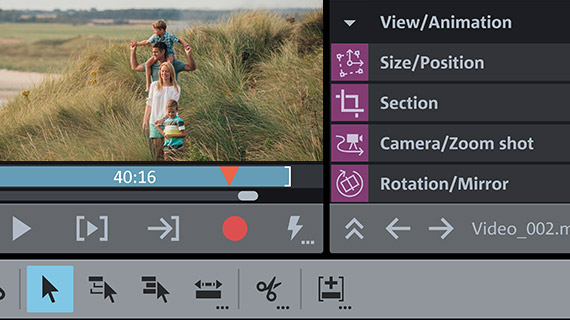 Do font and dialogs appear too small on-screen at higher resolution? No problem. With the new HiDPI program interface, everything on-screen looks razor-sharp at all times, even when you zoom in.
Redesigned icons, preview videos and control elements all make Version 2021 the most aesthetic Movie Edit Pro yet.
Everything you need for your smartphone videos
Automatic alignment | Templates | Image border effects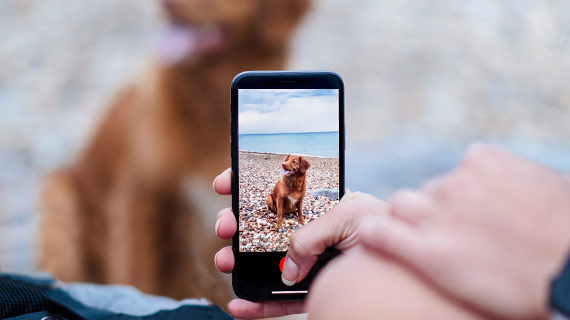 Vertical videos made using smartphone are recognized directly upon import and are automatically rotated to the mode in which they were originally filmed. As well as project and export templates, the program now includes templates for vertical videos.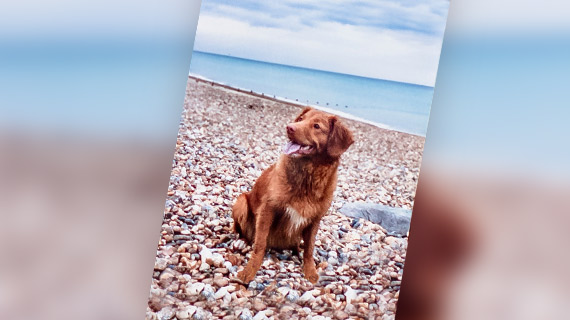 Social media templates and image border effects
Ready to showcase your videos online? New project templates for social media clips in vertical and square formats make it easy to create videos for any kind of portal or app. Creative image border effects conceal distracting black borders in videos with an aspect ratio of 16:9.
Edit videos faster than ever before
Start dialog | Color Picker | Cutting modes
A range of new optimizations to workflow allow you to achieve outstanding results, easily and in no time at all. This frees up more time for what's important: Creating amazing videos.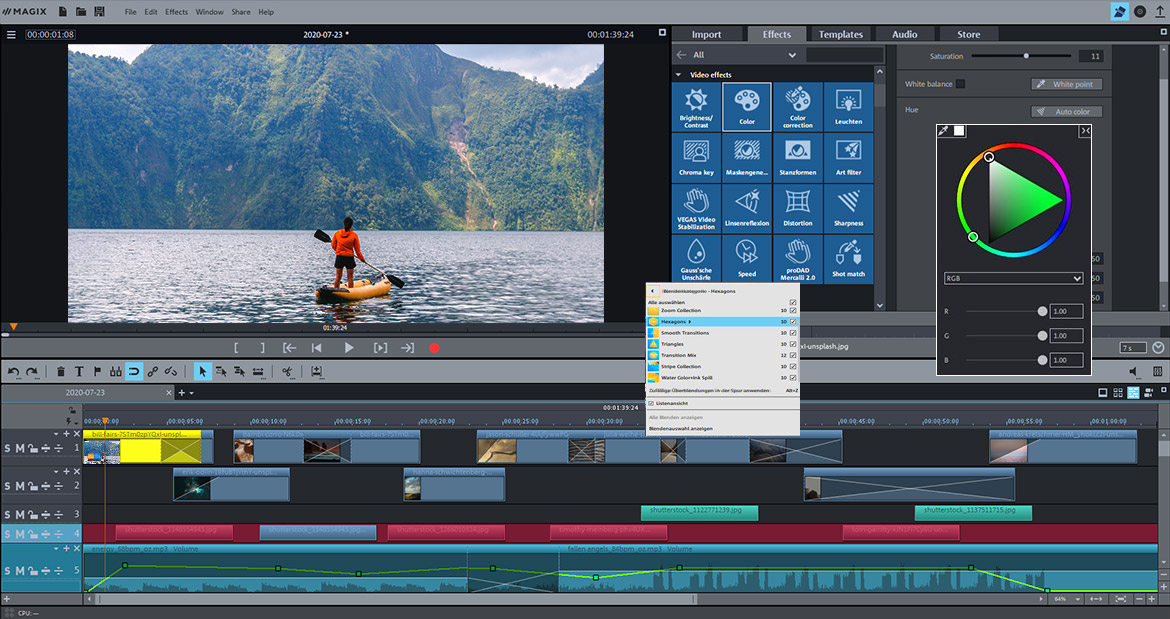 New since August 2019: Video editing with real-time preview
New since August 2019: Automatically find & close gaps
New since August 2020: More intuitive start dialog
The new start dialog features a clearer, scaled back layout. New categories for project templates mean you can find the right template for your project in seconds.
New since December 2019: Color picker for titles
New since December 2019: Optimized transition menu
Easy, 1-click selection of transitions directly in the timeline. Dynamic display of your favorite transitions as well as ones you've previously used means they can found quickly next time.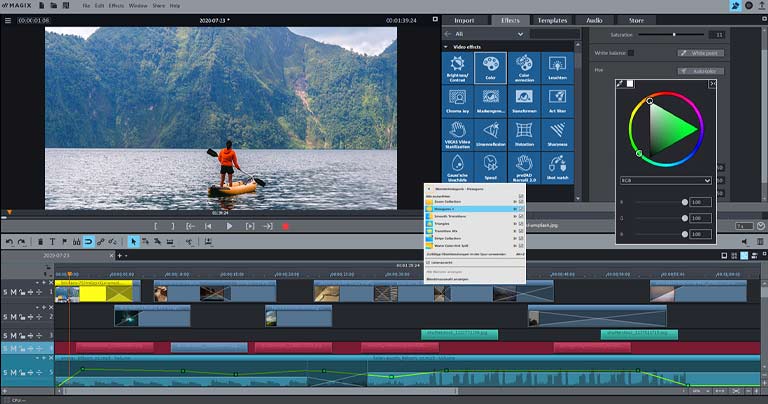 Color picker in title editor
Fast color matching for image and titles
Find the right title color for each and every scene. The color picker lets you easily select a desired color from an image and transfer it to the title. This can be done quickly using the pipette or more precisely with manual color settings. No matter the method, image and title are perfectly matched.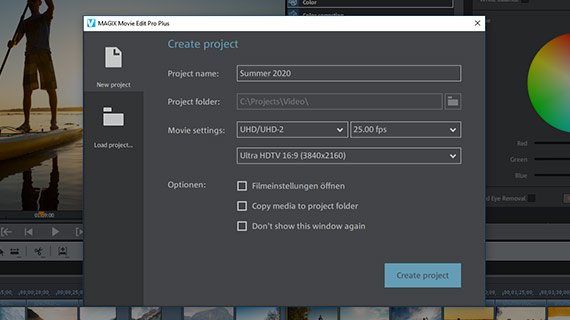 More intuitive start dialog
Find the right project template faster
The new start dialog features a clearer, scaled back layout. Project templates are now named and arranged more clearly in the program, so you can find the ideal project settings faster and start editing your videos right away.
Split and trim
1-click editing with direct preview
This new tool is designed to save you lots of time. Viewing and cutting your video material can now all be done via the timeline. A real-time preview can been seen in the video monitor at all times. You can cut or trim your videos per mouse click.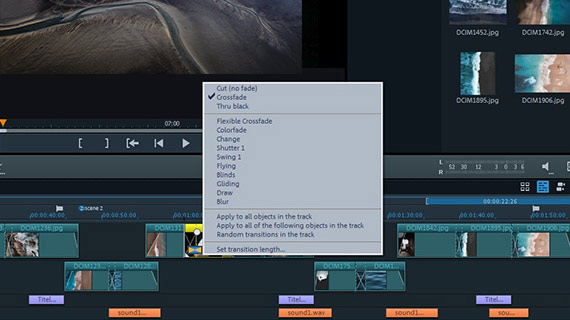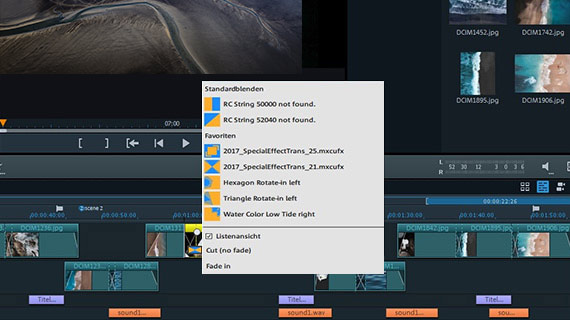 Optimized transition menu
1-click selection for transitions
Built-in transition icons enable you to find the transition you're looking for at a glance. Quick access for previously used transitions as well as your favorites is included. You can also try out the random transition selector, which includes a search filter for specific transition types and groups.
Latest effects
Layer masks | Travel route animation | Titles
With a fantastic range of new effects, you can enhance your movies in no time at all. From image effects to travel route animations and dynamic titles – get creative and give each and every one of your videos a captivating look!
Combining various image layers in exciting ways – a core focus in video editing – can now be easily done in a dedicated area using a wide range of templates. Create custom picture-in-picture effects, use cutting dies or define the precise moment for a title to appear.
Exclusively in Plus | Premium
Travel route animations with MAGIX Travel Maps
One of the most popular functions in Movie Edit Pro has been redesigned. It now features more details and hand-drawn animation, and can be used with any map of your choice. Add your favorite photos to individual stations and stops. 9 maps and a whole range of painstakingly designed vehicle types are available – ready for you to bring them to life.
Exclusively in Plus | Premium
New fonts and title animations
30 high-quality fonts are now included in the program – perfect for creating a custom touch in your films. Choose between styles ranging from handwriting to modern minimalist.
In addition, you can access 15 new dynamic title animations to create the perfect intro for your videos.
15 dynamic title animations exclusively in Plus | Premium
All new features at a glance
INFUSION Engine 2 with support for Intel, AMD and NVIDIA
Edit and export 8K Ultra HD video
HiDPI program interface
Improved workflow for smartphone videos
Redesigned start dialog
Project and export templates for vertical videos and social media videos
NewBlue Filters 5 Ultimate (exclusively in the Premium version)
MAGIX Movie Edit Pro 2022 (EDU)
Prices include VAT,
No shipping charges
Up to 900 effects, titles, templates & transitions
Easy color correction
Professional image stabilization
Burn DVDs & Blu-ray discs
New! INFUSION Engine 2 for unparalleled performance
New! Edit and export 8K Ultra HD video