Create 3D logos
Conjuring up a 3D logo on the screen complete with adjustable depth and customized shadowing within a few seconds?
Sounds like magic from the distant future - but it's not! Xara 3D Maker is a powerful, compact program that allows you to create spatial representations quickly and easily using vector technology. Using 3D animated logos can add a touch of class to a multimedia slideshow and makes videos all the more exciting - all within a few minutes.
Creating 3D logos or text is not a problem anymore. 3D stands for "three dimensional", therefore for an object to be displayed in 3D every point of the object and their relative position in space need to be reproduced through three vectors, which determine its position within the three-dimensional space. This sounds ridiculously complex but it's actually pretty easy to do. 3D Maker from Xara gives everyone the chance to add another dimension to flat, two dimensional objects, be it text, objects, frames, etc. Using three dimensional titles gives a slideshow a more movie-like appearance. The useful vector technology in the program simplifies the workflow considerably, and enables anything to be displayed on the screen in real-time.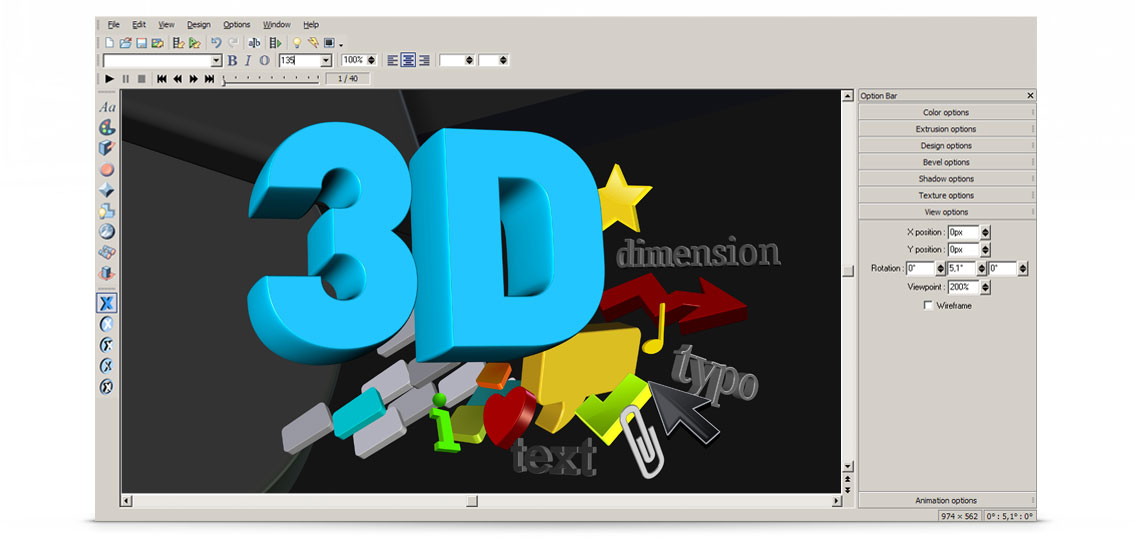 Xara make a 3D logo from vectors
Transform your objects into 3D graphics with the press of a button.Depth, perspective and shadows are defined with one click. A colossal number of templates makes getting started easy and inspires the user to design their own 3D logo.