Xara: The quick and effective logo creator
These days customers expect a well-defined corporate image that includes a catchy logo, even from the smallest of businesses.
But for smaller companies the area of marketing strategies is always a difficult topic because they usually associate it with high costs. This may be the case when they rely on outside agencies to do the work for them, but with the right tools from Xara they can do this themselves without blowing the budget.
The program Xara Page & Layout Designer makes it possible for users to create all of their own promotional material. Beginners can also use the templates for various business types to get a head start with their design. Advanced users will enjoy the ease of use including practical presets, e.g. for creating print proofs that enable them to save their own designs in the perfect format for further processing. This is a great way for freelancers and small businesses to lower costs.
An impressive and recognizable logo doesn't have to be expensive. This Xara software makes it possible for all users to create company logos, marketing and promotional material on their own computers. Intuitive control helps beginners to get a solid start with the program and achieve impressive results in no time at all. Whether business cards, advertising flyers, newsletters or brochures: Everything is designed in the editor, all the designs match and it can all be adjusted and rearranged quickly and easily! A vast selection of license-free templates can help start the design process and provide inspiration for creating a unique company image. In addition the program offers fascinating functions that make it easy to take care of the most complex design processes. The best thing is: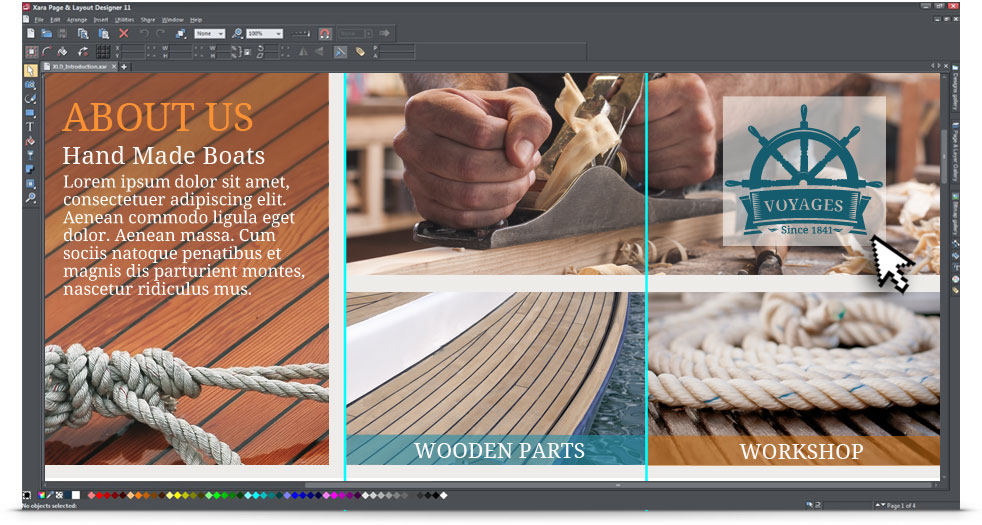 The professional logo creator!
As users learn the program they'll notice how intuitive it is and how they can easily transfer what they learn at each step to other parts of the design process. This makes the program so easy to use that even beginners can get great results right away. But this program is not limited to logos and graphics. You can also use it to edit photos and material to make them more eye-catching for potential customers. You won't need any additional photo editing software. Every kind of document type and draft can be uniformly designed whether for print products or digital presentations. Your visual brand identity will be strengthened by a striking logo and promotional material with a consistent and recognizable layout.

Recognizable logo design, effective marketing material, company brochures, posters and newsletters don't have to be designed by an expensive agency. You can do it all yourself on your own computer. Xara Page & Layout Designer is the perfect program for this and makes it possible to get quick and effective results.