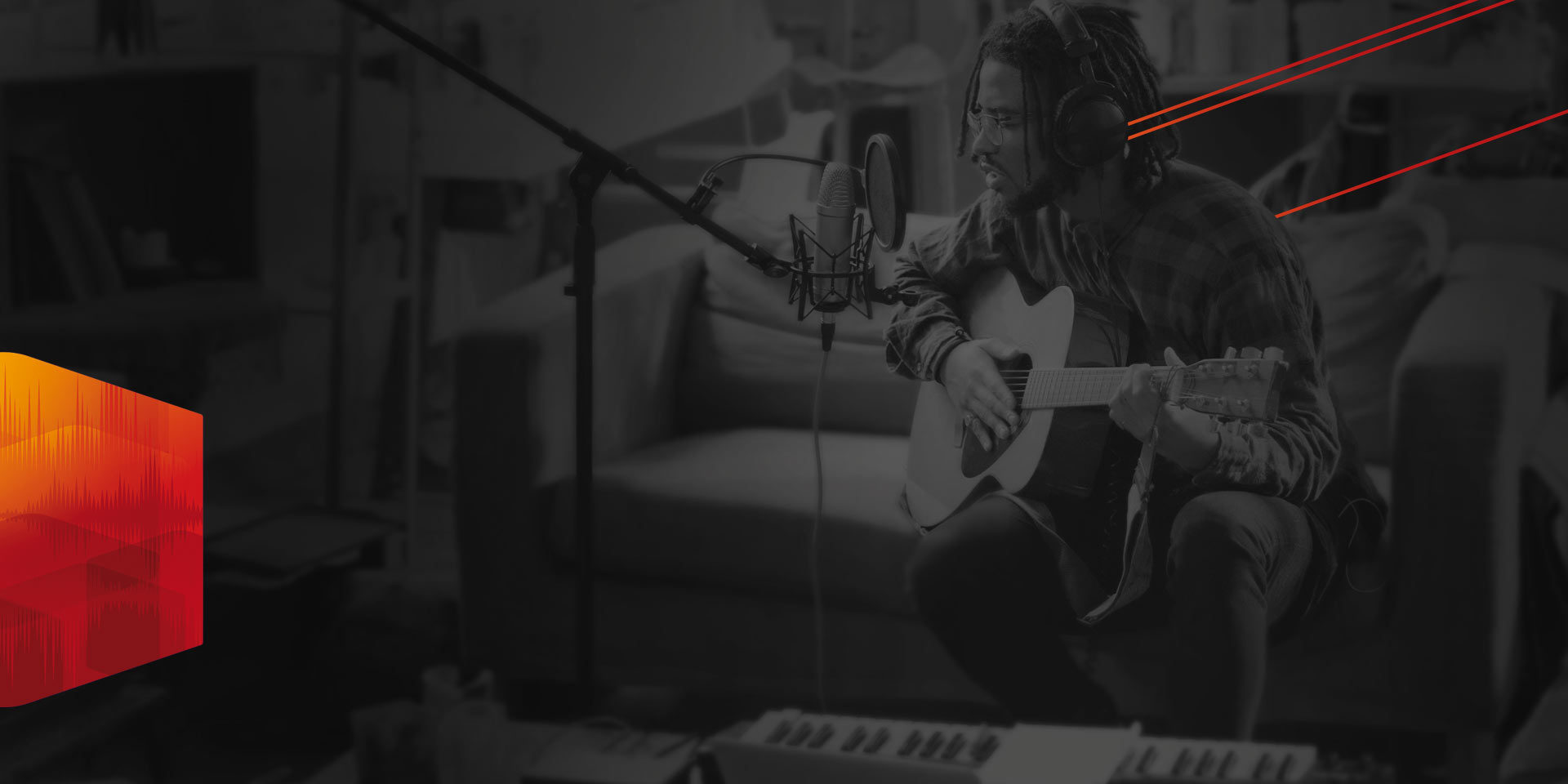 SOUND FORGE AUDIO STUDIO 14
Recording, audio editing, restoration and mastering
A complete software solution for all audio tasks: SOUND FORGE Audio Studio 14 offers an impressive range of creative possibilities. Record podcasts in professional quality, cut audio material fast using the Event tool and edit with a full range of professional effects. Convert old analog recordings to digital and modify audio files using restoration and mastering tools for clean, professional sound.
Recording
Ready for any task
Record singing, voice overs, instruments or podcasts in high-resolution quality – SOUND FORGE Audio Studio 14 lets you achieve professional results in no time at all.

High-resolution recordings
Connect a microphone to your audio interface and record at up to 32-bit/384 kHz.

Record a podcast
The program makes recording your own podcast simple. Whether the signal comes from the microphone or the line out from your mixer, the built-in mixing and editing tools lets you produce podcasts in excellent audio quality.
Live waveform display & real time monitoring
The recorded waveform now displays directly in the program window during recording. And when you're monitoring audio with a near-zero latency device, real time monitoring (compatible with ASIO) ensures the lowest possible latency.
Audio editing
Flexible, dynamic and high-performing
Cut, move and edit audio files with professional effects and 64-bit power on up to 6 channels.
Event Tool
Modify cuts in the new Event Tool at any point, even long after they were created. The Event tool lets you edit cuts, crossfades and other audio events to remove pops, clicks and noise from your recordings.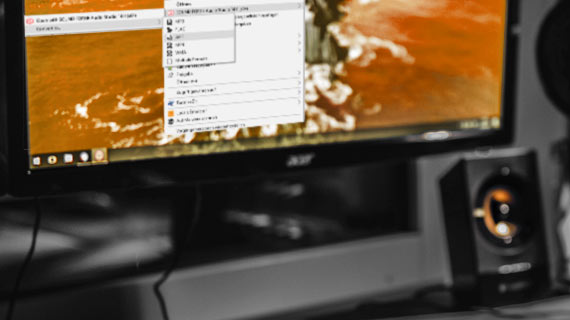 Windows context menu
Edit and convert your audio files easily and quickly, by right-clicking in the Windows context menu. You don't even have to open the program to search for the function.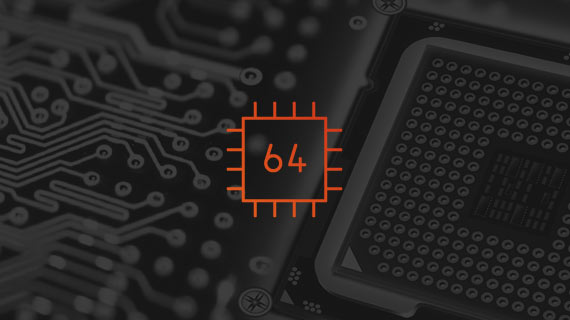 64-bit support
Thanks to 64-bit support, SOUND FORGE Audio Studio 14 utilizes the full power of your processor. This delivers more processing power for larger projects with many effects.
Audio editing with vintage effects
Bitmachine
Apply an 80s-style "lo-fi" sound to drum loops or synthesizers. With bit and sample rate reduction plus a filter based on an analog model, the Bitmachine takes your audio on an acoustic journey through time.
Chorus
The chorus effect creates that "floating" sound familiar from guitar or synth pads. Add fuller sound and depth to an instrument and create the illusion that several instruments are playing simultaneously.
Distortion
A "high gain" distorter for crunch and lead guitar sounds, which is modeled on a full tube preamp circuit. Distortion is perfect for "British" amplifier sounds and easy, fast recording of guitar tracks.
Filter
Filter is an excellent effect for modulation. It offers various filter types and modulation times for controlling the frequency response of a modulation source and can be used to create "wah-wah" effects on guitars, for instance.
Restoration and mastering
For clean, professional sound.
High-quality restoration tools allow you to optimize the sound of old records. Create captivating video soundtracks and create broadcast and streaming-ready CD masters and mixes.
iZotope Ozone 9 Elements
Create broadcast-ready mixes for radio and streaming with iZotope Ozone 9 Elements. Professional developed presets for a range of genres give your mix a crystal-clear, punchy sound. The Mastering Wizard suggests the optimum starting point for the signal chain or processor settings, and you can then tweak the fine details manually.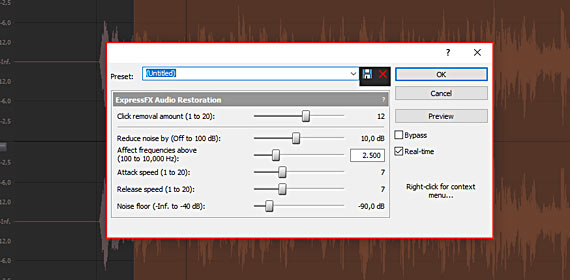 Audio restoration
Achieve clean, impressive sound for files with the audio restoration tool. It identifies and removes automatic clicks as well as static noise interference from air-conditioning units, electrical devices or amps.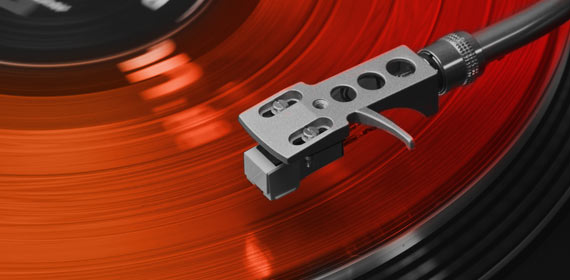 Vinyl recording and restoration
Convert your favorite records and cassettes to digital and enhance their audio quality with powerful recording and restoration tools for vinyl. Remove distracting noise and adjust the volume levels of your recordings. Then, burn your audio to CD or convert your recordings to standard formats such as MP3, FLAC and Ogg Vorbis.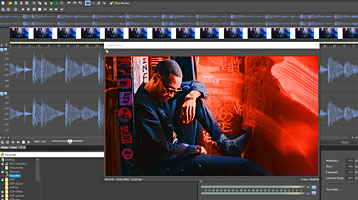 Perfect video sound
For high quality image and sound. Edit the most popular video formats with more than 20 audio effects for restoration and editing your recordings.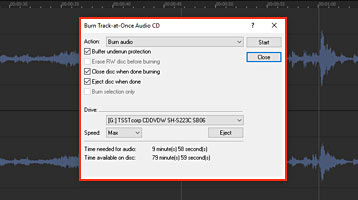 Fast-track a CD master
The "Open and append" command makes it easier than ever to compile tracks for a CD master. Select one or multiple files and add these automatically, including track markers, to your CD.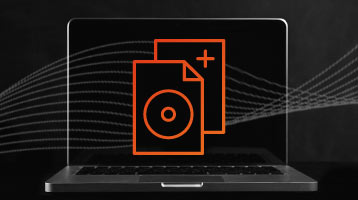 Import/export formats
SOUND FORGE Audio Studio 14 lets you import and export audio files in all standard formats (WAV, AIFF, MP3, MUS, AAC, FLAC, OGG, WMA, ASF, W64, CDA, RAW and VOX).
Highlights
NEW! Instant Action for easy task assignment in the Windows context menu
New! quickFX with professional effect plug-ins and wider range of presets
NEW! Oscilloscope for signal visualization
NEW! Improvements for the VST engine, VST scan and new bug fixes
New! iZotope Ozone 9 Elements for quick, user-friendly mastering
Customizable user interface with four shade settings: Dark, Medium, Light and White
Event Editing tool for professional, versatile and dynamic editing of audio files
Edit 5.1 Surround files with up to six channels
Video sound optimization
SOUND FORGE Audio Studio 16
The home of audio editing
Upgrade: SOUND FORGE Audio Studio 16
The home of audio editing
SOUND FORGE Audio Studio 16
The home of audio editing
New! Faster workflow with Instant Action window
New! Professional quickFX plug-ins
New! Oscilloscope for signal visualization
New! Easy task assignment in the Windows context menu
Editing for audio files with up to 6 channels
Digitization, restoration and audio conversion
Audio recording at up to 32-bit/384 kHz
CD authoring
Video sound optimization
Includes iZotope Ozone Elements
Available until 3 October 2022
Only now for free in this offer:
✔ NEW! coreFX Gate (€24.99 value)
New! Faster workflow with Instant Action window
New! Professional quickFX plug-ins
New! Oscilloscope for signal visualization
New! Easy task assignment in the Windows context menu
Editing for audio files with up to 6 channels
Digitization, restoration and audio conversion
Audio recording at up to 32-bit/384 kHz
CD authoring
Video sound optimization
Includes iZotope Ozone Elements
Available until 3 October 2022
64% discount
Only now for free in this offer:
✔ NEW! coreFX Gate (€24.99 value)
SOUND FORGE Audio Studio 365
SOUND FORGE Audio Studio 12 month subscription
SOUND FORGE Audio Studio 365
SOUND FORGE Audio Studio 12 month subscription
SOUND FORGE Audio Studio 365
SOUND FORGE Audio Studio 3 month subscription
New! Faster workflow with Instant Action window
New! Professional quickFX plug-ins
New! Oscilloscope for signal visualization
New! Easy task assignment in the Windows context menu
Editing for audio files with up to 6 channels
Digitization, restoration and audio conversion
Audio recording at up to 32-bit/384 kHz
CD authoring
Video sound optimization
Includes iZotope Ozone Elements
New! Faster workflow with Instant Action window
New! Professional quickFX plug-ins
New! Oscilloscope for signal visualization
New! Easy task assignment in the Windows context menu
Editing for audio files with up to 6 channels
Digitization, restoration and audio conversion
Audio recording at up to 32-bit/384 kHz
CD authoring
Video sound optimization
Includes iZotope Ozone Elements
New! Faster workflow with Instant Action window
New! Professional quickFX plug-ins
New! Oscilloscope for signal visualization
New! Easy task assignment in the Windows context menu
Editing for audio files with up to 6 channels
Digitization, restoration and audio conversion
Audio recording at up to 32-bit/384 kHz
CD authoring
Video sound optimization
Includes iZotope Ozone Elements