Xara Web Designer – a website creator for all your needs
There are numerous offers promising users that they can quickly and easily design their own websites – but how simple can or may a website creator be?
On the one hand, there are users who already have problems when they cannot see the end results displayed on their screen when theyare creating their website. Other users, however, think that products that allow them to edit individual parts of a page and thus edit the result directly on the screen are too simple and do not meet their requirements. The Xara Web Designer makes both sides happy: the program lets you create own unique website using professional templates. You can perform all the necessary work without any previous experience, since you can easily move the navigation elements, text blocks or graphics to the desired location using the mouse. And unlike other programs whose building block principle doesn't offer customizing options, you can freely design all the elements whenver you want. The ability to add widgets, such as Google Maps, PayPal, Flickr galleries and much more also satisfies high web design demands and allows you to create your own website that meets all your personal needs.
The software features an impressive range of editing options for text layout, graphic design, image editing and publishing. At the same time, every change, each design step and every modification to the website is displayed directly on the screen. The underlying principle is called "What You See Is What You Get" (WYSIWYG). Creating websites has never been so straightforward while simultaneously producing impressive results than with the highly successful product from Xara. Inclined users can now build their own website for all their needs. Whether it's your hobby, your family, association, school, education, application or career: You can find everything you're looking for with the website software from Xara. There is a number of design templates that you can use for designing your own website. You can either use the entire template or select only the elements you want and then customize them. You can either choose a fully designed website from the templates with all the subpages and elements, or specifically combine templates for your website. This way, your completed website looks just the way you want it.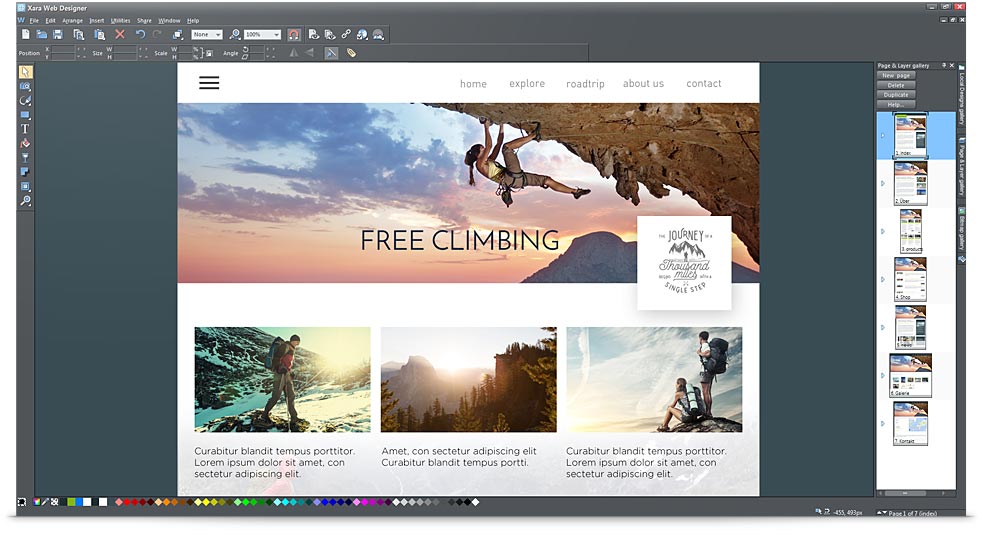 The website creator for all your needs
The web design software also offers a fast and intuitive workflow. A complete display of individual pages, clearly arranged page galleries with miniature views as well as an optimized right-click menu that allows direct access to the most common options are only but a few convenient features that help you create your own website considerably faster. All of this makes the Xara Web Designer is a piece of website software that can be simultaneously used by everyone and for everything.
* With the update service you will receive a full year of free new features and updates, which can be used indefinitely. If you reinstall the program after one year, you will have access to the basic version. After the one-year update service has expired, you can extend it for a discounted price.