MAGIX is an international publisher of high-quality, intuitive, user-friendly software. As the European market leader, we have been developing award-winning PC software since 1993. But what makes us stand out is not the many awards we have won, but our continued passion for innovation and easy-to-use software. That's why we've made it our goal in the future to make the creation of amazing music, videos, websites and graphics possible for everyone – no matter the skill level.
Make music like a pro.
Even if you aren't a pro.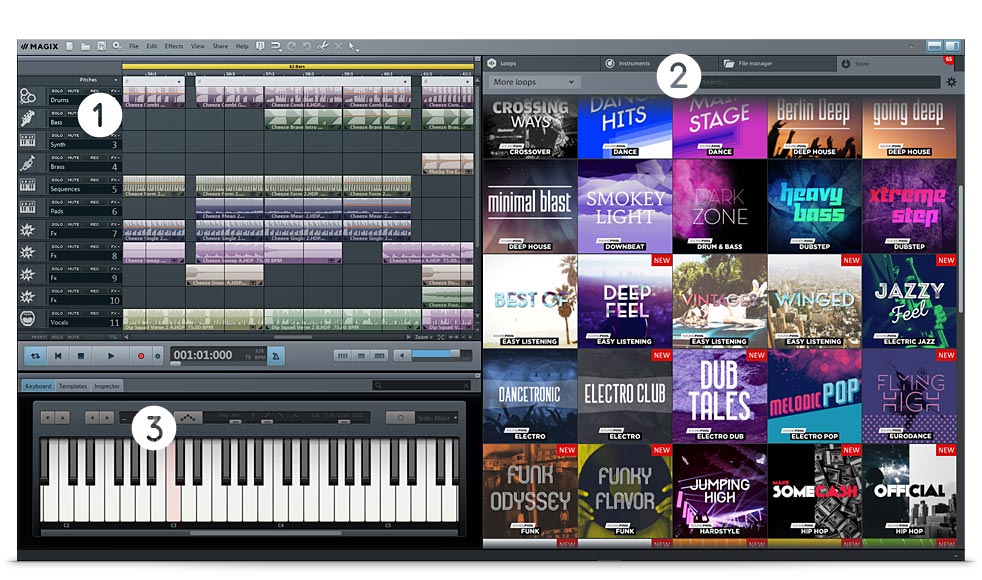 1. Start with the rhythm.
Lay down a base for your song with drum loops from genres such as hip-hop or dubstep. You can also make bring together your own grooves with virtual drum machines.
2. Add new sounds
Drag & drop to add a driving bassline or guitar melody to the drums. Easily add new loops & instruments any time.
3. Quickly mix. And you're done.
A relaxed piano, playful electronic sounds and pre-produced vocals: Music Maker is full of ideas for creating music. Quickly mix down. That's it!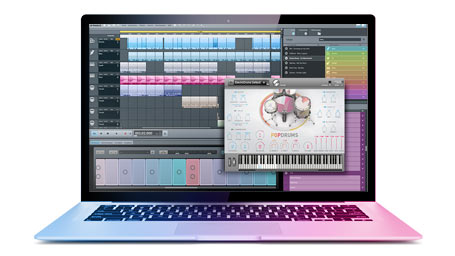 Highlights:
Explore unlimited creative possibilities. The Music Maker Store includes regularly updated new instruments and loops.
6 virtual instruments
Endless fun
2 new virtual instruments: Concert Grand & Pop Drums
Thousands of sounds & loops (6 Soundpools)
99 tracks for small and big projects
VST3 & VST2 interface
Basic audio effects
What the press has to say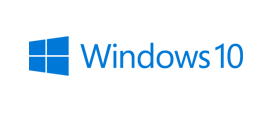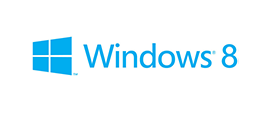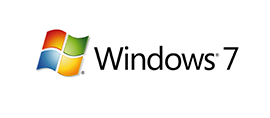 All MAGIX programs are developed with user-friendliness in mind so that all the basic features run smoothly and can be fully controlled, even on low-performance computers. The technical data for your computer can be found in the control panel of your operating system.
Minimum system requirements:
Graphics card
Onboard, minimum resolution 1280 x 768
Hard drive space
7.5 GB for program installation
Internet connection: Required for registering and validating the program, as well as for some program features. Program requires one-time registration.
Audio
| | | |
| --- | --- | --- |
| | Import | Export |
| WAV | | |
| MP3 | | |
| OGG Vorbis | | |
| WMA | | |
| MIDI | | |
| FLAC | | |
Video
| | | |
| --- | --- | --- |
| | Import | Export |
| AVI | | |
| MXV | | |
| WMV | | |
Note: Only non-copy-protected audio CDs can be imported.
MX stands for Media-X-change – the fast exchange of media with other MAGIX programs, online services and mobile devices. Share your audio data effortlessly with the following programs and services from MAGIX:
Additional sounds & instruments
Experience even more creative freedom: Music Maker can be combined with tons of sounds and virtual instruments. External plug-ins can be integrated via VST interface.
MAGIX Audio Remote
The easiest way to make music without expensive equipment: Download the free app for your device and play the virtual instruments in Music Maker using your tablet or smartphone. You can work with a recording and optimize it in Music Maker.
Download MAGIX Audio Remote for free
For Android tablets and smartphones
For iPad and iPhone
Music Maker JAM
Start a music project on the go and finish it on your PC. Import projects from the Music Maker JAM app and finalize using your own recordings and effects.
Music Maker JAM Free download
Windows 8 & Windows 10
For Android tablets and smartphones
App for iPad and iPhone
MAGIX Fastcut
Produce the soundtrack to your own action movie. Using your own tracks for short films directly in Fastcut is easy.