Easy to use audio editor:
Audio Cleaning Lab
Fade out noise and get outstanding results. Easy operation, thematic sound settings, professional tools and high-quality effects make this program the top choice for audio editing.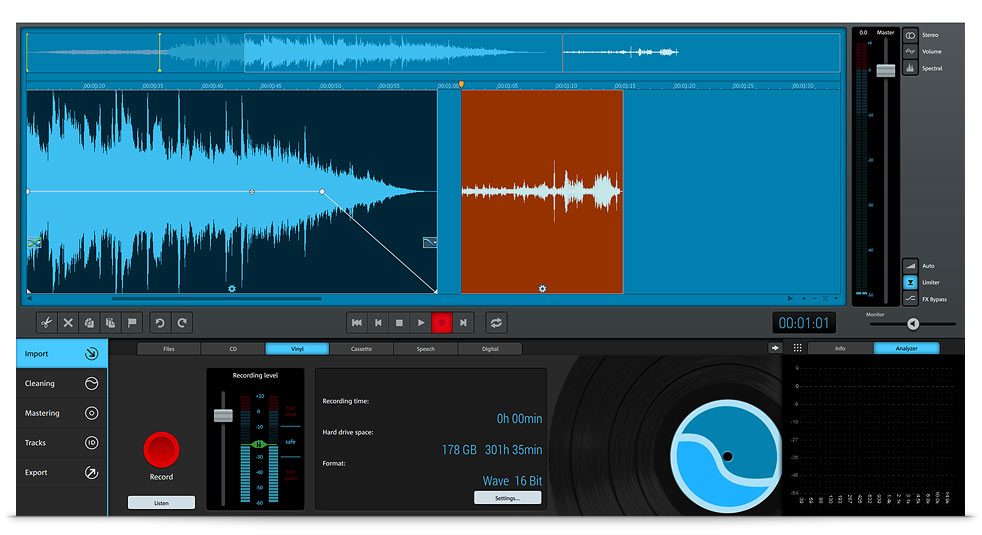 Record audio
Easily record vinyl, cassettes and other media to your computer.
Remove noise
Remove hissing, crackling, wind noise and other disturbances using the 290+ presets available.
Back up audio files
Convert audio files into any standard format and save them to CD, smartphone or hard drive.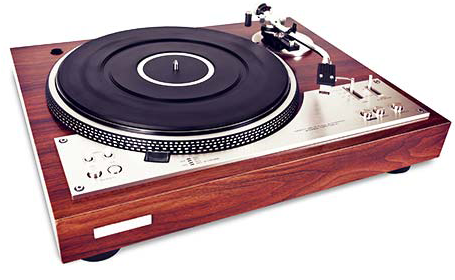 The most important features:
Remove disturbing noises such as wind, rain or crackling
Use over 290 presets for sound optimization
Import CDs to your computer and automatically retrieve album information & CD covers
Adjust volume & reduce clipping
Add sound effects or audio commentary
Optimized for touch screen control
Easy import and export of audio files
Detailed view for the arranger
With the new detailed view, a single click maximizes the track so that it's fullscreen size. This gives you extra options for optimizing audio files precisely – for spectral editing in particular.
Sort function in the file manager
Keep everything in view: Sort all your audio files in the file manager quickly, easily and according to different characteristics.
Preview feature in file manager
Start working with the right material, right away: You can now preview audio files directly in the file manager before adding them to the track range.
Modern audio editing software
that's simple to use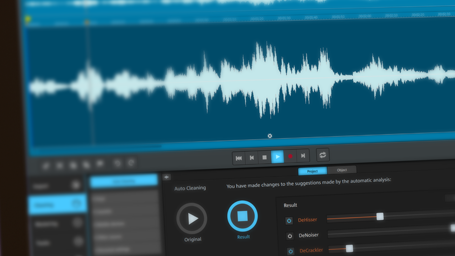 Automatic audio restoration
The Auto Cleaning feature analyzes the audio quality of music and speech recordings and improves them automatically. You can preview the suggested improvements, compare them directly with the original and apply them automatically.
It's also possible to make customized adjustments using the effect settings – and then change back to the original version later if necessary.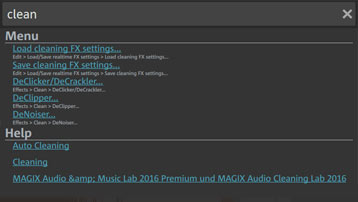 Intelligent search feature
Audio Cleaning Lab understands your needs. Enter what you're looking for into the search field, e.g. "EQ"" and the program displays the help text, templates and effects you need. You can open this with just a click.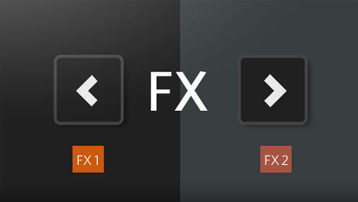 Always a step ahead
Audio Cleaning Lab has been designed with ultra-fast audio editing in mind and enables you to switch easily between effects.
Keep everything in view
With new shortcuts for modifying the interface at the press of a button, you can make individual sections for tracks, effects or visual analysis more prominent – while keeping them in high resolution.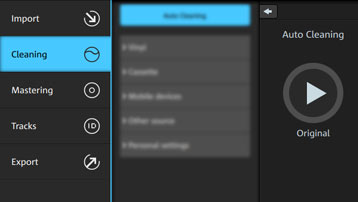 Simplified editing process
The new Audio Cleaning Lab is easy to use right from the start. It includes spectral cleaning with preview feature, access to all detailed editing effects, various modes for fade in/out and effects which are sorted in order of importance. Audio editing has never been easier.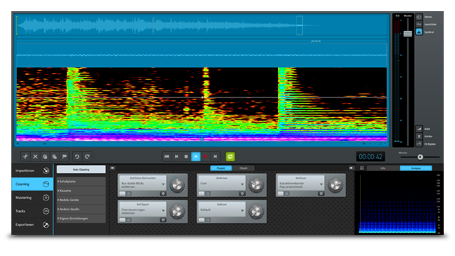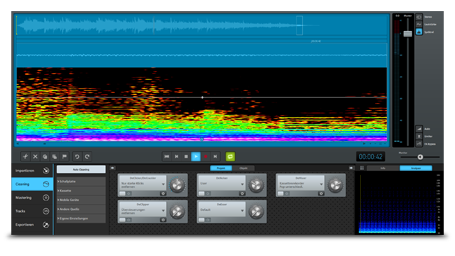 Spectral display with preview feature
Spectral display shows you the frequencies in your recordings in different colors – so you can visualize what you hear.
It lets you identify impulsive noise and outliers on a visual level, select them with the mouse and preview the results before finally removing them. You'll notice the improvement in quality.
For creative experiments:
Advanced effects editing
Digitize your records. Apply effects. Open the section for detailed editing and optimize sound in your recordings exactly the way you want.
For music lovers:
Digital remastering
Perfect music recordings from old vinyl records, tapes and cassettes using state-of-the-art mastering technology and a range of automatic functions.
For journalists, interviewers & people who create podcasts: Optimize speech recordings
When accuracy is as important as the story itself. Edit sections with unclear audio using spectral cleaning, remove hissing and apply filters to add a warm sound to vocals.
All MAGIX programs are developed with user-friendliness in mind so that all the basic features run smoothly and can be fully controlled, even on low-performance computers. The technical data for your computer can be found in the control panel of your operating system.
Minimum system requirements:
Graphics card
Onboard, minimum resolution 1280 x 768
Hard drive space
1 GB for program installation
Optical drive
CD/DVD drive (only required for installation of the box version)
Internet connection: Required for activating and validating the program. The software can also be used offline.
Optional: Burn CDs/DVDs with a CD/DVD±R(W) burner
Audio
| | | |
| --- | --- | --- |
| | Import | Export |
| WAV | | |
| MP3¹ | | |
| AAC² | | |
| WMA | | |
| FLAC | | |
| OGG Vorbis | | |
| OGG Vorbis | | |
| AIFF | | |
| M3U | | |
| CUE | | |
Other
| | | |
| --- | --- | --- |
| | Import | Export |
| Audio CD | | |
| Audio DVD | | |
| Data CD/DVD | | |
¹ Requires Microsoft Media Player
² Fee-based activation for Windows Vista
MX stands for Media-X-change – the fast exchange of media with other MAGIX programs, online services and mobile devices.
Share your audio data effortlessly with the following programs and services from MAGIX:
Ideal for your music collection
Add your optimized audio files to your digital music collection in MAGIX MP3 deluxe with just one click.
Here you can also:
Create playlists
Add search filters
Design CD covers
Ideal for your films
Use your optimized music tracks as background music for your videos in MAGIX Movie Edit Pro, Video Pro X, MAGIX Photostory or Fastcut.
Set videos to music
Create soundtracks
Record voice-overs