Music Maker —
The original for making your own music
Making music with Music Maker is incredibly easy. Plus, it's complete free!
Download the latest version today for free or purchase one of our popular special editions and join a community of over 2.0 million Music Maker users worldwide.
Inspired by you.
The new Music Maker.
Music Maker gives you the room you need to bring your ideas to life. And now you can even customize Music Maker to fit your personal style.
Simply pick one of the Music Maker editions and select the sounds, features and instruments which matter most to you. And no matter what you choose, your Music Maker is guaranteed to come equipped with a new professional sound engine and free updates.

NEW: Pro audio sound engine
The new Music Maker audio engine is actually the same engine used by countless professional music producers in our pro DAW Samplitude. The world's best-sounding audio engine — now available in Music Maker too!

NEW: Real multicore performance
More creative freedom: With multicore support, your computer can now make optimal use of all of its CPU cores. Make as much music and use as many instruments and sounds as you like!

NEW: More premium effects
Put to the test by professionals: Premium Audio FX. From vintage sounds to authentic digital mastering tools based on real analog equipment.
Extra when upgrading
Music Maker Premium Edition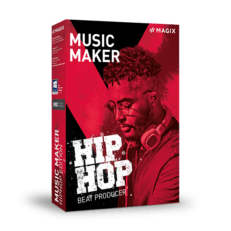 Music Maker Hip Hop Edition
(value: Kr 269)
Make your own hip hop beats now
Humming speakers, phat rap beats and your own lyrics: The Hip Hop Edition offers everything for producing your own beats and rap songs. Transform your PC into an audio studio, record your own raps, mix your tracks and make heads bob with your flow!