The success of 3D Animation
3D animation uses a combination of wireframe building blocks and rendered skin to provide three dimensional volume to graphics created within a computer graphics engine.
The first fully 3D computer animated film would have been 1986's "The Works" which began production in 1979, but production problems forced the project to be canceled. The next feature film to make it to the big screen was PIXAR's 1995 movie Toy Story. Since then, 3D animation has moved into our everyday lives - from long animated films, to 3D animated titles and graphics in TV shows and commercials.
3D animation begins with the creation of wire frame objects within a 3D environment. Skins are then rendered over the wireframe images so that light sources and texture mapping can be added for a greater sense of realism. 3D animation can be added to video, websites, presentations and slideshows to blend information and style in a whole new way such as by adding 3D animated text to titles.
With Xara 3D Maker, Xara developed its 3D animation tool to be used in conjunction with many of its core products, and has integrated the tool within many of its premium versions. Even as a standalone, Xara 3D Maker is compatible with many other programs and importing animated text from the program shell has never been easier.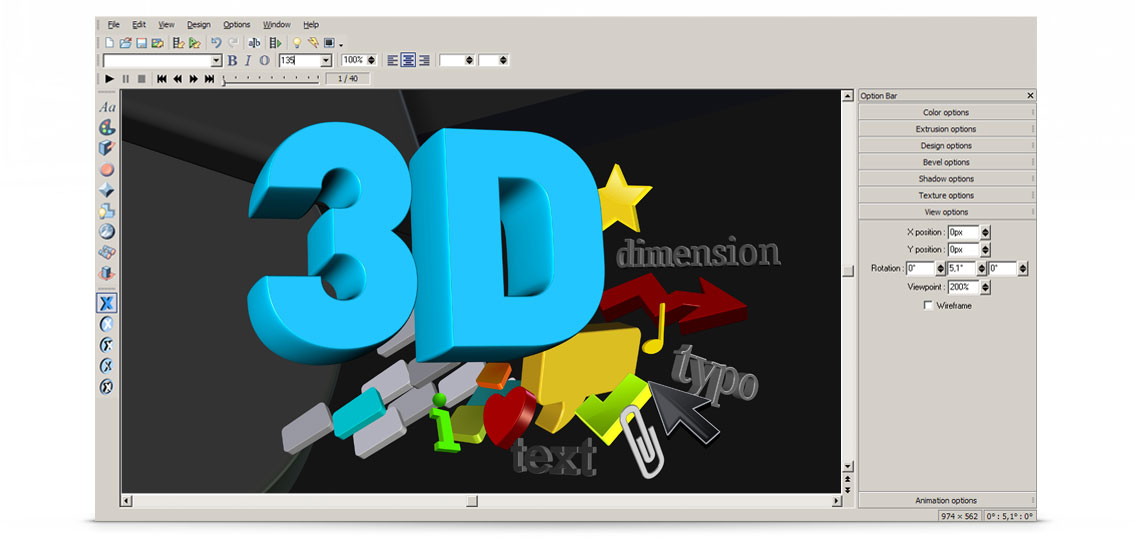 Xara's 3D animation tools for text
Did you know that if you already have Photostory or Movie Edit Pro you already have Xara 3D Maker? 3D Maker can be launched within any of these programs, or even launched as a separate 3D animation program to create 3D titles and text taking your creation to the next level.