Transfer film recordings from 8mm to DVD
Transferring films from 8mm to DVD is important in many ways, but most importantly, it's a way of rescuing treasured memories for the future.
Because Video8 was a popular video format for home videos in the '80s, decades of family history are gathering dust on basements shelves, in storage closets and in the attic. The quality of the video tapes deteriorates over time and before you know it, it's too late to save them. An ideal solution to keep your old film material safe is to digitize it in the same way as VHS cassettes. In contrast to the material used to create video tapes, blank discs are rarely susceptible to material defects and last longer than Video8. In addition, DVD films are more compact for storage compared to bulky Video8 and VHS formats. However, it's only possible to digitize video to preserve your old memories with the right software.
With MAGIX Rescue your Videotapes, you can make your old Video8 tapes DVD-ready. In addition to DVD software Video easy, the package contains a connection cable enabling you to connect your analog playback device to your PC. The software can then be launched to begin digitization. Transferring all your old movies from 8mm to DVD won't provide you with a new and improved film archive right away, you will need to edit the transferred data. The video editing program included, Vide easy, not only lets you remove small errors but also enables you to enhance your film with all sorts of effects. Titles or captions can be added to provide commentary on old family movies for children, grandchildren – all the generations to come.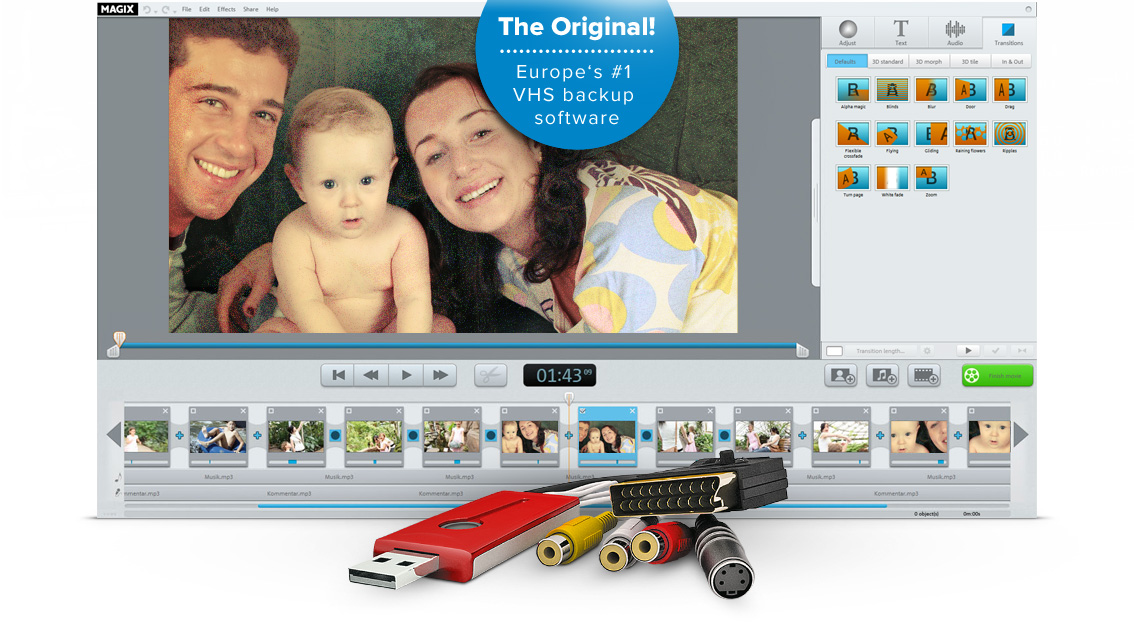 The end of 8mm format: Save your memories to DVD
The Video8 audio tracks can be converted to a digital audio format when being digitized to DVD, since audio dubbing is an area of expertise for MAGIX. When finished editing, user menus that can hold their own against professionally produced menus before being burned onto DVDs.
After an analog treasure has been transferred securely, you can share your memories with the world over the internet. At the touch of a button, you can upload films directly from within Video easy directly to social media channels like YouTube. This is something that's virtually impossible with your Video8 tapes. For this reason, DVD conversion is the contemporary solution for an amateur filmmaker to present their work and preserve their memories.