Create your very own 3D movies and images
3D movies draw huge crowds into the theaters and massive lines at the box office. Although there were several attempts to use this technique in the past, it was not until 2009 that it became very popular.And now, 3D effects are not just something for the big screen and you can bring your projects to life by creating 3D effects in your own movie project.
However, to do so, there are a few things you should keep in mind. First, to bring three-dimensional movies to the screen, they have to be recorded with 3D cameras. These types of cameras have two lenses whose distance corresponds roughly to the distance of the human eye.
Alternatively, if you don't have a 3D camera, you can set up two cameras (preferably two models that are identical in construction) on a mount parallel to each other with a distance of 6.5 cm between the lenses. After you've finished recording, you can compile the footage into a 3D video with MAGIX Movie Edit Pro Plus. Wearing 3D glasses, you'll be able to see a realistic 3D effect. If you load footage from 3D cameras into the video editing program, these recordings will be displayed as video files containing two movies that are arranged side-by-side. This is due to the camera's two lenses. The finished film shows both perspectives of the video.
Movie Edit Pro Plus uses an effect which overlaps both movies so that they are stereoscopically distorted, thus creating a 3D video from the raw footage. You have the choice between the anaglyph technique, which is a technique from the past, and the polarizing filter technique, which is what is often used in movie theaters but requires a special computer screen. The anaglyph technique works on standard computer screens and refers to a technique in which two camera perspectives are overlapped with an offset. This creates the 3D effect which can be perceived using red/green or red/blue color filter glasses.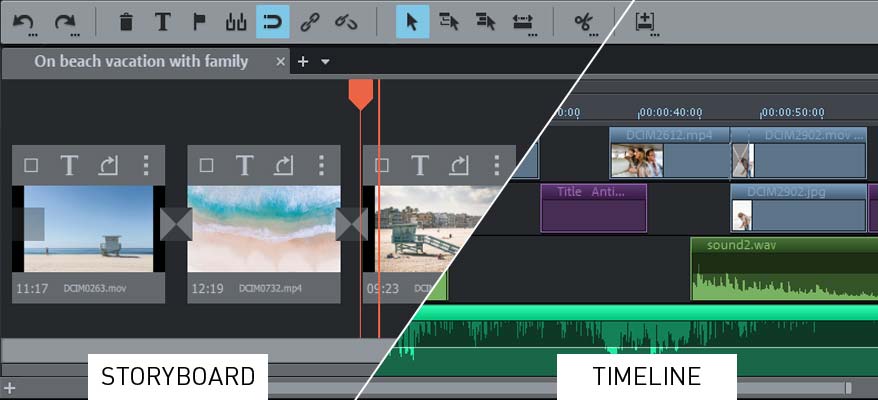 Creating 3D effects with MAGIX
After you've adjusted the effect, you can edit the footage any way you please. The 3D effect you created does not have a direct effect on the video editing process. It is also possible to edit your footage first and create the 3D effect later. The Stereo3D effect may likewise be applied to titles that are faded in. After you've finished editing your video, the program provides several options for exporting your finished project: Different codec formats for video files are available and you can export your 3D videos to DVD or Blu-ray Disc.
* With the update service you will receive a full year of free new features and updates, which can be used indefinitely. If you reinstall the program after one year, you will have access to the basic version. After the one-year update service has expired, you can extend it for a discounted price.