Create a website with Xara
It's a common story: you've been on vacation and now have lots of photos and videos edited using photo or video editing software that you want to share with your friends and family. What is the easiest way of sharing your holiday memories? Online on your own website of course! But building a website can seem like an impossible task for most people. Without the necessary programming skills or being able to uncover the secrets of web hosting, it can seem near impossible. However, Xara Web Designer is the product that enables any user of any skill lever to create professional web pages and publish them on the internet in just a few simple steps. The program is there to even help you convert your personal space into a small business as well!
Building a website using Xara software is just plain simple. You can easily add photos and video clips, publish online and then send the link to your friends. Vacation and party photos from Flickr and Picasa galleries can also be embedded directly on your website. It's also easy to track who's been on you website using the visitor counter feature. Moreover, videos can be embedded and watched on a built-in video player and music through the MP3 player. The finished page can be published with just a few clicks on the free hosting service that comes with the program, MAGIX Online World or with any hosting provider that supports FTP.
Plus, Xara Web Designer features practical widgets to easily personalize your website or convert it into a small business with widgets to build contact forms and sales tools. You can easily sell your own products with PayPal or just generate awareness by attracting lots of visitors to your site and take advantage of partner schemes from Amazon or eBay. Use the drag and drop feature to add widgets for Google Maps, Facebook and other popular websites helps based on the latest social network trends. Xara Web Designer also makes it possible to embed downloadable content such as MP3s and PDFs.Everything you need to make your personal or business site is available in this one program.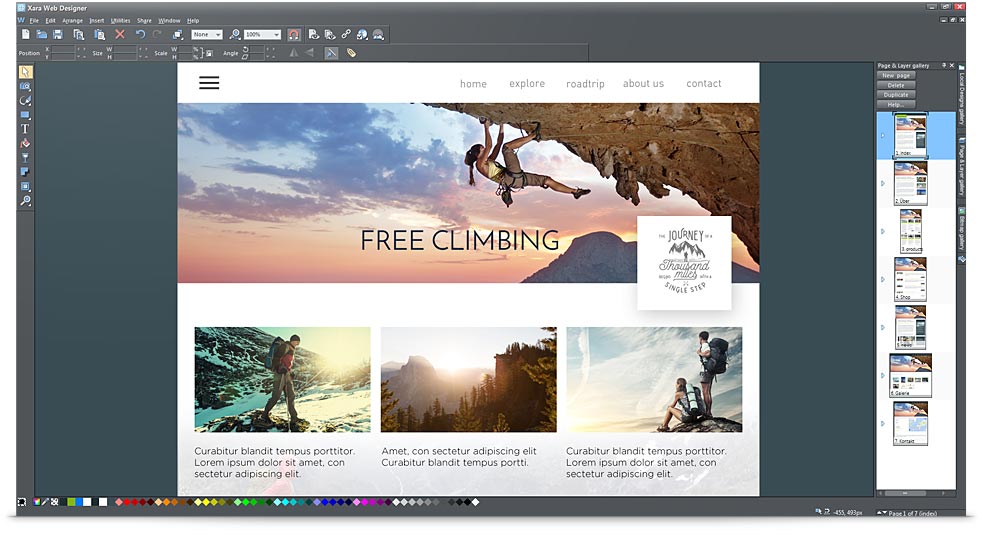 Create your own homepage quickly and easily
Xara Web Designer makes it easy to create a personal or commercial website for any user of any skill level. Your site can be up and running online in no time with the easy features and the free web hosting that comes with the program Create a website with Xara Web Designer - it's fun and easy and help you make your mark in the digital world.
* With the update service you will receive a full year of free new features and updates, which can be used indefinitely. If you reinstall the program after one year, you will have access to the basic version. After the one-year update service has expired, you can extend it for a discounted price.