Greenscreen with MAGIX
A "Greenscreen" is a process that is highly used in digital video editing. Just like the name indicates, it involves a green surface that is placed in the background behind the person being filmed.
A video editing program like MAGIX Movie Edit Pro Plus enables the filmed background to be replaced by any other image. A familiar example of this technology would be TV news programs. A colored surface is placed behind the speaker so that the background can be replaced via computer with an image relevant to the news item. Previously, a bluescreen technique was used, but the greenscreen process has established itself professionally, since this enables more luminance (a measurement of brightness) and thereby produces better results.
The process for replacing the greenscreen with any other background is called "keying". The green background that is to be removed is replaced by an "alpha channel mask" (i.e. via transparency). For the background, any image and video files (also HD video) may be added. The goal is to achieve the best keying possible. During preparation, care must be taken that the greenscreen (in most cases, a simple piece of cloth is used to cover a background panel) really only consists of green and does not feature a pattern or any discoloration. The colors green and blue are used because they differentiate themselves the most from human skin color. The greenscreen must also be well-lit for the best keying possible. Shadows have a negative effect on the results and should be avoided at all costs. Therefore, the person being recorded should stand several steps in front of the greenscreen to avoid casting shadows on the panel. As a digital balance, different lighting conditions may be used for white balance. After recording is completed, the background is removed via computer with a program like MAGIX Movie Edit Pro or MAGIX Video Pro X. This process utilizes "chroma keying", which involves filtering the image with a key color which would be green, in this case.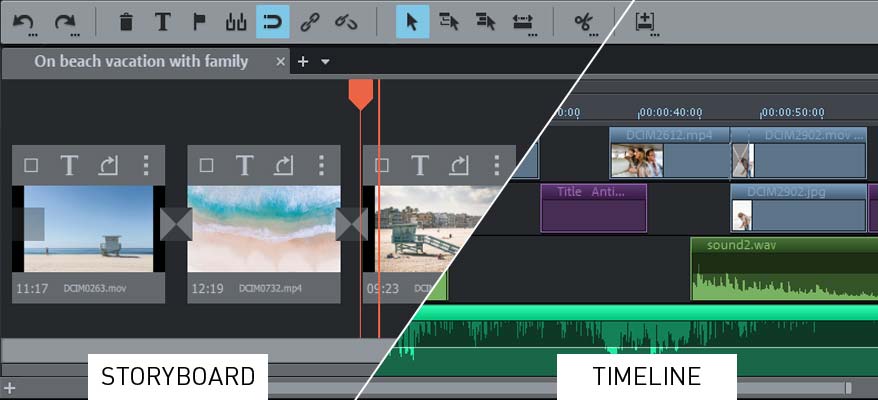 From greenscreen to a personally selected background - keying
In the final stage, the transparency created by removing this particular color may be replaced with any selected background. This is achieved by placing an image or video file behind the original video. The transparent surface will now be filled with the background video. Since this process is not only limited to the background, the greenscreen offers diverse design applications for digital composition and video editing.
* With the update service you will receive a full year of free new features and updates, which can be used indefinitely. If you reinstall the program after one year, you will have access to the basic version. After the one-year update service has expired, you can extend it for a discounted price.