Make your own website with Xara Web Designer
HTML, Javascript, PHP, stylesheets, databases and encryption – sometimes getting your grip on the online world can be confusing but having a web presence is vital for any business, club or group. With all the options out there for web development, how do you choose?
Let Xara make the choice for you. With Xara Web Designer, you can make your own website without having to learn any of the complicated programming languages and there's no prior web development skills required. You can easily create your own professional-looking website using just the drag and drop functions in the program. The result is always right in front of you and how you see it in the program, is how your visitors will see it online.
Having your own website is an absolute necessity. Companies that don't have any Internet presence are basically non-existent to most of their potential customers and even clubs and social groups can find members and support more easily with a website. Even on a more personal level, such as presenting your hobby or creating an online resume, a website can bring about the attention to your cause that you need. There's no more excuses for not having your own website, especially now that with Xara Web Designer you can make your very own website in just a few simple clicks.
If you don't have a specific idea of what your website should look like, you can choose from a wide range of high-quality, customizable templates. You can also start with a blank page and create your own unique design from scratch. Make your own website exactly the way you want without having to learn complicated programming - the program will do it all for you.
Xara Web Designer features a vast selection of helpers and wizards to prefect the design of your homepage:
Magic Snap: Objects snap to these automatically appearing guidelines to ensure perfect alignment for all elements on the page
Integrated spell check: Check your text for typos to save you from any embarrassing mistakes
Design gallery: Numerous pre-designed graphics and images are available to give your site that needed eye-appeal
Intelligent scaling: Easily create graphics for your website header by scaling a great photo without distorting any important image elements
What's even better about the program is that it comes with webspace in the Xara Online World for free. Let the Xara servers host your website online so that you don't have to worry about finding a hosting service. You can directly upload your files to the server from the software. That means that with just a few clicks, you can publish your website and be online in no time! (Free domain services are included in the Premium version)
These and numerous other features make web design with Xara a breeze. You no longer need to be a designer or a programmer to create an amazing web presence. Thanks to Xara Web Designer's professionally designed templates and modern web technology, you can create your own website in just a few easy steps.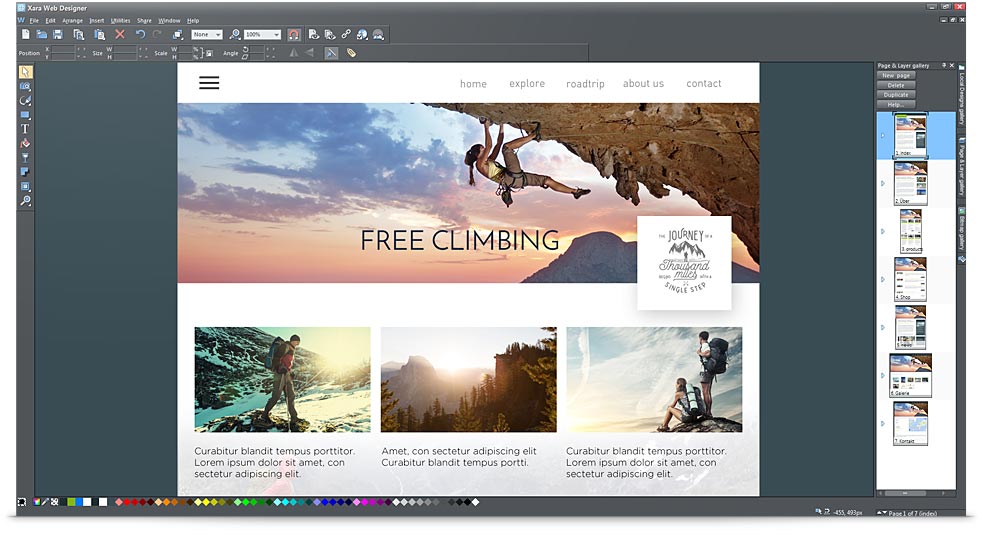 Customized website design for everyone!
Start designing your own website today! You'll be amazed at just how easy it is with Web Designer from Xara. If you're not sure which software is right for your web design needs, simply download any of the test versions and try it out.
* With the update service you will receive a full year of free new features and updates, which can be used indefinitely. If you reinstall the program after one year, you will have access to the basic version. After the one-year update service has expired, you can extend it for a discounted price.