MAGIX: Use Loops to Lay the Foundation of Your Song
Originally, the word "Loops" referred to a piece of tape glued together on the ends for looped playback.
Today, the concept is synonymous for digital pieces of a musical recording. These (mostly shorter) sound units may be composed of vocals or any instrument like bass, guitars, drums, etc. They are cut so that they are able to play in a seamless loop to fit the entire portion of a song - that's why they are also called "loops"! In a sequencer, loops are placed together and may be completed with other MIDI loops. Essentially, they are the building blocks of modern day music production.
Another important part of working in audio software is "timestretching", whereby the playback speed of existing audio material is changed without altering the pitch. Nearly any kind of music can be altered and produced this way. To develop more complex musical structures, the musical fragments presented on the track may be affected by acoustic effects. After loops, vocals, MIDI, beats, etc. are utilized, mastering is the final step in audio production. Sampling is also very important, whereby parts of existing songs are added to other songs.
Making music in this way is becoming more and more popular and the new norm. With audio programs like MAGIX Music Maker, beginners and experts, virtually anyone, now has the ability to compose and produce their own music without prior knowledge. Most audio programs like Music Maker include numerous loops which allows users to create their own songs and sounds exactly the way they want. Music production has never been easier!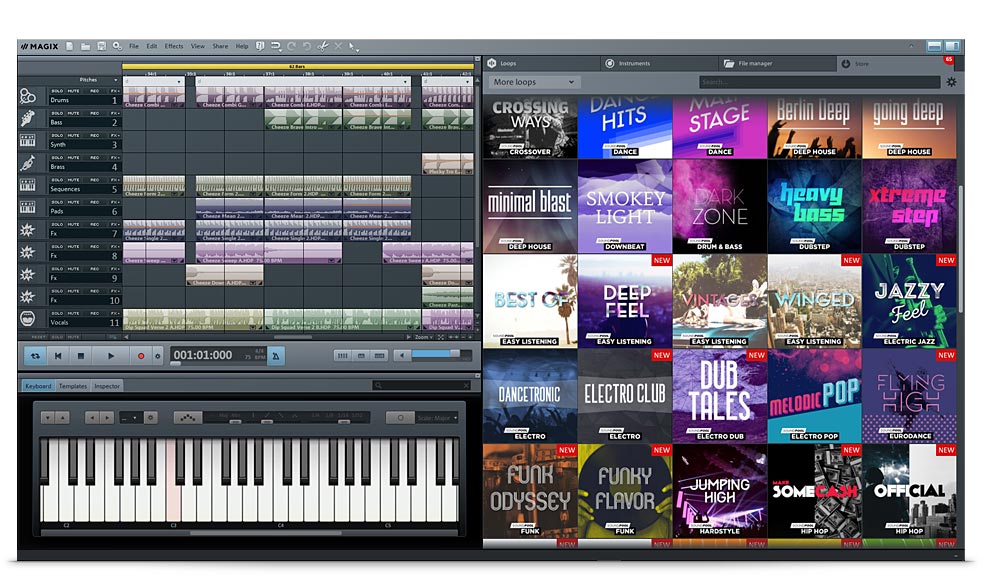 Samples - Use Famous Fragments as Loops
Loops are sound pieces like melodies, instruments, or vocals that can be integrated into new tracks for music composition. Passages that are sung are now often sampled into the melody of the new track. So instead of the vocals standing in the foreground of the song, they usually support the melody in the form of loops.