Audio Master Suite Windows
Audio restoration, sound design & mastering for PC
SOUND FORGE PRO 11
SpectraLayers Pro 4
iZotope Mastering & Repair Suite
Audio Master Suite Mac 3
Audio restoration, sound design & mastering for Mac
SOUND FORGE PRO Mac 3
SpectraLayers Pro 4
iZotope RX Elements
iZotope Ozone Elements 7
The bundle for sound design,
audio restoration & mastering
Audio Master Suite combines a number of advanced software solutions for audio production and mastering into a single unique collection for professional audio editing. The products included are synced to work perfectly together and in-line with industry standards for post production, gaming audio design and international recording studios.
Includes: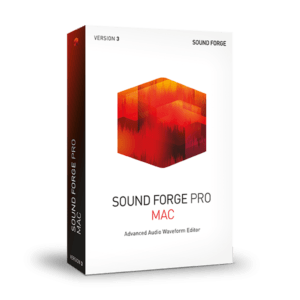 SOUND FORGE Pro
Audio editing & mastering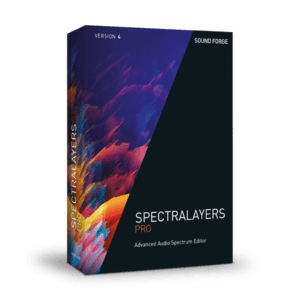 SpectraLayers Pro 4
Audio restoration & sound design
SpectraLayers™ Pro 4 sets new standards in spectral audio editing. Color-coded layers, precise selection tools, and an easy copy and paste editing workflow are all supported under the hood by impressive performance enhancements. Immerse yourself in SpectraLayers Pro for an audio restoration and sound design experience that will open new horizons on every launch.
Only included in the Mac version
Ozone Elements by iZotope
High speed mastering: Mix using Ozone 8 Elements by iZotope for high quality results that are ready for broadcasting or streaming platforms. The new Mastering Wizard suggest optimal starting points - you can then add your own personal creative touches in a matter of clicks. Give a final master a fuller, more powerful sound.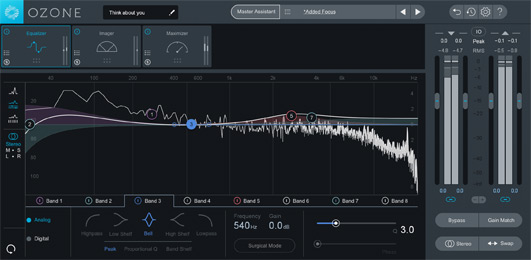 Technology used by top audio engineers, with a simplified interface
Mastering Wizard: Automatic suggestions for starting points for mastering for the sidechain & processor
Imager: Visual feedback for stereo width – including vectorscope and correlation displays
Processing solutions based on the legendary iZotope Ozone maximizer
Intelligent Release Control technology included (IRC)
A range of select presets for professional sound
Supports VST, AU, RTAS and AAX plug-in formats
RX Elements by iZotope (MSRP: $129)
Audio restoration in exceptional quality. Award-winning tools for audio restoration enable you to work with total precision. RX Elements offers comprehensive editing options, spectral editing and also contains four essential plug-ins for real time audio editing.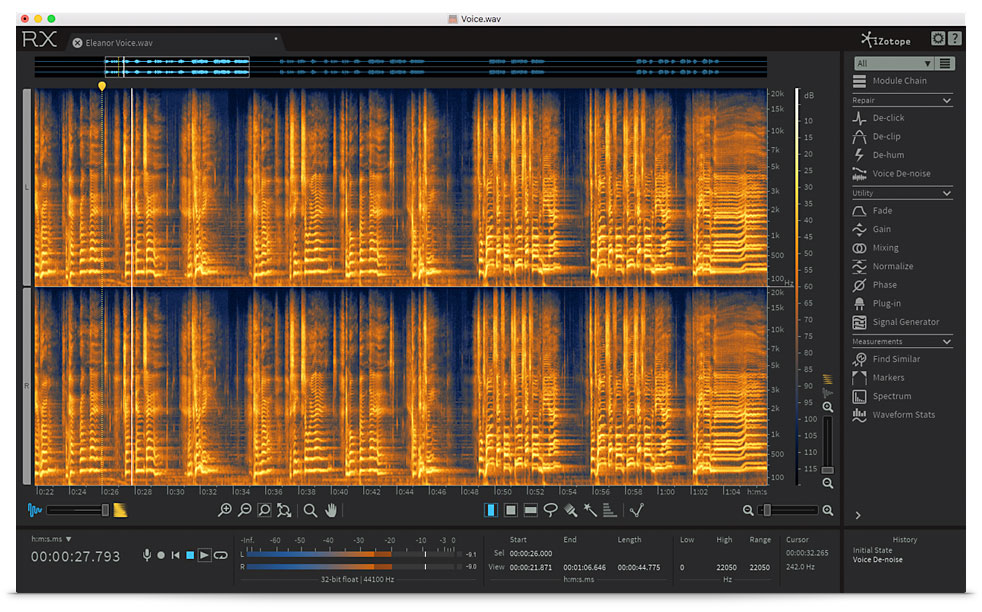 Spectral display
Locate and edit issues in your audio material on a visual level.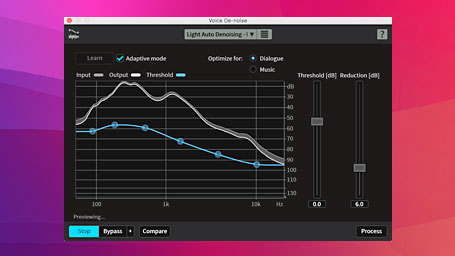 Voice De-noise for fine tuning vocals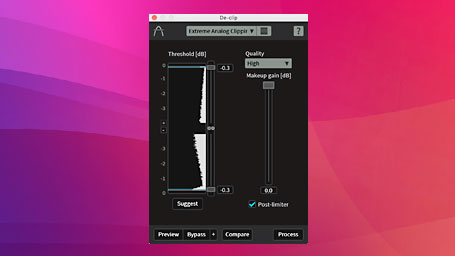 De-clip for repairing digital and analog clipping artifacts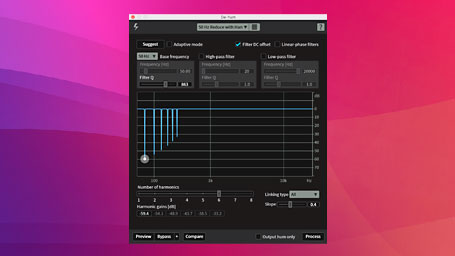 De-hum for reducing background noise and line noise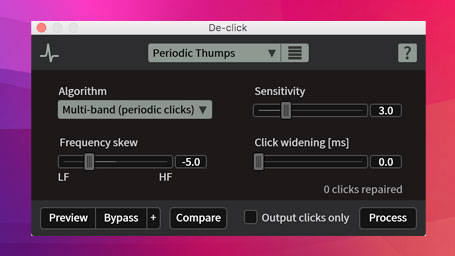 De-click for removing crackling sounds
Only included in the Windows version
Mastering & Repair Suite* powered by iZotope®
Mastering & Repair Suite comprises various plug-ins for audio resoration and mastering. The effects include high quality algorithms for exceptional sound, as well as immersive interfaces with metering and graphical feedback to make mastering as quick and easy as possible. Also included are 64-bit SRC™ and MBIT+™ plug-ins for sample rate conversion and bit reduction. Both algorithms utilize psychoacoustic noise shaping, based on research with actual musical material, for the best possible results.
*Plug-ins contained in the Mastering & Repair Suite work exclusively with SOUND FORGE Pro and cannot be used in other VST-compatible software.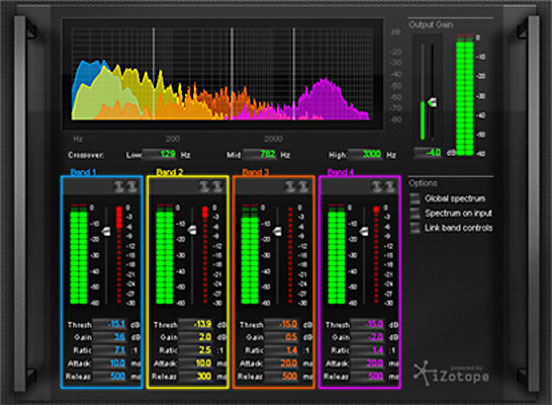 The most important features:
Declipper for minimizing clipping, including maximum threshold value
Denoiser including 2 Learn modes for noise reduction
Declicker for eliminating clicks
Mastering limiter for dynamic editing
Full parametric mastering four-band EQ, including low and high shelf filters
Multiband compressor with custom audio editing for four bands
Creative tool: The multiband mastering exciter (four bands)
Reverb audio editing with mastering reverb
The Audio Master Suite 3 family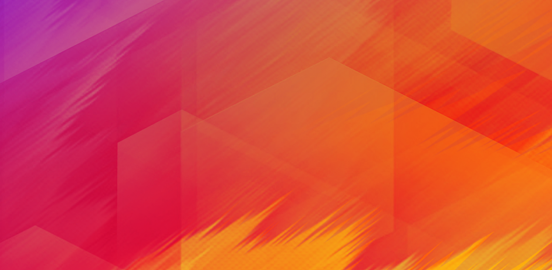 Audio Master Suite Mac 3
Audio restoration, sound design & mastering for Mac
SOUND FORGE PRO Mac 3
SpectraLayers Pro 4
iZotope RX Elements
iZotope Ozone Elements 7
Buy now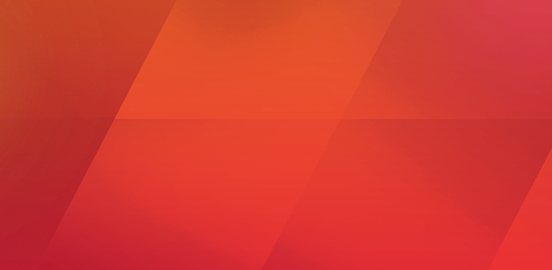 Audio Master Suite Windows
Audio restoration, sound design & mastering for PC
SOUND FORGE PRO 11
SpectraLayers Pro 4
iZotope Mastering & Repair Suite
Buy now