All features in
Samplitude Music Studio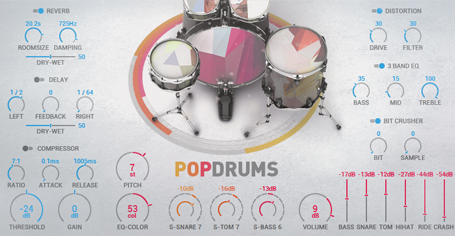 Pop Drums
This software instruments lets you hear and see the effects of individual controls on the instrument's sound. Make your own beat with a bright mix of acoustic and electronic drum sets.
Always get the right rhythm, no matter if you're working on EDM, Hip Hop or laid-back Rap.
Church Organ
The impressive Church Organ lets you create deep, majestic soundscapes. Use this instrument to create soulful ballads, epic background music or melodic dance tracks.
Folk Instruments
These folk instruments are characterized by their traditional sound and a range of effect parameters. Try out the banjo, piano, percussion or the fantastic folk bass.
Accordion
This virtual piano accordion comes in two different samples, "Styrian" and"Bandoneon", and has a classy virtual appearance. Select and edit various filters and effects such as Equalizer, Reverb, Delay and Distortion.
Cinematic Synth
Combines dark dreamy sequences with grating basslines, cinematic keys, bells, effects, percussion elements and the film-like Atmos effect.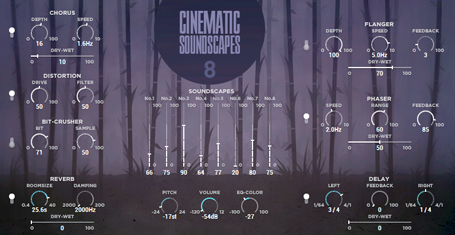 Cinematic Soundscapes
Cinematic Soundscapes adds a sense of mysterious depth and tension to each and every one of your productions. Create impressive film music or driving electronic sounds.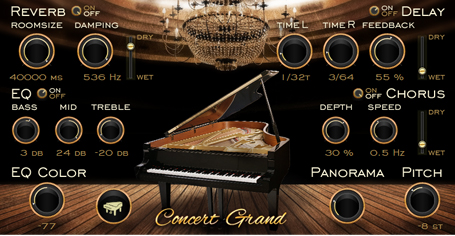 Concert Grand
This digital concert grand piano is used in big sound studios around the world and shines in modern pop production as well as brilliant symphonies.
Choir
Choose between female, male and mixed voices in the virtual choir for background vocals, a swelling chorus or elegant melodic strains.
Rock Drums
An authentic drum groove is essential for music production. Intuitive controls and fantastic samples in Rock Drums help you create unique rhythms.
Soundtrack Percussion
Design your own personal soundtrack with outstanding percussion instruments. It's a great way to make a song stand out. Choose from a wide range of cinematic percussion sounds and take your production to the next level.
Lead Synth
The Lead Synth is the perfect accompaniment to tracks and lets you add melodic or driving accents to all your projects – whether you're producing chill beats, pumping club hits or deep trap.
Drum Engine
Select from a range of electronic drum kits or just load your own sounds to the legendary Drum Engine. With easy to use controls and lots of options for sound manipulation, the Drum Engine contains everything you need to add the perfect drums to your tracks.
Jazz Drums
Recreate the unique atmosphere of an underground jazz club directly within your song using the Jazz Drums. With realistic sounding brushes, tom toms, ride cymbals and hi-hats, this instrument adds that true jazz edge to any music production.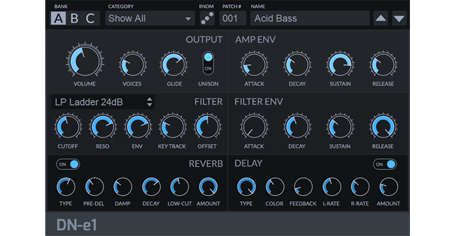 DN-e1
The DN-e1 is a virtual analog synthesizer that provides electrifying sounds for experimental and otherworldly soundscapes.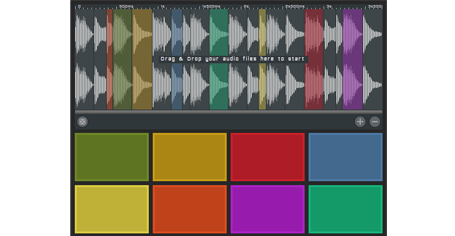 Vita Sampler
Experiment with your own sounds. The Vita Sampler edits audio files automatically and at random and assigns sound samples to 8 virtual pads.
These can be operated by MIDI and played just like a virtual instrument.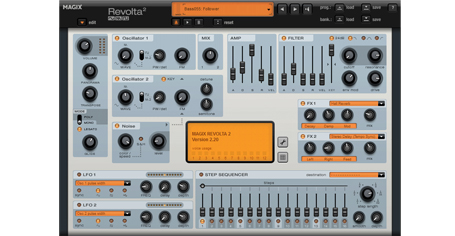 Revolta
Classic synthesizer sounds ambient, West Coast and fretless bass, FX kits, virtual pads and pre-programmed sequences. Perfect for improvising and programming your very own sounds.
BeatBox 2
Bombastic sound: BeatBox 2 Plus not only gives you countless possibilities for modifying sounds for drum kits and high-quality effects, but also the option of loading your own audio files and integrating the beat section.
Robota
Robota is a four-part drum computer that aids in the generation of sounds as well as working with samples and oscillators (analog sound synthesis). This impressively arranged object synth continues the long tradition of classical drum computers.
Loop Designer
Develop your own drum loops and bass lines with the Loop Designer.
Rhythm adjustment, a variety of filters and reverse and random functions allow for even more variety in music production.
Recording templates
Sketch out your ideas even faster. Recording templates get your projects ready for recording guitar, piano, vocals or an entire band. You don't need any other settings.
A template loads a track for the recording with EQ, compressor and other effects and another track for drum loops etc.
Multitrack recording
Multitrack recordings in 24-bit/96 kHz studio quality on up to 16 mono tracks or 8 stereo tracks simultaneously.
With multitrack recording you can record, edit & mix band practices, demo tapes or complete albums in studio quality on multiple tracks at the same time.
Tune string instruments
With the integrated tuner, you can make sure your guitar, bass or ukulele are perfectly tuned before you start recording.
Play a string into your mic, and the software will show you if the pitch is correct or, if it's not, how out of tune it is.
Correct vocal recordings
Vocal Tune 2 is fantastic for correcting vocal recordings. The pitch curves and wave forms help you keep track of everything and can be used to edit recordings in detail with the pencil tool.
Display & print notation
Develop ideas at home and take them with you to practice. You can display the notation for your compositions, arrangements or basic chord progressions in the MIDI Editor and print them as needed.
Combine objects & takes
You can combine all your takes and objects into groups at any time. Group all the objects in a track or in several different tracks, and move them together, edit them or add effects. This makes working with lots of objects a whole lot easier.
Pitch shifting
Easily adjust the pitch of samples or audio files without affecting playback speed. This feature is great for making quick harmony changes in arrangements.
Time stretching
If your music project needs to pick up a little speed, you can adjust the playback speed of your audio material without affecting the pitch, thanks to the new zplane algorithm.
Track freeze
The gentle cycle for your hard drive and RAM without loss of sound quality: Recordings made with VST plug-ins or effects can be easily converted to 32-bit floating format using the track freeze.
For impressive transitions
A transition solution that creates a lasting effect: use the Cross-Fade editor to design your own transitions between different audio files.
Bring together what belongs together
The optimal recording usually doesn't consist of just one take, but is a combination of the best parts of several recordings. The program enables you to keep sight of everything when you're "gluing" individual pieces together into one big audio object.
Aux busses & submix busses
Spare your nerves and your PC memory. Aux busses and sub busses allow you to do professional audio editing work with a wide range of effects or compression on separate help tracks.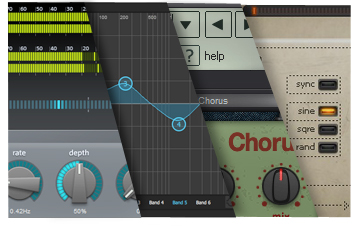 Track effects
Manipulate sound on an individual track with the 6-band equalizer and use settings such as the bass killer, super woofer and boosts for high and mid-range frequencies.
Vandal SE
Effects templates for the virtual bass & guitar amps Vandal SE, such as overdrive/distortion, tremolo, and chorus, recreate the sound of analog amplifiers while also offering a completely unique sound.
Object effects
Modify the sound of individual song components – without adding effects to entire tracks or by working with complex automations.
For instance, you can apply a pitch or flanger effect to just a single word in a vocal recording.
essentialFX
In terms of usability and sound quality, the essentialFX effects plug-ins are avant-garde through and through.
The following essential plug-ins are included: Compressor, Chorus Flanger, Stereo Delay, Vocal Strip & Phaser.
Vintage effects
In addition to classic effects devices such as chorus, flanger, delay, distortion, filter and tape simulation, the AM Track SE gives your songs a distinct vintage sound.
Orange Vocoder ME by Zynaptiq
Experience your vocals as you've never heard them before. The Orange Vocoder from Zynaptiq modulates your vocals and give tracks a futuristic sound.
Mastering Suite for top audio characteristics
Professional tools for an even more professional sound. MAGIX Samplitude Music Studio includes a StereoFX module, multiband compressor, 6-band equalizer, limiter and MultiMax.
6 Band Equalizer
The parametric 6-band equalizer lets you set the volume for individual frequencies, giving you the freedom to play around with the sound and style of your song.
Multiband compressor
Produce music at the same volume as the latest hits on the radio. The multiband compressor splits the input signal into individual frequency bands which can then be individually manipulated in terms of compression strength.
Auto Mastering = simple mastering
Mastering is one of the most demanding and specialized aspects of music production and requires extensive experience in sound perception. Auto Mastering analyses your audio material and finds the perfect sound settings for your song.
Marker Manager
The Marker Manager increases interface clarity for album production. It enables you to filter and edit a whole range of markers like track or pause markers in complex mastering projects.
Album production
Before publishing extensive mastering sessions, you can edit MP3 ID & CD text data right in the project and export all songs as individual tracks.
Visual sound analysis
It's a good idea to use visual analysis tools for mixing and tidying up the frequency range or, for example, finding masked frequencies in the stereo field.
The program includes a vectorscope, spectroscope and spectrogram, among other tools.
Direction meter
The direction meter shows you what your production's sound looks like in the stereo field.
This lets you assess mono compatibility better and carry out precise adjustments where they're needed.
Peak meter
The peak meter displays the peak level for your production. If certain values are exceeded too often, you should lower levels for the corresponding cause or lower the frequency range. This gets rid of clipping in your song.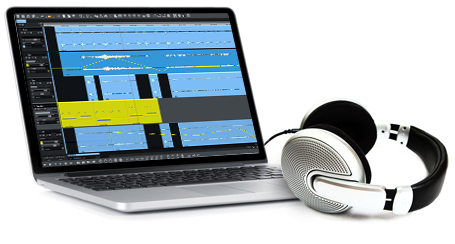 64-bit & multi-core support
64-bit and multicore support allows you to use your system's processor and memory to their full potential. This enhanced performance becomes particularly noticeable when using RAM-intensive plug-ins and working with large, complex mixes.
Internal Hybrid Audio Engine
The internal Hybrid Audio Engine provides optimal latency management during recording and playback, and is used by professional sound engineers and producers the world over.
Hardware support
Samplitude Music Studio supports the Mackie control protocol and conventional hardware controllers.
You can move the fader in the mixer or use an external controller to make live automatizations – levels are adjusted automatically to fit the progression.
VST3, VST2 & ReWire
Samplitude Music Studio offers VST, ReWire and DirectX support for additional instruments and effects.
Includes VST3 plug-in support for effects and instruments: integration, automation and VST multi-output. Interfaces: VST3, VST2, ASIO, ReWire, SMPTE, MTC, MC.
MIDI support
In the MIDI editor you can easily edit rhythms you've made with your mouse or recordings you've made with a MIDI device (e.g. a keyboard or drum pads).
Choose between the piano roll, score and drum editor views. MIDI data can be adjusted and created in various ways with mouse modes such as Velocity.
Custom toolbars
The features you need are always at hand. Put together your own toolbox with the individually customizable toolbar.
Track zoom and object zoom
Save time and use the zoom to automatically bring objects which are actively selected in an arrangement into focus and maximize them.
Audio formats
Import/export from WAV, MIDI standard formats, MP3, AAC, OGG Vorbis, AIFF, and FLAC.