The complete bundle for
spectral editing, sound design and mastering.
The new SOUND FORGE Pro 13 Suite is here – and bundled with many renowned audio shaping and enhancing plugins, like the brand new Steinberg SpectraLayers Pro 6 or Melodyne essential. Designed to be a complete set for recording, editing and processing audio at the highest quality standards. Experience a suite of software that continues to set new standards for audio professionals.
Steinberg SpectraLayers Pro 6
Advanced Audio Spectrum Editor
A completely new kind of audio editing: With Steinberg SpectraLayers Pro 6 and its unique layer concept for the frequency spectrum, you can visually work with sound.
Steinberg SpectraLayers Pro 6 transforms sounds into a unique multidimensional visual world of audio data. Get direct spectral modification while working with tools commonly used in photo-editing programs. In the new version, thanks to its redesigned architecture and ARA2 compatibility, Steinberg SpectraLayers Pro 6 seamlessly integrates with SOUND FORGE Pro 13 and other DAWs for endless creative possibilities.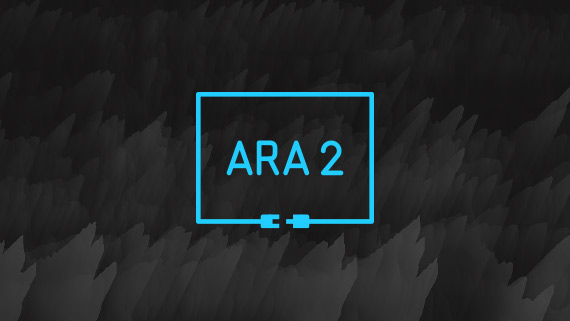 ARA2 Plug-in
The ARA plugin integrates Steinberg SpectraLayers Pro 6 directly into SOUND FORGE Pro 13. Once installed, Steinberg SpectraLayers Pro 6 behaves like a native part of the DAW and integrates essential parts of the host DAW - like track colors and much more.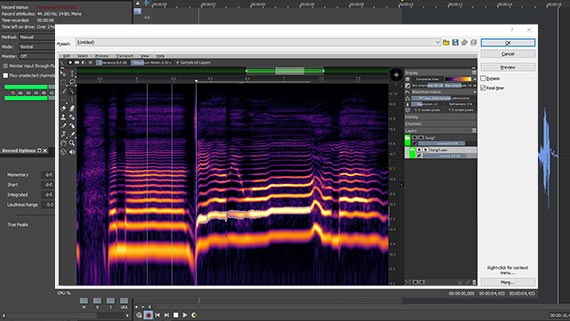 External editor integration
Steinberg SpectraLayers Pro 6 can now seamlessly access the Process Effects of other audio applications and can be applied to any selected audio directly inside the program. External edits are fully integrated into the program, including the history buffer.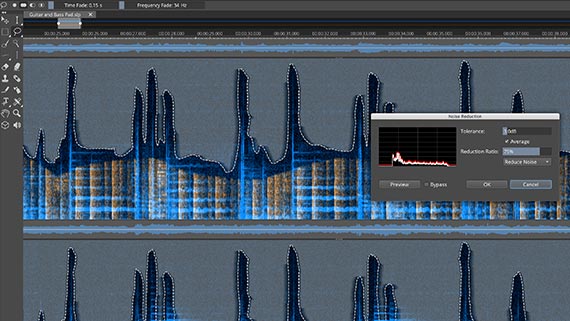 Advanced Selection System
Steinberg SpectraLayers Pro 6 gives you unprecedented accuracy when selecting parts in the audio spectrum. Create custom 2D fade masks around a selection border, visually model fades and preview all resulting amplitude changes in real-time.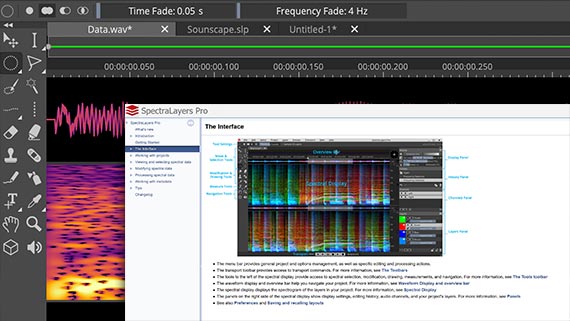 Smart Help System
The help section of Steinberg SpectraLayers has been completely overhauled to make it accessible, no matter the skill level. A variety of new tooltips are integrated into the software and the online manual is updated regularly.
See what you can do with Steinberg SpectraLayers Pro

Mixing with Spectral Casting
Spectral Casting and Molding open up new, unexplored worlds of audio processing possibilities. Use these cutting-edge features to set the spectral impression of one layer as a cast or mold and then apply it directly into the spectrum of a second layer.

Sound design with Spectral Molding
Spectral Molding is an unbelievably inspiring trip into a universe of out-of-this-world sounds. The technology enables you to transfer spectral characteristics between recordings for truly creative sound design. For example, imagine a guitar recording with the acoustic texture of vocals!

Cleaning with acoustic fingerprints
Noises that vary in character can be reduced and removed with noise prints that can be generated for each noise type. Steinberg SpectraLayers Pro 6 allows you to perform noise print-based noise reduction using customized noise prints containing multiple frequency bands of any width.
Melodyne essential & more
exclusive in SOUND FORGE Pro 13 Suite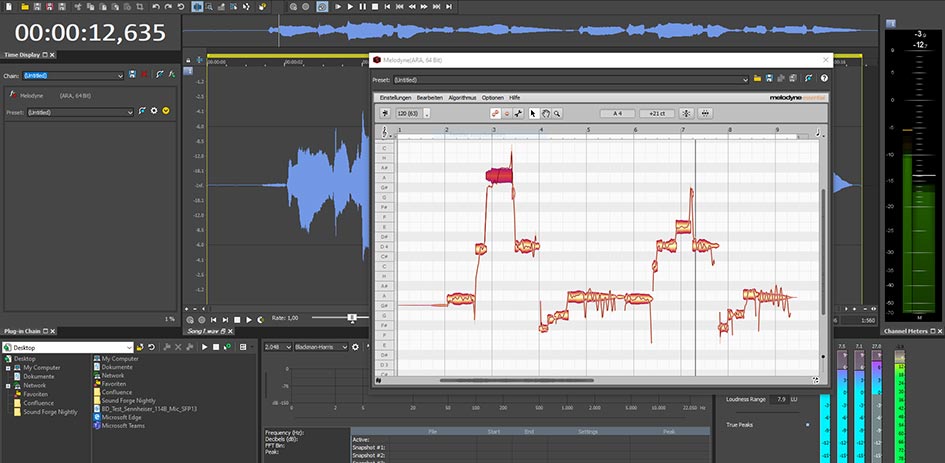 Melodyne essential
Deeply integrated via ARA2, Melodyne essential enriches the audio editing capabilities of both SOUND FORGE Pro 13 and Steinberg SpectraLayers Pro 6.
Experience the legendary tool for correcting recordings with absolute precision.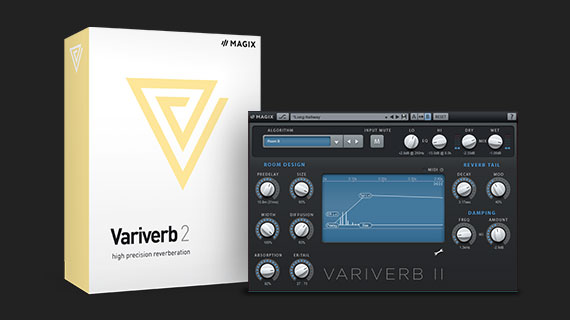 VariVerb II
VariVerb II offers classic, modern or artificial reverb and also allows you to create your own using a variety of algorithms without impulse response to get more depth and texture.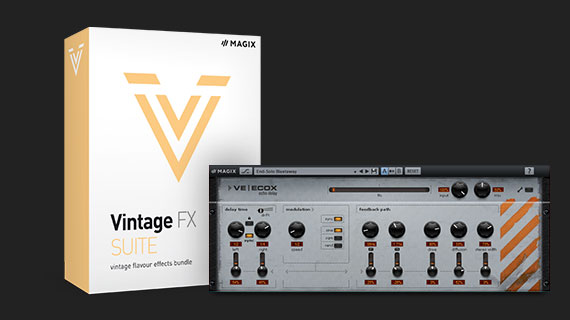 Vintage Effects Suite
Corvex, Ecox and Filtox deliver the perfect vintage vibe for your sound. These authentically model tape echo, modulation, chorus, filtering and flanger effects for a range of creative applications.
Vandal
Vandal is a virtual guitar and bass amplifier with a complete guitar effect signal chain. Authentically recreate guitar effects while keeping full software control.
SOUND FORGE Pro 13
Advanced recording, audio editing & mastering

Recording
Record audio on up to 32 channels simultaneously, at sample rates of up to 64-bit/768 kHz. The new SOUND FORGE Pro 13 offers professional-quality mastering, editing and sound-design features all within an intuitive and inspiring interface.

Audio Editing
From video soundtracks to the final surround-sound mix, edit with sample-accurate precision. Its numerous effects processors and audio editing tools make SOUND FORGE Pro 13 the ideal application for sound designers.

Mastering
Deliver technically-perfect masters for CD or streaming thanks to advanced signal-processing tools and a host of high-end effects and visualizations like the new oscilloscope. Restore recordings and remove clicks, pops and other noise with ease.
New interface
For a better user experience, the SOUND FORGE Pro 13 interface is adjustable in four hues. Together with the redesigned icons and docking features, your workflow will take center stage.
Upgraded VST engine
With the newly enhanced SOUND FORGE Pro VST engine, you get more stability and speed when using plug-ins. It's also now available with the ARA2 interface extension.
New visualizations
Gather industry-standard visual feedback with the Peak Meter V2 or deep dive into waveform visualizations with the new oscilloscope.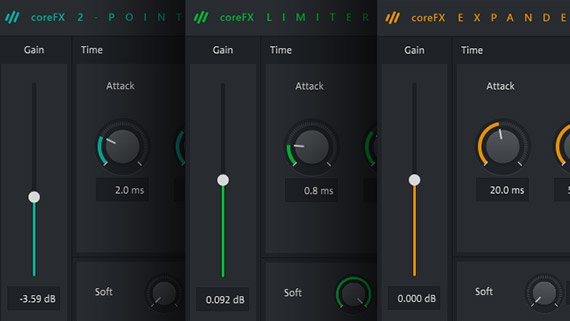 New mastering effects
SOUND FORGE Pro 13 Suite features brand new delay & mastering effects (2-Point Compressor, Limiter, Expander, Compressor, Gate, VolumeFormer, Delay, Chorus, and Flanger) from the new coreFX Suite.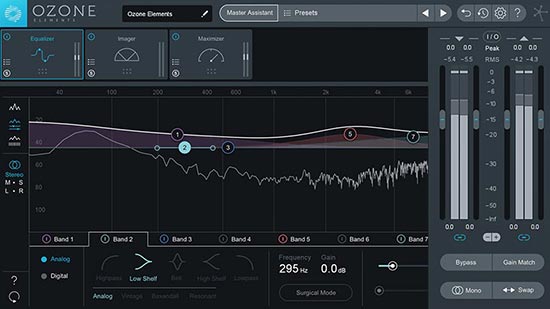 iZotope Ozone 8 Elements
Master your projects with Ozone 8 Elements and its intelligent Master Assistant algorithm. The software includes essential processors such as the Imager, Maximizer and EQ, with presets for genre and delivery format, so it can deliver great results, very quickly.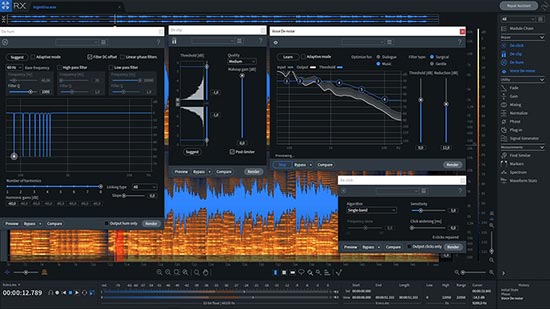 iZotope RX 7 Elements
Use the renowned RX 7 Elements plug-in to carry out a comprehensive list of audio restoration tasks. RX 7 Elements lets you rebalance mix elements, remove reverb and automatically fix other issues like noise, clipping and clicks.
Highlights
Includes the new Steinberg SpectraLayers Pro 6
Industry-leading audio pitch shifting with Melodyne essential
Exclusive audio effects & plug-ins
Professional multichannel recording up to 64-bit/768 kHz
Precision editing & restoration
Customizable interface: 4 color levels, new icon design & docking
Upgraded VST engine
New ARA2 support
SOUND FORGE Pro Suite + ACID Pro Next
The complete bundle for editing, restoration, sound design and mastering.
$249.00
Regularly $998.00
Meet SOUND FORGE Pro Suite, the complete bundle for editing, restoration, sound design and mastering.
With a worlds first for any DAW, ACID Pro Next combines cutting edge sampling technology, a fully featured DAW and unique ACIDized loops that lock in time and key with your new compositions.
Valid until December 8, 2019
The deal of the year:
Save 58 % on SOUND FORGE Pro Suite ($599 value)
Included for free: ACID Pro Next ($399 value)