The only DAW with audio separation
ACID Pro Next features audio separation technology powered by zynaptiq® STEM MAKER. Split songs into beats, vocals and music, and use the resulting stems in your own tunes and to remix. Truly the next generation of remixing and DAW production.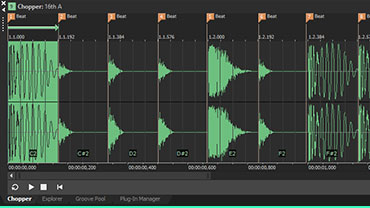 MIDI Playable Chopper
The all-new MIDI Playable Chopper brings MPC-style performance sampling and hip hop beat creation to ACID Pro Next. Play samples from loops, beats from drum kits, perform and record the results as audio events for instant remixing. Play, record, jam – ACID is your new performance instrument!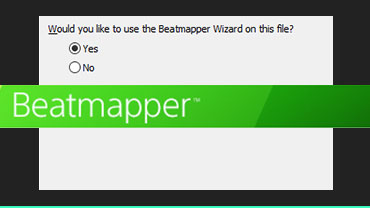 Beatmapper
Using Beatmapper, you can identify the tempo and time signature of any external song or audio file. When you import it into ACID you can easily add other ACID files which will lock to its timing data automatically. Instant remixing, your way!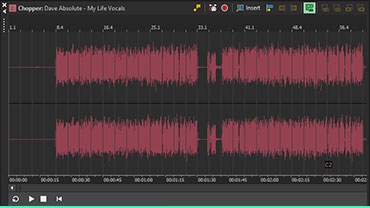 Chopper
Chopper is the ultimate remix tool as it enables you to slice a loop into parts, and then reorder them in any way you like to create multiple new samples. All new loops will stay in sync with your ACID Pro Next projects, and you can easily record new audio events onto the timeline.
The creative DAW for
Music production.
ACID Pro Next is the DAW you need for powerful music production: from high-quality multitrack recording and innovative loop-based composition, to advanced remixing and precision mastering.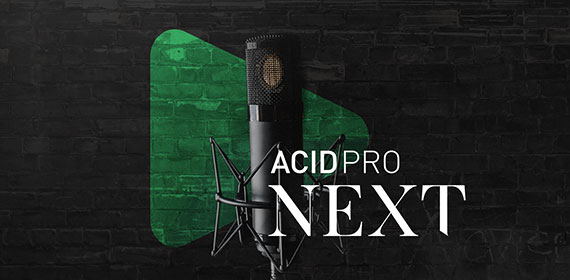 Recording
ACID Pro Next offers powerful 24-bit, 192 kHz multitrack audio recording.
Record a full band in your studio or your own singing and playing. Create complete arrangements with ease by mixing in gigabytes of ACIDized loops.
Add effects in real time, enhance your tunes with dozens of instruments and your album is made!
Loops.
ACID Pro Next uses ACIDized loops for creative loop-based music production. These contain pitch, length and transient data and can be edited and manipulated in real time and easily mixed together to make complete pieces of music.
Virtual instruments.
Take your music in any direction you like with a whole suite of varied instruments which cover everything from acoustic emulations of a complete orchestra to out-of-this-world synths. Try out a vintage piano, some incredible drums, or play a high quality saxophone. It's your studio, your choice!
VST2/VST3 Engine with 32-bit bridge
With both the new VST2/VST3 engine and the 32-bit bridge you can run the latest plug-ins in ACID Pro and even bring your favorite older plug-ins into its sleek 64-bit ACID environment.
MIDI
ACID Pro might be one of the easiest DAWs to create great music, but it comes packed with all the latest features, including a comprehensive set of MIDI tools. You can edit MIDI data directly onto the timeline for a speedy workflow, freeze MIDI tracks to audio to save processor power, add Keyframe automation and edit drum beats with ease. It's total MIDI control, but presented in a user-friendly way.
With the latest ARA2 (Audio Random Access) interface, ACID Pro Next features real-time, super-fast audio editing which really helps to speed up your workflow. It can exchange information without any time-consuming transfer rates with other ARA2-enabled plug-ins such as Melodyne for a more efficient and faster workflow.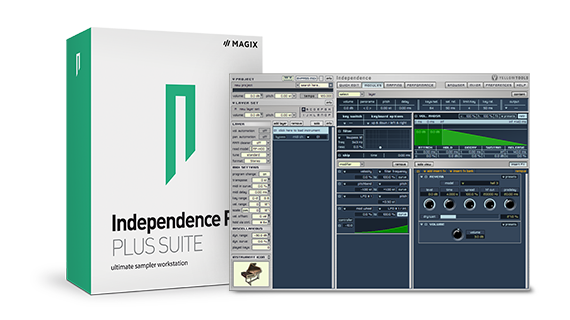 Independence Pro Plus Suite
(Exclusively in ACID Pro Next Suite)
This incredible suite of instruments delivers a massive 12 GB of of top-quality instrument samples and 500 amazing presets.
It is the ultimate instrument set and is equally at home as a studio production tool, live performance device or effect rack for sound design – and comes exclusively with ACID Pro Next Suite!
Audio Editing
and Mixing
ACID Pro comes packed with the latest audio technology. As well as its world-famous real-time pitch- and time-stretching, it comes with Celemony Melodyne essential, so you can get to the heart of your tracks and make precision edits.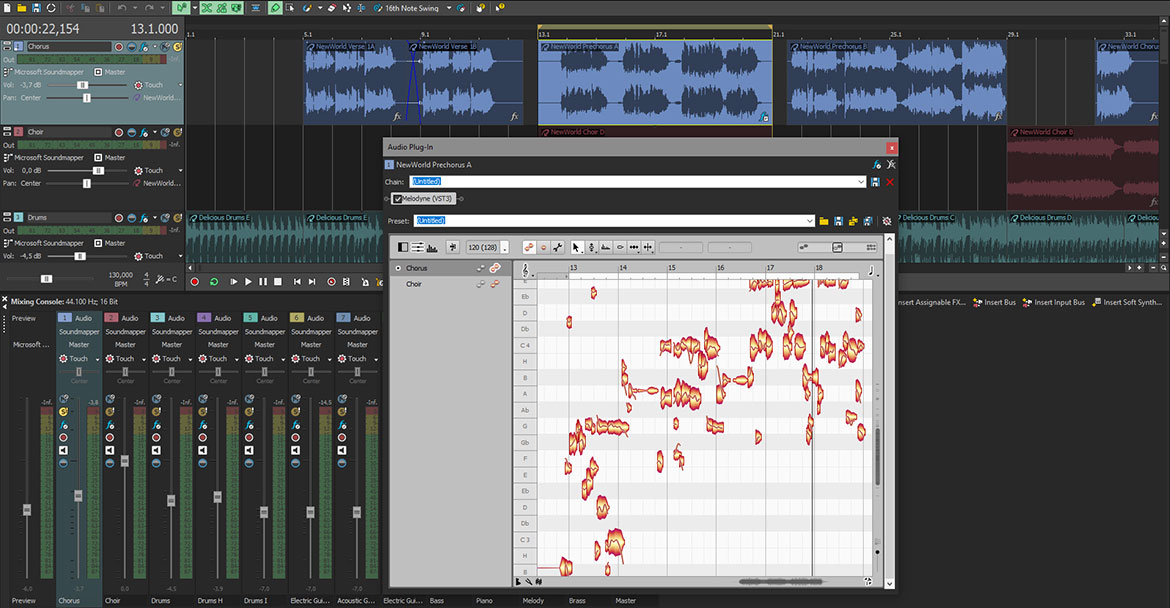 Melodyne essential
Melodyne essential is the perfect application for getting into an audio file to make precise edits to correct pitch and tone. With its sophisticated algorithms and innovative features, it is ideal to use when you need natural-sounding pitch changes on any kind of instrument or vocal.
Superior mixing
ACID Pro Next offers the same kind of mixing experience you would expect from a full-blown studio mixer, with incredibly flexible routing, and access to both internal and external effects. The software also supports external hardware control surfaces including Mackie Control and Frontier Design TranzPort, so you can get a tactile hardware experience plus all the advantages of software.
Flexible routing
Even though ACID Pro Next's mixing console resembles a hardware studio mixer, it can be easily customized to the way you like to work. You can choose from an array of routing options, so you could, for example, route external audio through ACID Pro Next's effects, or even apply external effect processors to tracks and busses. It's easy to create complex submixes, bus-to-bus routing and monitor everything in real time, and there are also surround mixing options with a panner offering precise control over channel positions.
A single click for you.
A quantum leap for your sound.
ACID Pro Next's Groove Mapping and Groove Cloning technologies are among the most sophisticated and fun features to be found in any DAW. You can give your music a completely new feel by applying preset grooves, or even extract a groove from a much-loved song and then use that with your tunes. It's even possible to create grooves from scratch or edit existing ones.
zplane élastique
ACID Pro Next features the ultimate technology when it comes to pitch- and time-stretching. zplane élastiquePro ensures real-time, artifact-free conversion of both pitch and time, and ensures maximum flexibility and quality in the process.
Groove Mapping
Groove Mapping is one of the cleverest features in ACID Pro Next, allowing you to completely change your music groove by applying preset (or your own) Groove Maps to your song. Choose your groove type, and then simply apply it to either specific loops or entire tracks.
Groove Cloning
Groove Cloning takes the Mapping function one step further by allowing you to extract the groove info from any song or sample, and then apply it to your current loops or MIDI files. If you have favourite grooves from songs or samples, simply clone and apply. Easy!
Envelope Control
ACID Pro Next allows you record and automate MIDI data that controls parameters like volume or tempo, or the controls on a plug-in instrument or effect. You can record, say, the volume of a channel or its 5.1 pan position. Using Tempo Curves, keyframes and envelopes means transitions are smooth across all automations.
ReWire support
ReWire support enables DAWs from different developers to communicate and route audio and MIDI information between one another. ACID Pro Next can function as both a ReWire host, where it can have programs like Reason act as a virtual instrument within it, or as a device, where it can route its audio straight into a host like Pro Tools.
Audio plug-in manager
ACID Pro Next includes a comprehensive plug-in manager that allows you to quickly and easily manage effects, adding them to tracks, busses and instruments. You can also create chains, rename and reorganize plug-ins to produce all-new environments and aid workflow.

Analogue Modelling Suite
(Exclusively in ACID Pro Next 365 and Suite)
This classic suite of effects consists of all you need for mastering and creative processing, with everything from a tube amp simulator to an analog compressor.

essentialFX Suite
essentialFX Suite is a complete collection of all the tools you need for mixing your audio to a professional standard in ACID Pro Next.

coreFX delay effects
This suite of three effects employs different delay techniques to deliver some of the most classic and popular studio effects of all time.

Vintage Effects Suite
(Exclusively in ACID Pro Next Suite)
Enjoy the sounds and effects from a classic recording studio with this suite of three vintage effects.

VariVerb II
(Exclusively in ACID Pro Next Suite)
A high-quality reverb effect that adds atmosphere and a professional sheen to any instrument or vocal recording.

Vandal
(Exclusively in ACID Pro Next Suite)
Vandal is the ultimate virtual guitar and bass tool, with all the driving sound of a hardware rig, but with total software control and integration. It delivers the power and sound of a complete guitar signal chain – stomp box, amplifier, speaker and microphone – in software.
Master your music
with ease
ACID Pro Next has all the professional tools and features you need to give your music the professional edge, whether it's being mastered for CD or for streaming online.
High-quality mastering tools
from the coreFX suite
coreFX 2-Point Compressor
With two kink points, the coreFX 2-Point Compressor offers more flexibility and freedom than a classic compressor, and delivers different sonic characteristics when applied to dynamic range compression.
coreFX Limiter
With a limiter, you can set a maximum value of the processed signal. This won't be exceeded which can help eliminate volume differences and even out any quiet and loud sections.
coreFX Expander
Using an Expander increases the perceived dynamic range of an audio signal and also helps suppress noise. With more dynamics you get a more natural sound.
coreFX Compressor
With a compressor like this, you can eliminate large volume differences between section of audio to give you a more even and balanced sound.
ACID Pro Next
Next level creativity
Upgrade: ACID Pro Next
Next level creativity
With a worlds first for any DAW, ACID Pro Next combines cutting edge sampling technology, a fully featured DAW and unique ACIDized loops that lock in time and key with your new compositions.
With a worlds first for any DAW, ACID Pro Next combines cutting edge sampling technology, a fully featured DAW and unique ACIDized loops that lock in time and key with your new compositions.