The number one music software for beginners
Want to make your own music, but have no experience with music software?
With Music Maker, you don't need to be an expert to create music. The clear and easy-to-use interface with powerful features and AI support puts creativity at your fingertips. Dive into a huge selection of sounds crafted by audio experts and start making chart-ready music today.
Join the next global generation of music influencers.
Step 1: Mix and match loops
Get inspired by a huge selection of loops and samples from any genre, tweaked to work perfectly in your tracks. Simply drag and drop sounds into the mix and enjoy making music from the get-go.
Step 2: Create your own style
Set the music that's in your head free: With Music Maker, you've got all kinds of sounds at your fingertips. From mighty drums and synthesizers to realistic instruments, it's a complete music studio!
Step 3: Take it to the next level
Record your own vocals, quickly sketch out a section or create entire songs with one click. Music Maker's creative effects and powerful mixing features enable you to get your sound right on point.
It's easy: Mix and match loops
With Music Maker you can explore the endless variety of Producer Planet Soundpools from directly within the app. Get inspired by a global community of music producers, and find new ideas in genres from deep techno to pop and hip-hop.
Dive into thousands of hours of musical material, from individual sounds and loops to finished song parts. Created by some of the most talented audio producers around, Soundpools are production-ready and as unique as you are. And with automatic pitch and tempo matching, everything fits together to create impressive songs, ready to chart!
Even better: create your own style
Bring your songs to life with
virtual instruments
Discover your own style by trying out our professional studio recorded instruments. From energetic drums and pumping bass lines to acoustic concert guitars or impressive orchestral music, Music Maker offers all the instruments you need for high-quality productions created right in your home studio or bedroom.
Wake up your inner musician
– use real instruments
Do you play the guitar, or have you got some experience on the keyboard? Make the most of your musical talent and start recording today. Simply plug in your keyboard or guitar and play a song to make it even more personal.
Something only you can do:
Give your tracks a voice
Simply connect your microphone and interface and off you go: Sing on your instrumental and create a complete chart-ready song.
Singing is not your thing? Don't worry, we got you covered with amazing vocal samples you can use freely.
Like a pro: Take it to the next level
Go pro: Take your songs to the next level with advanced mixing and high-end effects that will blow your mind! Get creative with plug-ins such as coreFX Delay or Vintage FX Filtox, and dive deep into sounds from any genre by exploring the infinite universe of Producer Planet loops and samples, accessible directly in-app. Follow your vision and develop your sound even further, effortlessly.
Highlights of the 2022 edition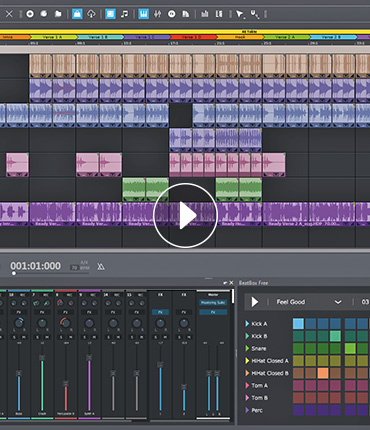 More like you: A fully
customizable interface
Music Maker 2022 is all about you and your songs. We've completely redesigned our interface to create the smoothest production experience yet. The new, custom design allows you to move all modules around freely and create your very own personal workflow.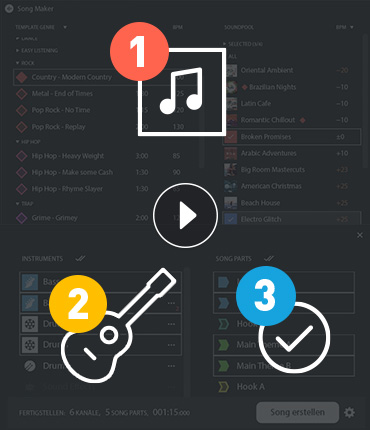 Smarter, better, stronger:
Introducing Song Maker AI.
Create song parts, sections or entire songs with just a few clicks: Song Maker AI comes up with a unique musical combination of patterns from any selection of Soundpools. Fast, fun, and incredibly useful – it's music production, future-style!
Music Maker Editions: Reasons to upgrade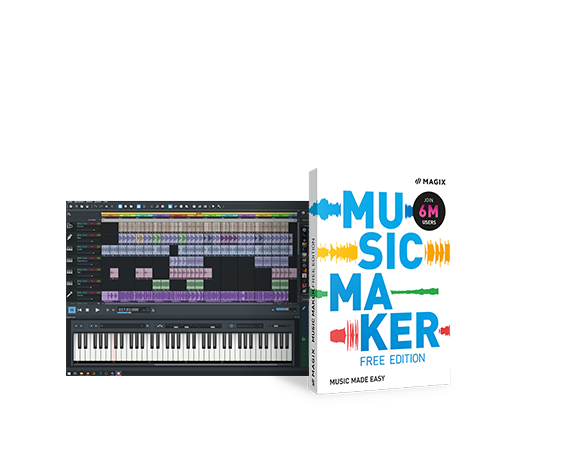 Free forever, free for everyone:
Music Maker Free Edition
Our promise to you: From now on, you will always be able to download the latest software version of Music Maker. Even if you use the free version, you'll receive all basic functions and bug fixes for free. And that's the case for as long as we continue to develop the program.
Endless inspiration:
Content and feature updates
Always on the go? Access your sounds, functions and instruments from anywhere! Simply download the FREE version of Music Maker and log in to the Store using your account. You can then download all your purchased content.
When you buy a new Music Maker Edition, you'll receive a coupon for Soundpools (which can only be redeemed within this version.)*
Music Maker 2022 Plus Edition
Music made easy
NEW! Massive beats and even more content: Beatbox Pro
NEW! Fits your workflow: New, flexible interface
NEW! Faster to your own song: In-App Tutorials
Freely selectable: 1 Soundpool, 1 Soundpool Collection
Analog Synths (VITA Instrument)
Tiny Percussion Shaker (Tiny instrument)
Multicore audio engine with 64-bit support
Producer Planet In-App: Access to high-quality content
* Music Maker Store credit from older versions (version number 28 or older) cannot be redeemed in Music Maker 2022 (version number 30).
Valid until September 29, 2021