Xara: Web design software built with you in mind
For many people, the term "web design software" sounds like something that only professionals would use. But there is no need to get intimidated, there are actually many products that have been specifically designed for the needs of users with limited experience to help them get professional results. The web design software from the multimedia specialist, MAGIX, is called Xara Web Designer and offers users a quick and easy introduction into the world of web design to meet any online need.
The program features numerous web design templates and easy integration of widgets for photo galleries, maps, contact forms etc. that you can create a customized website in a matter of minutes. The program also works around the drag and drop concept making it fast and easy for user to add and edit content like text, images and video on their web pages. This program the perfect solution for Windows users who want to create and publish their own website.
Web design software doesn't need to be complicated to use or understand in order to offer Windows users amazing results. With Xara Web Designer anyone can create their online presence without having to get help from IT experts! That's because Xara Web Designer is as easy to use. The easy to understand editor in this web design software offers functions for creating websites that meet the high demand of professional web designers. The secret behind this web design software is the intuitive interface that makes it easy to use and learn.
What you see in the interface of the program is what visitors will see online. This principle is called "What You See Is What You Get" (WYSIWYG) and makes it possible for anyone to design a website without having to learn complicated programming skills. Making your own website doesn't get any easier when what you see in the program window is exactly the way it will look online. This makes it possible to create sites with your own edited photos, text or any other kind of design element and to see exactly how they will look together on the page. Navigation bars, graphics or buttons can be positioned on the website using the mouse allowing the user to see the effect immediately without having to struggle with abstract HTML code.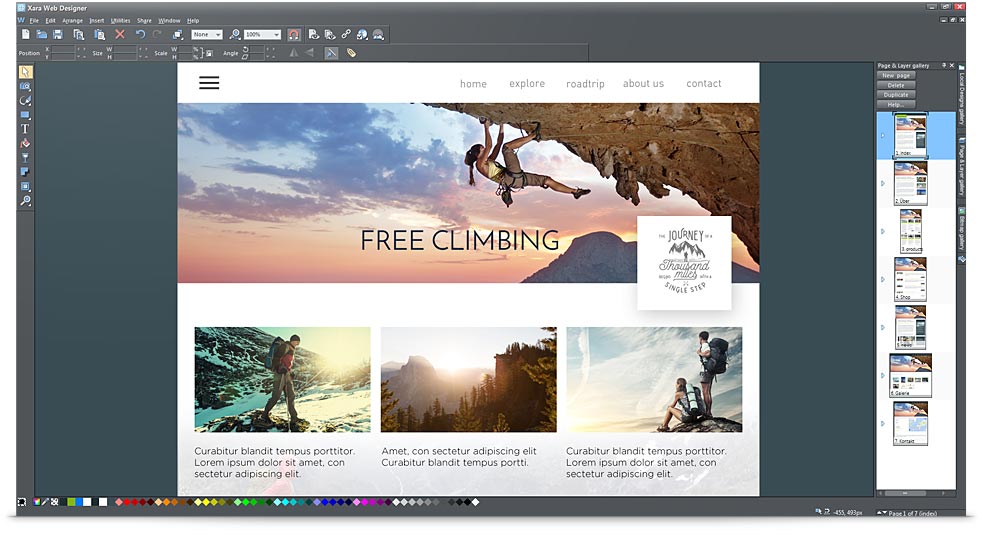 Easy web design software with amazing results
Web design software isn't just for professionals. It's actually quite the opposite! Xara Web Designer offers many powerful functions and a very special and simple way to get your website online. It's great for beginners and pros alike! Beginners can easily create customized websites and professionals can get impressive results that meet their high expectations.
* With the update service you will receive a full year of free new features and updates, which can be used indefinitely. If you reinstall the program after one year, you will have access to the basic version. After the one-year update service has expired, you can extend it for a discounted price.