Create your own website quickly and easily with website software from Xara
Do you want to create website and are looking for an uncomplicated website program to help you do it?
First of all, there are two options that you could go with to develop your website on you own, website builders or web design software. Website builders provide you with frames that you can fill with various types of content. You will likely get to choose from a few different layouts, and can customize color and font to some extent. However, that's usually the extent of the creative freedom that this type of website software offers.
On the other hand, there are proper computer programs that let you create a website easily with drag & drop. This website software transforms your web design into pure HTML code and usually allows you to upload your website to the FTP server of your choice. Of course, with these types of website software there are differences in price, the number and quality of website templates, and the features offered.
Web Designer, from Xara, is highly recommended amongst the range of website programs available on the market. After purchasing this software, you have unlimited usage and can use it to create as many websites as you want. Because it's a proper web design program, it offers you 100% creative freedom when designing your website. You can easily move items with the mouse and customize their color, shape and how they behave on the page.
Xara Web Designer has a huge range of pre-built website templates and design elements. These are particularly helpful for beginners and allow you to get great results quickly. However, you don't have to be stuck to a rigid web design, the website templates are fully customizable and can be designed and rearranged any way you want. After all, you want your website to reflect your personality and stand out from the crowd to keep your audience engaged. Xara makes sure that all of the multimedia software it creates provides users with complete creative freedom!
The website design program, Xara Web Designer offers even more advantages:
Create different versions of your website's layout for mobile devices like smartphones, tablets etc.
Choose any font you want
Let text flow around other objects
Automatic image enhancement
Make awesome photo galleries
Integrate HD quality videos
Use songs and background music
Connect all sorts of social media platforms such as Facebook, YouTube etc., to your website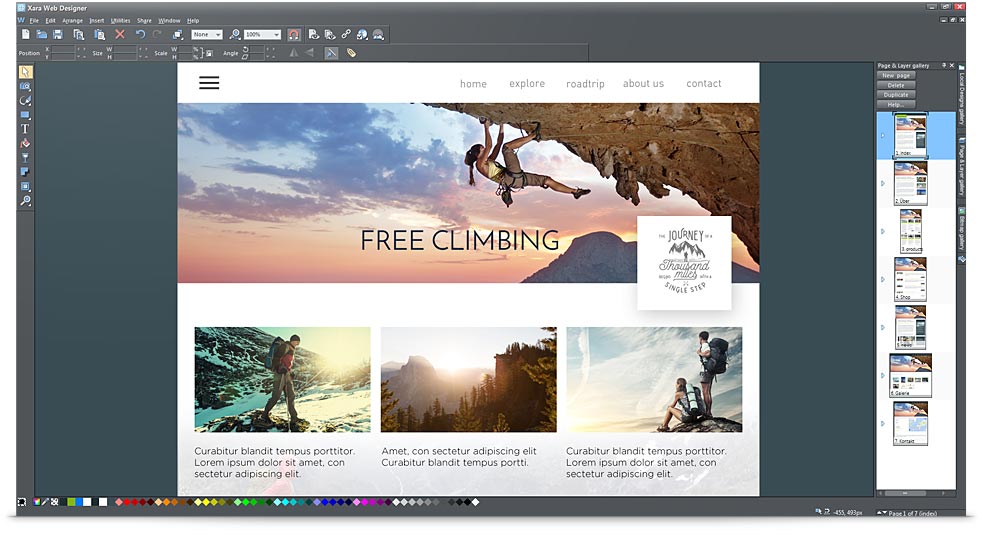 Get started with Web Designer from MAGIX
Download the free trial version of Xara Web Designer and start creating your own website today! You can use the website software for 30 days without obligation to try out all the great features it offers. Check out the Multimedia Community at magix.info for answers to any questions you may have and for more creative inspiration.
* With the update service you will receive a full year of free new features and updates, which can be used indefinitely. If you reinstall the program after one year, you will have access to the basic version. After the one-year update service has expired, you can extend it for a discounted price.