Quickly Build a Website
Almost anyone in the modern world has some reason to build a website. Whether it is a career-related page, meant to publish ideas on the internet, or used to showcase your hobbies, a website is the best option.
It is one of the least expensive and definitely the most widely accessible mode of promotion.The only problem has been that making a website has largely been done by industry professionals. Others have also tried, but frequently failed because the major interfaces are built for people who can navigate the complex language, create website graphics and understand programs of the internet-construction world. Xara Web Designer is meant to provide another solution. It is built to accommodate any user- regardless of web savvy- who wants to design a website that shines.
In recent years, the internet world has advanced considerably and is now able to accommodate many new sorts of ornamentations and add-ons. This program has been continually updated and modified to support them in the easiest ways possible, bringing the most advanced technology to you. You can easily make website elements that will bring it to life and engage your viewers in novel ways. Embed flash graphics, high quality photos, interactive maps and videos with a few clicks. Anywhere you place it, the rest of the layout will automatically adjust. Using simplifying technology, the program allows you to drag elements across the page, place them where you like, and the entire layout adjusts itself to accommodate. All of these reasons really make it one of the easiest programs to build a website.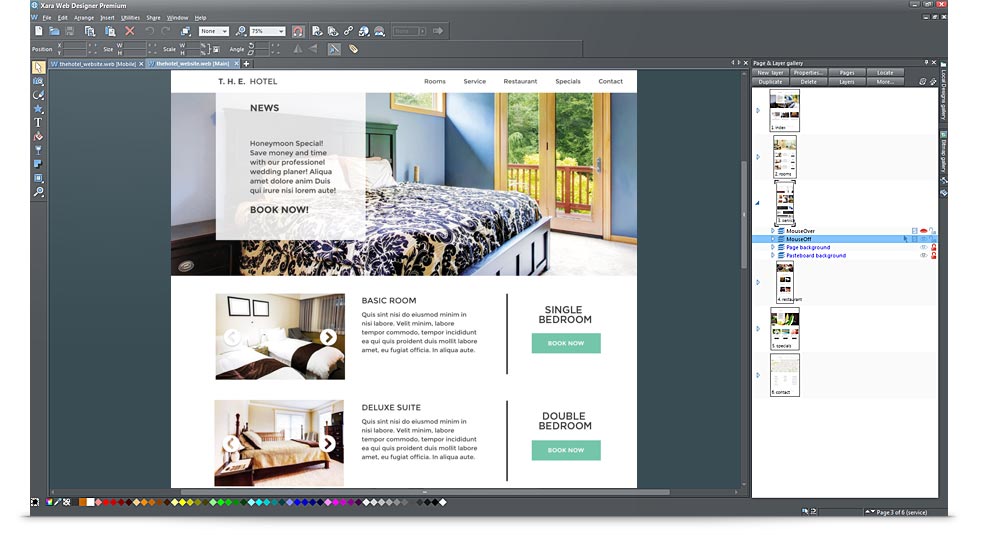 Build a Website with Customizability
For ease and efficiency, everything is based on templates. Within these varied forms, you can make an infinite number of websites, each with its individual style and aesthetics. The templates are designed to be moved, stretched, warped and changed to your liking. Everything is customizable. You can do as little as insert your own text to have a ready-made site. You can also do as much as change every color, font, window and link for a finely tuned page that will showcase its contents exactly how you like.
* With the update service you will receive a full year of free new features and updates, which can be used indefinitely. If you reinstall the program after one year, you will have access to the basic version. After the one-year update service has expired, you can extend it for a discounted price.